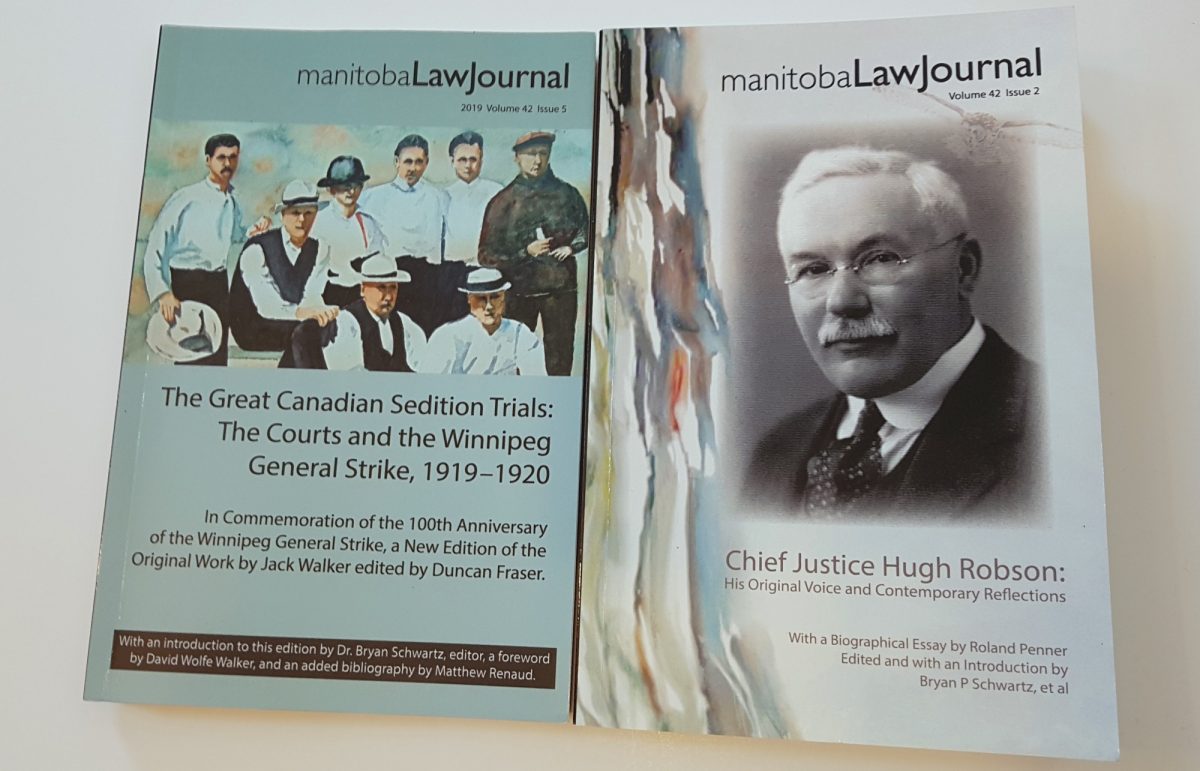 Manitoba Law Journal Offers Top-Flight Content
SSHRC Agrees and Awards Major Grant
October 8, 2020 —
The Manitoba Law Journal has been very busy lately. Despite delays caused by the coronavirus pandemic, the staff of the Manitoba Law Journal (both Faculty and student editors) have been able to complete Volume 42 of the MLJ. Volume 43 will be fully available before the end of 2020. Each will consist of 5 issues and more than 40 pieces when released.
This remarkable level of productivity has been supported by a grant received from the Social Sciences and Humanities Research Council of Canada in 2019 (through its 2018 Aid to Scholarly Journals Program competition). The grant, totaling almost $90,000 over three years, has allowed the MLJ to assert itself as one of the top peer-reviewed academic journals in the country. "We were ranked second place – the 'sliver medal' for overall excellence – by the competition committee," said Dr. Bryan Schwartz, who has been co-editor in chief of the MLJ together with Professor Darcy MacPherson since 2010. "That is a stellar result. We were competing with dozens of qualified applicants from across Canada in a broad category: in Economics, Law, Political Science, Industrial Relations, Administrative and Management Studies. There are a lot of great journals out there. It speaks to excellence at the national and international level. The result is a tribute to our faculty, students and contributors; it shows you can be relevant, readable and first-rate academically, all at the same time. The SSHRC jury result is the most credible evidence we could have for our collective achievements."
Schwartz, who also holds the Asper Chair of International Business and Trade Law, estimates that he and MacPherson each volunteer hundreds of hours a year to the MLJ above and beyond their duties as professors. He emphasized both the local and international reach of the Journal. "We aim to bring diverse and multidisciplinary perspectives to issues, drawing on authors from Manitoba, from across Canada and beyond."
In Volume 42 alone, there is an issue dedicated to the legacy of Hugh Amos Robson, former Chief Justice of the Court of Queen's Bench of Manitoba, and pioneer in legal education when he helped found the Manitoba Law School. Students would move into the building bearing his name beginning half a century ago. The volume also contains two issues on criminal law (edited by Faculty members of the RobsonCrim group). This is widely read, not only in Canada, but internationally as well.
The impact of the MLJ can also be seen in the fact that its content has been cited three times in judgments issued by the Supreme Court of Canada since 2019.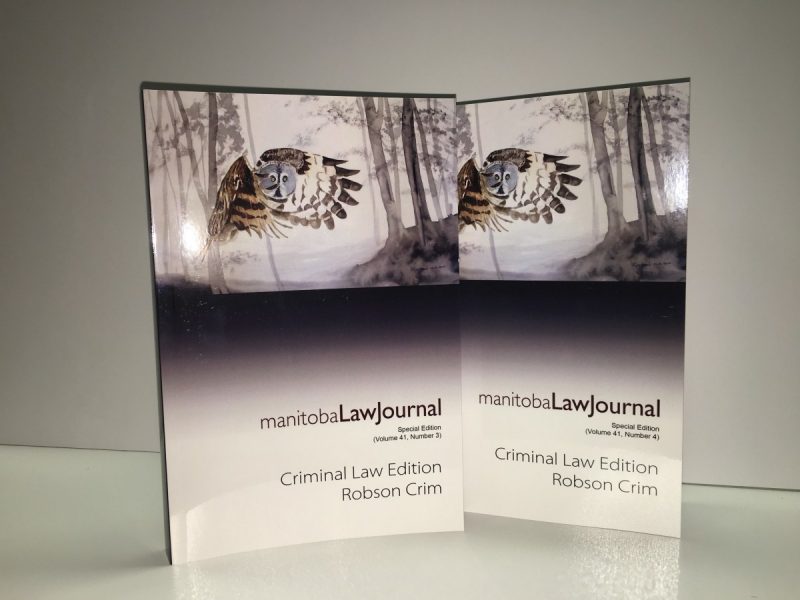 The MLJ now publishes five regular special issues per volume including "The Current Legal Landscape," covering developments in courts and tribunals; "Underneath the Golden Boy," which focuses on developments in legislation and on parliamentary and democratic reform; "Criminal Law and Practice," in collaboration with the RobsonCrim group, examining the social dimensions of criminal law; "The Legal Profession," which includes histories and major developments and figures in Manitoba law and the rapid evolution of legal practice, and also regular features on "Indigenous Law," the most recent of which was a collection of oral histories on Indigenous Jurists and Policy-Makers from Manitoba.
The five issues of Volume 43 are already being prepared for publication, including the next issue of Underneath the Golden Boy, and three Criminal Law special issues, again guest-edited by RobsonCrim. Also in Volume 43 is a collection of essays on legal history in honour of the recently-retired Professor DeLloyd Guth, whose lecture series brought a decade of internationally renowned legal historians to Robson Hall. Dr. Guth's legacy in this regard continues November 5th with a lecture by University of New Brunswick law professor, Dr. Nicole O'Byrne.
"The commitment of the RobsonCrim group is a key element to the MLJ's success," said MacPherson, "but for Dr. Schwartz and myself as Editors-in-Chief, all of our colleagues collectively – SSHRC, donors, Faculty, staff, students, contributors, reviewers and readers – make it possible for us to produce content of which we hope all of them can be justifiably proud."