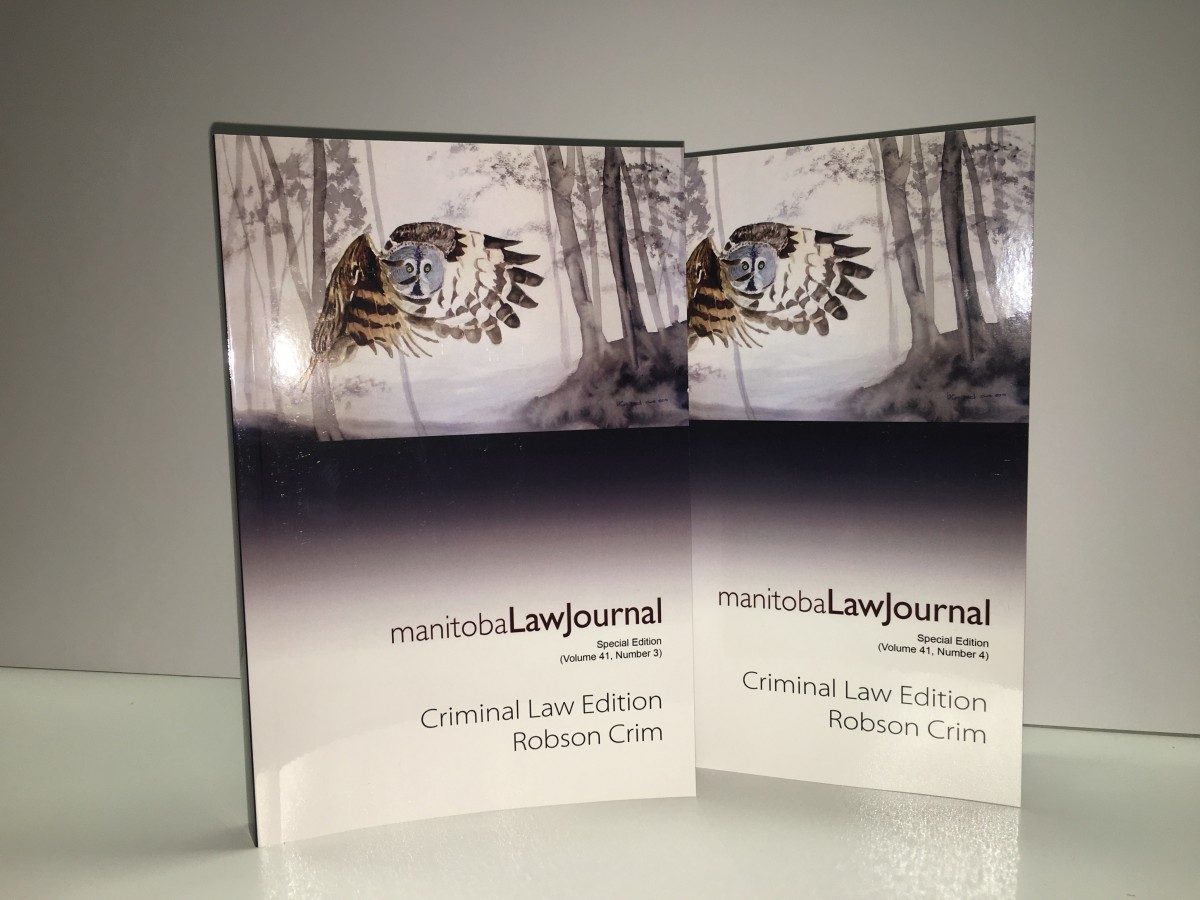 Building a Criminal Law Research Community in Canada
Robson Crim Group's Manitoba Law Journal special issues raise profile of criminal law research in Canada
October 26, 2018 —
Since launching the first criminal law-focused special edition of the Manitoba Law Journal in the fall of 2017, the criminal law research cluster at the Faculty of Law, University of Manitoba – known as Robson Crim – has published over 30 refereed articles, partnered with nearly 40 academic peer collaborators, and become a hub for national Criminal Law research. The results of the group's efforts are described in the introduction to Volume 41 Number 3 by student editors Anna Tourtchaninova and Brendan Roziere.
The MLJ Volume 41 Numbers 3 & 4 features papers edited by the Robson Crim Group from contributors across Canada. Areas of research include Investigations, Evidence and Emerging Legal Tests, Indigenous Peoples, Youth, Sex Work, Terrorism, Vulnerable Populations, and the Judiciary. Currently, Robson Crim has issued a call for papers due Feb. 1, 2019 for a fourth specialized Criminal Law volume.
Professor Richard Jochelson, one of the Faculty Editors-in-Chief along with Professors David Ireland and Amar Khoday, is looking forward to this next edition, which the group hopes will explore themes including: criminal law and the Charter, interpersonal violence and crimes of sexual assault, gender, mental health, policing and state surveillance, and others. "Both academics and practitioners are welcome to submit not just scholarly papers, but also reflection pieces, research notes, book reviews, and even other forms of written or pictoral expression," said Jochelson.
Robson Crim Group thank Emond Publishing for editorial assistance, and MLJ Executive Editors-in-Chief, Professors Bryan Schwartz and Darcy MacPherson.
Hardcopies of the MLJ Criminal Law Edition Volume 41 Numbers 3 and 4 are available from Robson Hall. Please contact LAWJOUR [at] UMANITOBA [dot] CA (204) 474-6130 for more information. Electronic versions of the MLJ can be accessed online.