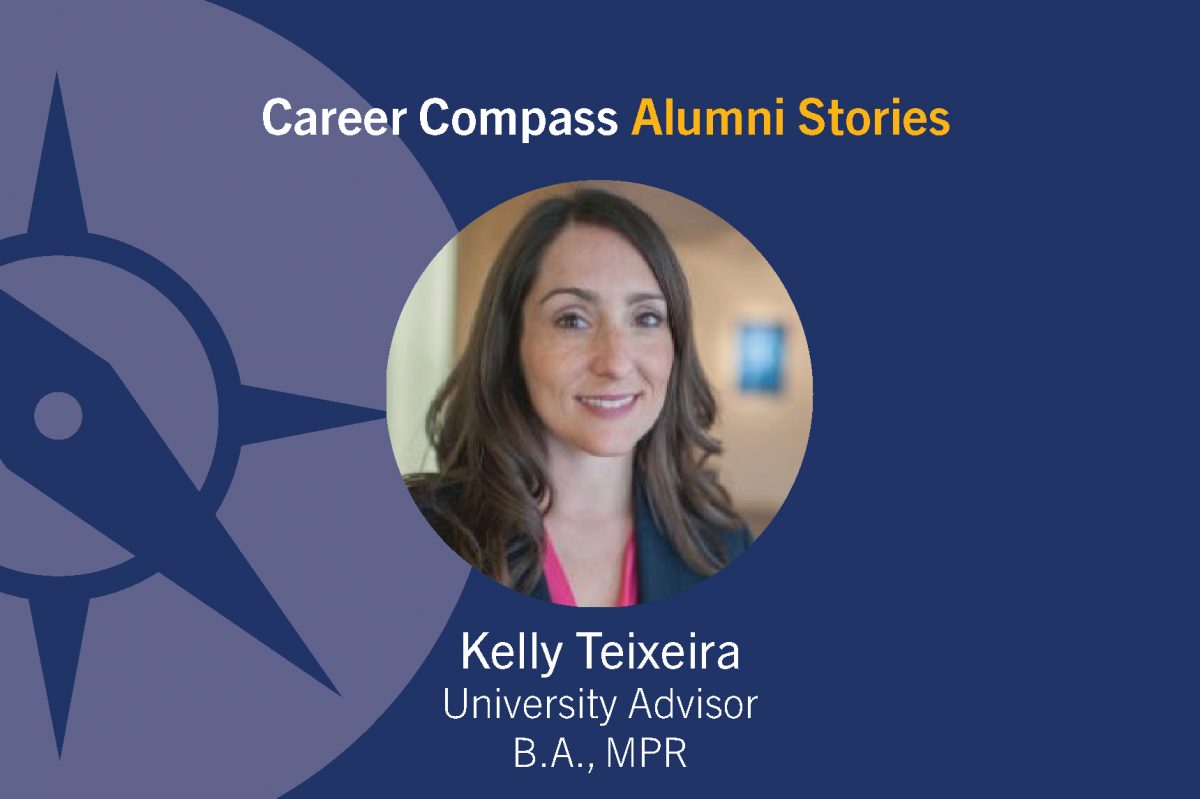 Kelly Teixeira Global Political Economy Alumni
Briefly, tell us about your job. What do you find most rewarding? What are your greatest challenges within this profession?
I am a university advisor at St. John's-Ravenscourt School, an independent university preparatory school in Winnipeg. I advise high school students about university admission requirements, provide assistance with applications for scholarships and post-secondary education, and help students with first year course selection. I also act as the primary liaison between St. John's-Ravenscourt and post-secondary institutions. People often mistakenly believe I am a guidance counsellor. However, I do not offer counselling or career guidance, as we have trained professionals in that area. My role is more of a systems and policy translator.
The most rewarding part of my job is helping students with their decision making. I have the opportunity to support students as they make their own choices. I also love the challenge of learning various policies and procedures, researching the differences between programs and figuring out the unspoken elements to programs and institutions. The most challenging part of my role is working within a high school setting but dealing uniquely with the post-secondary landscape. What matters to one group, is not the same for the other.
What experiences and activities helped you to map out your career pathway?
I've had a number of experiences that have really helped me get to where I am today. Each one has shown me that I possess different skills and at the same time, gave me the opportunity to realize what I do and do not want in a career. Too often, people only speak about finding out the things you like to do – I firmly believe that both are equally as important.
I originally wanted to go into athletic therapy. However, after taking first year biology I quickly realized that biology and I we were not friends. I went to a see a University 1 advisor to get information about supports, tutors or anything that could help me improve. The advisor proceeded to ask me an important question: "why?" I completely credit him with helping me to realize that if you don't enjoy the journey, you most likely aren't going to enjoy the destination. He was the one that told me about the global political economy program. He made the connection that all the courses I chose as electives, and had done very well in, were actually program requirements.
While completing undergrad program, I was fortunate to be employed on campus. I quickly realized that I needed to work with people. I also knew I wanted to travel and was not ready to settle down. I secured a job with as a student recruitment officer at the University of Manitoba. It was here that I really began to figure out what I liked to do, not just what I enjoyed learning about. This job gave me the opportunity to travel and promote something that I believed in.
As a student, did you see yourself in your current career? What stayed the same and/or changed?
I absolutely did not see myself in my current job. When I think back through all the careers I considered (athletic therapy, law, policy analysis, international relations, communications and marketing) I can see why they were at one time or another, a possibility. The reasons for considering them are still the same; the thing that has changed is I now realize what I don't like about each discipline. My current job that allows me to combine all the things I liked about each of those career options. I enjoy working with people and being active; I like doing research and comparing similar/different policies, process and procedures; I adore traveling and meeting with different people from different countries, backgrounds, languages; and I enjoy communicating with people, developing marketing strategies and helping people create their public image. That said, ultimately I really value being able to help and provide a service to others.
What advice do you have for students who are interested in pursuing a degree in global political economy?
Be prepared to read and write, a lot.
Stay up date on current global and national affairs.
Choose electives from areas outside of the program departments. Global political economy is all about exploring issues from various perspectives and learning how they impact one another.
Try to gain international experience during your degree. People will automatically assume due to the name of the program that you will have had international experience.
Find a group of peers to connect with. You will be sitting in many classes comprised of people who are not in the global political economy program and are, therefore, limited in their perspectives. Once you get to know people other people in your program, you will start to find them in other classes.
What job search advice do you have for students and recent graduates?
Be open but selective. You need to be open to different experiences because everything you do will help you in the future. It may serve as perspective or it may only help you identify what you do not enjoy doing. Most likely, you will not be applying for positions that request a global political economy degree. Therefore, you need to be prepared to apply your skills within various settings and for different purposes. This interdisciplinary degree is such an amazing opportunity. Life is interdisciplinary, it is not rigidly placed in one department and this degree offers you the chance to expand your critical thinking skills, not only for academic purposes but for your work activities as well.
Tell us a fun fact about your career path.
During my undergraduate degree, I was accepted to go on a university exchange program through St. Paul's College and the Faculty of Arts. This opportunity took me to San Luis Potosi, Mexico where I took human rights Law, Spanish and political and anthropology courses all taught in Spanish. I did research on how environmental impacts can directly affect our human rights and worked as an intern with the State Commission for Human Rights. This was one of the most eye opening experiences of my life. I had been to Mexico many times before, however, having the opportunity to actually see different professions at work in another culture was incredible; seeing the behind the scenes reality of human rights in another country was shocking.