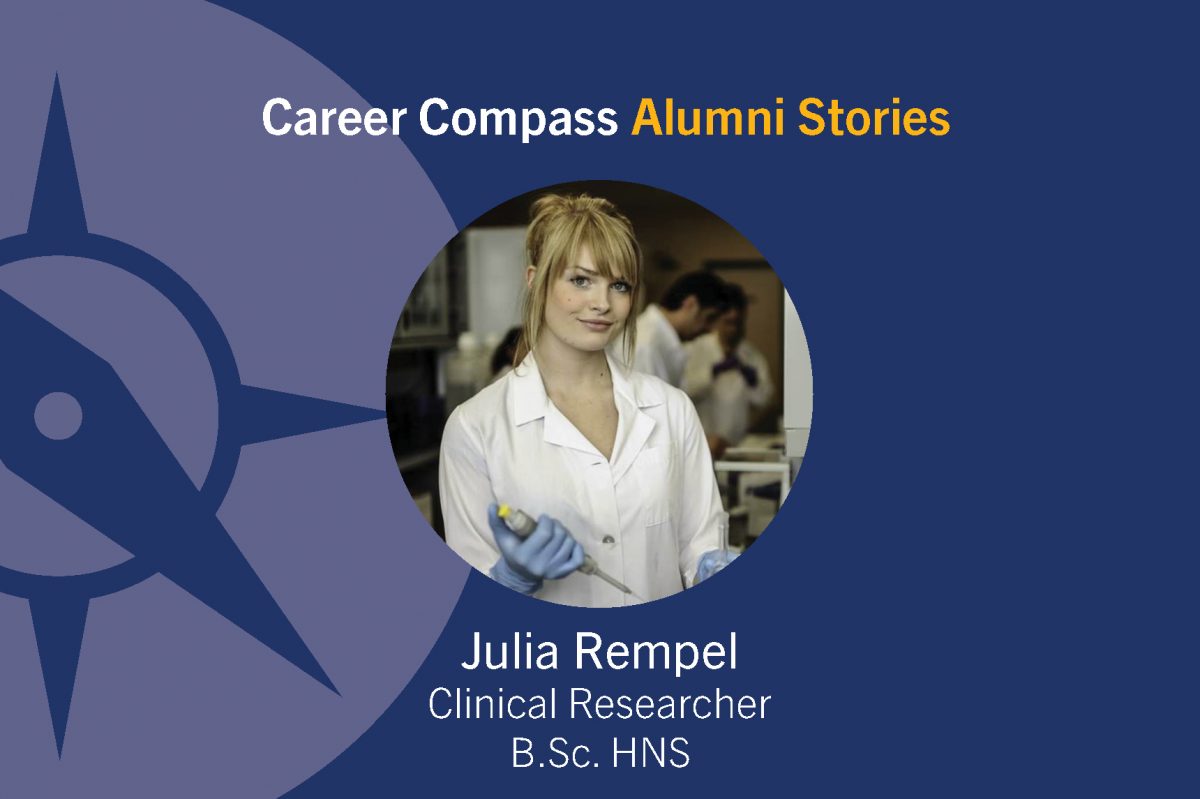 Julia Rempel Human Nutritional Sciences Alumni
Briefly, tell us about your job. What do you find most rewarding? What are your greatest challenges within this profession?
I've been working in clinical research for five years. My first four years were spent at the Richardson Centre for Functional Foods and Nutraceuticals (RCFFN) running clinical trials looking at certain foods and ingredients such as novel oils and their effect on cardiovascular disease risk factors, or on other chronic illnesses such as diabetes. I am now working at the University of Manitoba Bannatyne Campus in internal medicine. My current position entails coordinating a clinical study examining the effects of co-morbidities such as depression and anxiety on immune-inflammatory disorders which include multiple sclerosis, rheumatoid arthritis and inflammatory bowel disease. The purpose of this study is to better understand the health impacts of problems like anxiety and depression on the general health of people, the ability to work, quality of one's life, stress, fatigue, etc. On top of organizing the administrative aspects of the trial with my coworkers, I run the two to two-and-a-half hour appointments with participants. These appointments include basic anthropometric measurements, cognitive tests, questionnaires and can include a psychiatric interview that I conduct with them.
The most rewarding aspect of my job is the psychiatric interviews. People open up and share their life stories with me, talk to me about personal and intimate details and sometimes break down and cry as we talk about issues and experiences they have had in their lifetime regarding depression and anxiety. At times, the participant will be very thankful for the opportunity to get to open up to me and hugs me after the appointment. It's wonderful to be able to connect with people. My greatest challenges are working with certain participants who can be cognitively impaired, or impaired in their ability to walk or write. To be a coordinator for this trial, you have to be patient and caring. Furthermore, there is the challenge of both coordinating the study full time, and still having time to recruit and schedule participants as well as complete all administrative work on top of everything. The days are busy!
What experiences and activities helped you to map out your career pathway?
I acquired an interest in research after a fourth-year Functional Foods and Nutraceutical course. On top of acing the course due to my interest in the subject, I emailed the professors about any part-time work for students and was hired on full-time during the summer before my final year of university. Having these connections aided me to acquire a full-time position at the RCFFN after my graduation.
As a student, did you see yourself in your current career? What stayed the same and/or changed?
Definitely not. I honestly had no clue what I was going to do up until my fourth year of university as I did not want to go into dietetics. I was planning to do a master's in food science and then choose my career path after. Things fell into place after I worked in a student position at the RCFFN. I decided not to pursue my master's degree and I have no regrets about this decision.
What advice do you have for students who are interested in pursuing a degree in human nutritional sciences?
Apply for your internship early if you are interested in dietetics. Furthermore, be prepared to travel if you are looking for a full-time dietetics position. If you are interested in research, get as many volunteer or part-time work experiences in that field as you can and try to make connections. It really is true that sometimes it is all about who you know. If you are in research and plan on pursuing further education in nutrition or food science, be prepared to get your PhD as most academia/research associate positions require a PhD.
What job search advice do you have for students and recent graduates?
Start early and exhaust your options with where you apply and also use your connections to your advantage.
Tell us a fun fact about your career path.
Once I helped coordinate a study where I had to wake up certain days at 3:30 a.m. We traveled to Hutterite colonies for a 6 a.m. arrival to do our baseline and endpoint anthropometric measures and blood collection before their breakfast. They fed us such good food!