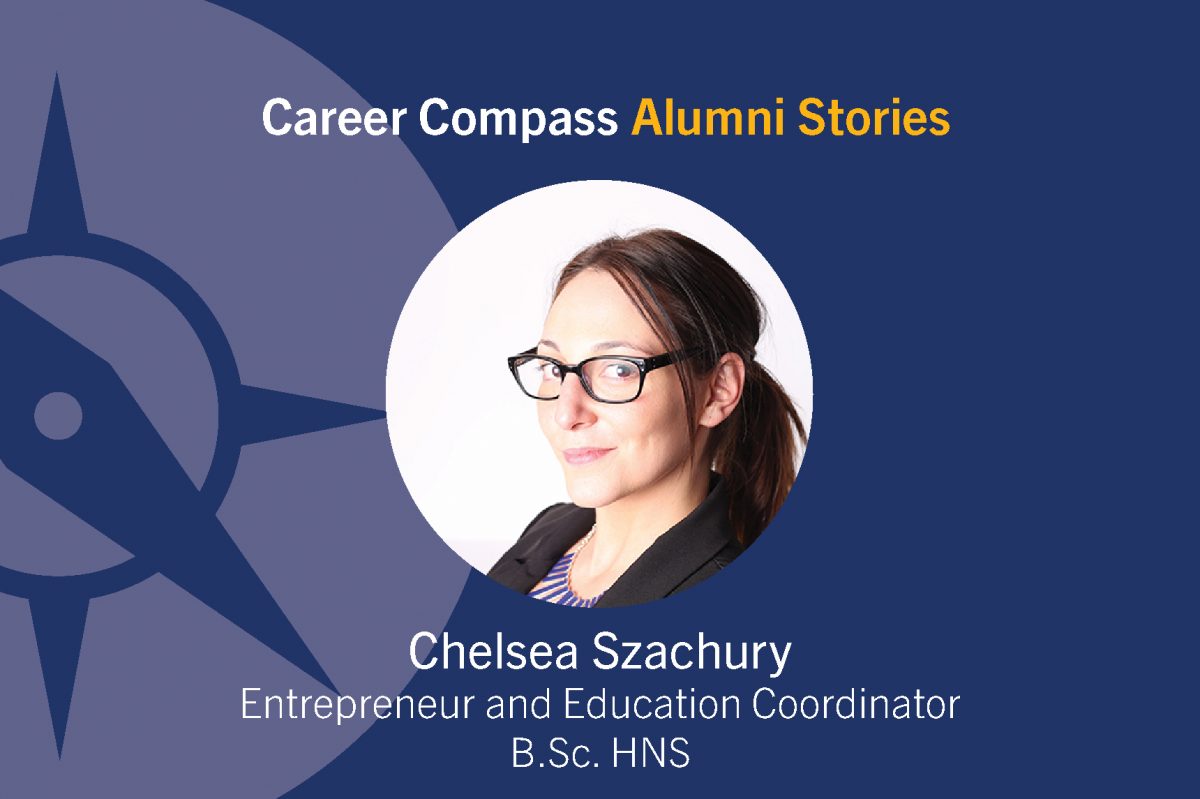 Chelsea Szachury Human Nutritional Sciences Alumni
Briefly, tell us about your job. What do you find most rewarding? What are your greatest challenges within this profession?
I am the founder of The Bar Lady. We provide chocolate bars that are compliant with many dietary restrictions (dairy, soy and preservative free, gluten friendly, etc.). I am also the education coordinator for Cloverbelt Local Food Co-op. I work in the Northwestern Ontario region to promote nutrition and food literacy through many different educational outlets. Partnering with teachers, we develop ways to intertwine food and nutrition into the education curriculum. The most rewarding part of my job is providing students with the tools to make more knowledgeable food choices by helping them understand the food system and the role nutrition plays in healthy living.
The most challenging part of my career is the 'time poverty' when it comes to educating. There is so much information that can be passed on and there are simply not enough hours in the day for one person to teach a community. There needs to be more of us. With more nutritional professionals working towards food literacy, communities will find a happier and healthier population.
What experiences and activities helped you to map out your career pathway?
Unlike many human nutritional sciences students, I did not volunteer at hospitals or health clinics. This is a great option if you are interested in working in the healthcare sector but I knew that I wanted to start my own business so I focused on networking with local entrepreneurs who have been successful in the health and business fields.
As a student, did you see yourself in your current career? What stayed the same and/or changed?
I knew I wanted a career in nutritional sciences, however, I did take courses from other faculties such as business, agriculture and English. I became extremely interested in both business and nutrition which led me to find a happy medium between the two by starting a nutrition-related business. The Bar Lady currently has a line of 10 different products and distributors throughout Ontario and Manitoba.
What advice do you have for students who are interested in pursuing a degree in human nutritional sciences?
With appropriate and educated application, nutrition can be an extremely influential part of one's life through their entire lifecycle. Nutrition can nourish premature babies, provide stunted youth with the tools their growing body requires to thrive, support a mother through pregnancy and breastfeeding and is also a key component in the management of chronic diseases. If you find the influence in which nutrition has on one's quality of life fascinating, then this degree may be exactly what will lead you into a fulfilling life career.
What job search advice do you have for students and recent graduates?
Expand outside your comfort zone with jobs and location. My job responsibilities are very wide and diverse because of the small population I work with. I have had many different experiences due to the fact that I live in a small rural city. I operate a greenhouse, teach students of all grade levels and work daily with farmers to develop more sustainable economic and agricultural ways for our region. If you want to try your hand at many different opportunities, I would suggest broadening your job search. Find out what you really like to do; it may be quite different than what you thought you would like to do.
Tell us a fun fact about your career path.
My entire job is fun! The diversity definitely keeps it interesting. My chocolate bar business brings a lot of joy to my career; who doesn't like making chocolate? Aside from chocolateering, I find the most fun in working with the community. Hearing stories from the farmers who have grown up on their fourth generation heritage farm, seeing the children smile as they transplant the seedlings that they've raised themselves and knowing that I've made a difference in a community are heartwarming and fun at the same time. Life is about learning. Learning is about life experiences. What fun is life if it doesn't include food?