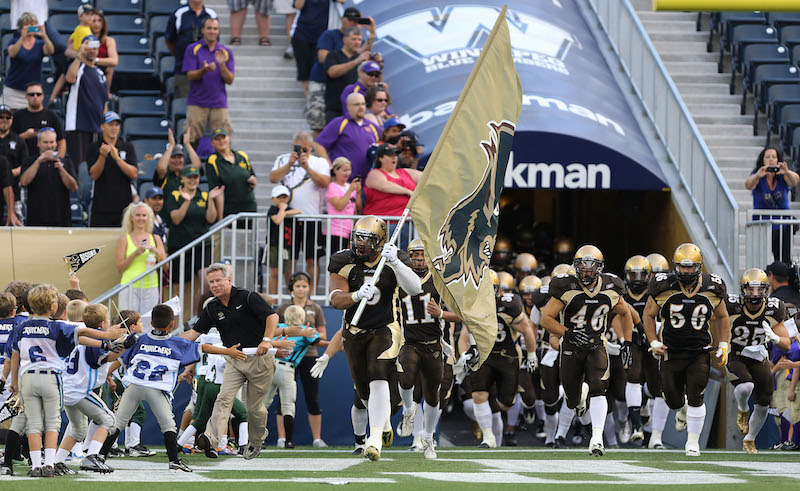 Get your Bison Football tickets. Join the herd!
May 29, 2014 —
Bison Sports is pleased to announce Bison Football tickets will go on sale starting Sunday, June 1, for the upcoming 2014 Canada West conference regular season.
Tickets are available through GoBisons.ca or Ticketmaster.ca or by calling 1-855-985-5000.
Ticket prices remain the same from the inaugural season at Investors Group Field ($15 for adults and $8 for students/seniors;  children six and under are free.) But there is a new season ticket package on offer for the 2014-2015 season: Adults price is $50 ($10 saving from regular price) while students/seniors is $25 ($7 saving) plus U of M Alumni and Staff is $45 ($15 saving). A ticketing surcharge will apply.
There will also be a brand new group tiered system for Bison Football tickets. A group purchasing 10-15 tickets will receive a 15 per cent discount on the overall price while a group of 16-50 tickets has a 20 per cent discount and a group with 51+ tickets will earn a 30 per cent discount.
For more information on Bison Football tickets, contact bison [dot] tickets [at] umanitoba [dot] ca or call 204-474-9146.
Bison Football – 2014 Canada West Regular Season Home Schedule
Fri., Sept. 12: Regina Rams at 7 p.m.
Sat., Sep. 20: UBC Thunderbirds at 2 p.m. This is our Homecoming Game!
Fri., Oct. 17: Saskatchewan Huskies at 7 p.m.
Sat., Nov. 1:   Calgary Dinos at 1 p.m.