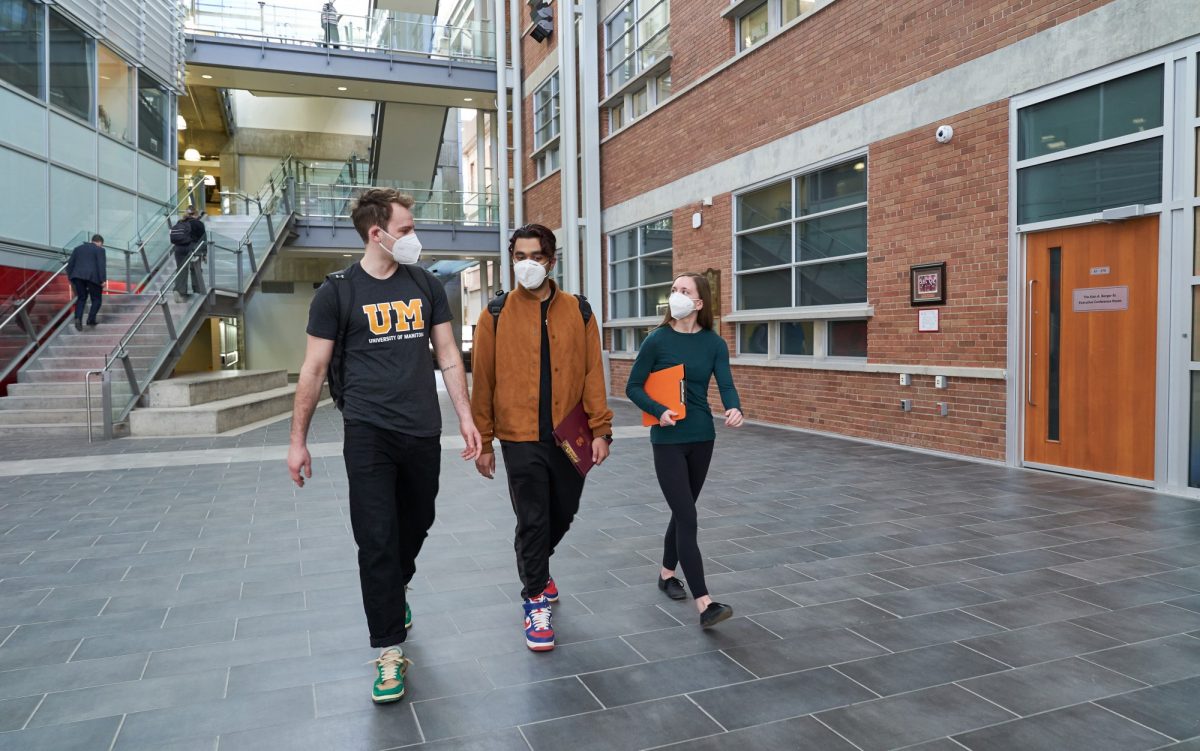 Get Hired at UM as a Work-Study Student
There are up to 95 part-time positions available for students
August 2, 2022 —
The Work-Study program will help you gain valuable work experience while earning additional funds to help support you and your education. To celebrate the program's 25th anniversary of the Work-Study program in 2022, 25 additional positions have been added to create a total of 95 student positions.
The Work-Study program offers part-time employment for students with financial need during the school year. Apply to the program to gain valuable work experience and skills related to your field right on campus.
This year positions range from in-person to remote, or hybrid, as the university transitions back to in-person courses for the Fall 2022 term. Amid all the changes experienced these past few years, UM will continue to offer an amazing experience for student staff. There continues to be a wide range of position types offered again this year including social service, science, business, sport, tech and art.
Whatever your career goal may be, Work-Study is an opportunity that can help you build your resume and grow your skills and experiences.
Program Application Deadline: September 12, 2022
Eligibility Criteria: A full-time student receiving government student aid and/or band sponsorship, Metis Nation post-secondary funding, or disability funding who is residing in Manitoba and is maintaining at least a 2.0 GPA: please see the Work-Study website for more details.
The 2022-2023 Work-Study Positions can be found in this PDF. Below are a few highlights of some excellent positions we have posted this year:
CEL Indigenous Programs Assistant: If you imagine yourself making a big impact on the community by harnessing your leadership and organizational skills, this position with Community Engaged Learning (CEL) may be perfect for you. In this role you will be supporting the coordination of various student programming. This will include helping participants learn about Indigenous peoples' enduring relationships to land and place, explore their role in protecting land and water, and meeting other young people committed to climate action. You will be responsible for promoting programs, engaging students, and developing outstanding programming for students. A strong knowledge and experience working with Indigenous communities or organizations is required, and First Nations, Métis, and Inuit candidates will be prioritized for this position.
Research Assistant positions (more than 17 options!): We have more than a handful of Research Assistant positions this year hosted by faculties and organizations such as Anthropology, Architecture, Kinesiology and Recreation Management, Education, Biological Sciences, Physical Plant, the College of Rehabilitation Sciences, the Centre for Human Rights Research, Pharmacy, the National Centre for Truth and Reconciliation, and the Centre on Aging. We recommend that students who are investigative and want to further develop their research skills to check out all the different research position opportunities.
Mental Health Strategy Assistant: Do you have an interest in student mental health and the steps needed to create an environment promoting wellness? You can be a part of the team that organizes the University of Manitoba's mental health strategies by creating campus events, researching best strategies and more! Consider applying for this position offered by Student Affairs to develop excellent communication, research and website-editing skills.
Climate Action Plan Assistant: Are you passionate about building a sustainable future? If yes, this position would be great for you! Work with the Office of Sustainability to review data, conduct research, create reports and promote the reduction of waste on campus!
Student Engagement and Success Student Website Assistant: Are you interested in developing your web content skills? Join Student Affairs to transition information between content management systems in a professional environment. This position has the opportunity for remote work, so if you were hoping to work from home while getting some technical experience onto your resume this may be the perfect job for you!
Gallery Assistant: Exhibitions and Collections Do you enjoy caring for and managing art collections? Begin building integral skills for curating with this position! From ensuring the inventory and condition of art is maintained, to installing exhibitions and setting up events, there are many great skills that can be developed as you work in the School of Art's Gallery.
Junior Systems Analyst: If you have a head for numbers, and you know Linux, Python, and/or SQL, this position is right for you. In this job, hosted by Information Services & Technology (IST), you will be able to apply all the computer skills you've gained throughout your university degree to help the maintenance and support of web applications and other related technology.
Communications Assistant: Are you interested in developing professional networking and marketing skills in a STEM savvy environment? This job will build your communication and digital skills as you promote the Price Faculty of Engineering. Your role will be to help develop new digital environments for external audiences, event planning, and other social media to promote the faculty.
Student Career Services Advisors: Figuring out the future is a complicated mission for every university student – and if you work at Career Services, you'll be part of the team that helps students find their direction. Your shift would include orienting students to the career centre, facilitating resumé critiques, and assessing student needs to make appropriate referrals. This is an excellent position for students considering counselling, social services, education, or human resources; however, we welcome everyone and anyone to apply!