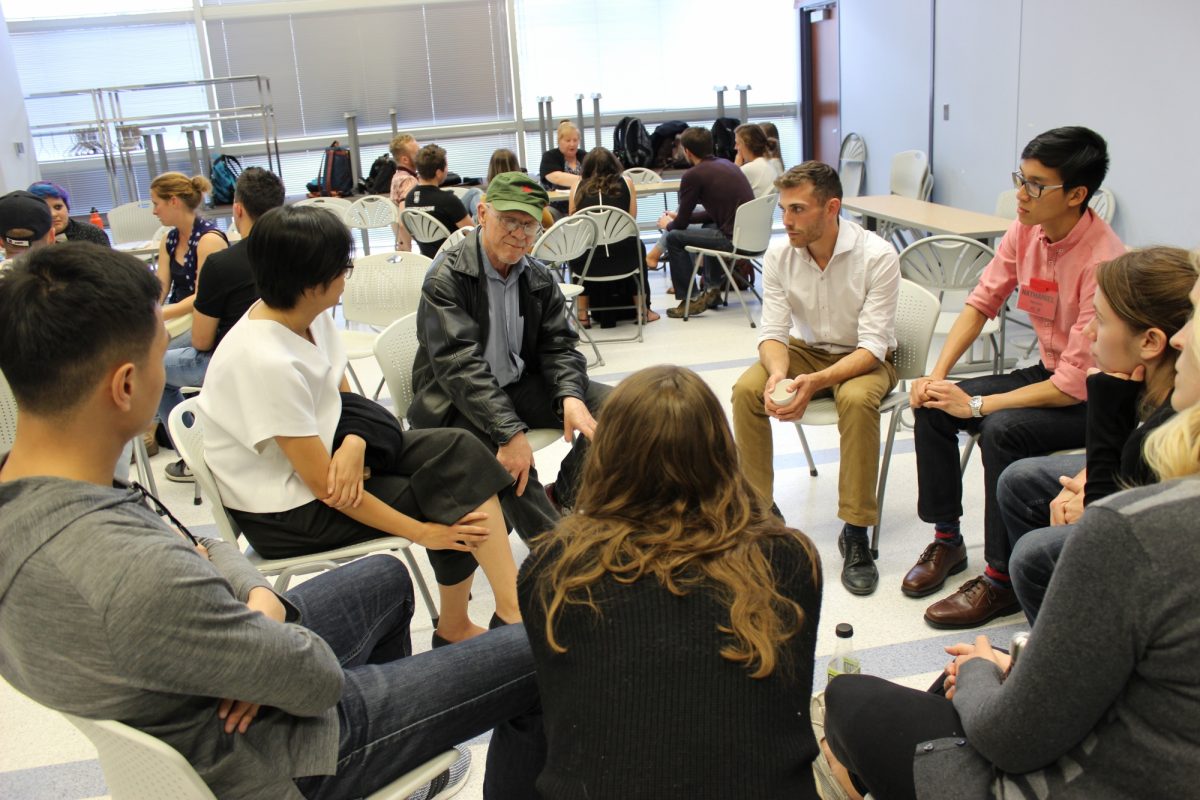 Free workshop on Poverty Awareness & Community Action
August 19, 2019 —
Sign up for a free workshop to learn more about poverty and how it impacts community members.
On Monday, August 26, Community Service-Learning is offering an evening Poverty Awareness & Community Action workshop to help people learn about the impacts of poverty and social welfare systems. The hands-on workshop uses role play and discussion to increase empathy and awareness, and to think about our role in addressing poverty in our communities.
"The PACA workshop is greatly needed for students," said Shelley Stevenson, a community volunteer from North Point Douglas Women's Centre, "for another viewpoint and just to get them aware of what's happening on the streets and in the communities they will be working with in the future. Students get to know the people firsthand. There are lots of stereotypes out there. Working with the people can give you a better understanding of how society actually runs."
Workshop participants will be randomly assigned an experience of poverty, drawn from submitted stories, community consultations, current news topics and the lived experience of the PACA team members. During the role play, participants interact with a variety of service-providers, such as police officers and social workers, to try to meet their basic needs while facing common barriers while in poverty, such as stigma and discrimination.
"I was in my sixth year of postsecondary education," recalled Dale Lui, an alumnus from the Department of Political Studies. "I thought I had gained the 'right' knowledge through my studies to be in a position to help people, but I realized I had a lot of prejudice against the very communities to which I was dedicating my studies: people living in a low-income situation or below the poverty line. Being a part of PACA really changed my views on poverty."
The PACA workshop is open to all students, staff and faculty, and members of the wider community. Donations of non-perishable food will be gratefully accepted on behalf of 1JustCity and the North Point Douglas Women's Centre.
Event Details

Date: Monday, August 26
Time: 5:30-9:30 p.m.
Location: Assembly Hall, West End Commons
Cost: Non-perishable food item or cash donation; no one will be turned away if they cannot make a donation
Registration
Register online by August 22. Click here to register on Community Link.
Please note that the workshop is designed for people who *do not* have lived experience with poverty. If you have lived experience, you are welcome to apply to volunteer.
Volunteer Sign-up
If you have already participated in the workshop and/or have lived experience with poverty, you are invited to apply as a volunteer. Click here to sign up on Community Link.
__
Community Service-Learning, a part of Student Engagement and Success, facilitates programs, events and workshops to help students develop the knowledge, skills and attitudes for working well with community.
Faculty members interested in booking a workshop can contact:
Anny [dot] Chen [at] umanitoba [dot] ca
204.474.6992
umanitoba.ca/servicelearning