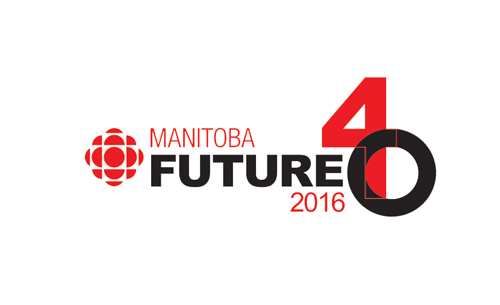 Five Students Named to Top 40 under 40
April 13, 2016 —
The University of Manitoba is so proud of all of the wonderful accomplishments of our five students who were named to CBC's Top 40 Under 40. These trendsetters, change-makers and community-builders are all helping to make our community and our province a better place to live, work and play.
Akosua Tiwaah Bonsu​
Faculty of Arts
Age: 22
Category: Community, Social Activism and Volunteerism
Akosua uses every position to empower the lives of youth around her. 
She is a fourth-year Global Political Economy major at the University of Manitoba; a Big Sister with Big Brothers Big Sisters of Winnipeg; member of the Young Canadians Roundtable on Health; Volunteer Coordinator of the University of Manitoba's Cystic Fibrosis Canada campaign; and Ambassador General of Folklorama
In 2013, Akosua was selected from more than 800 applicants to represent Manitoba on an international trade and development mission to Asia. She is now a mission team leader with Global Vision, traveling the province and the nation to mentor future young leaders, facilitate economic roundtables, and lead hands-on experiences in community leadership, international trade, governance, and diplomacy.
As a YMCA-YWCA Women of Distinction Award recipient and a University of Manitoba Emerging Leader Award recipient, she has been unstoppable when it comes to making a difference in her community.
Monica Cyr
Faculty of Agricultural and Food Sciences
Age: 36
Category: Teaching and Healthcare
Monica Cyr is a life-long learner, student, and popular public speaker.
Life-long learner, student and popular public speaker, Monica Cyr teaches health and cultural knowledge at the North End Food Security Network, Youville, Siloam Mission, Barbara Mitchell Centre and Promoting Aboriginal Community Together.
A founding member of the Indigenous Circle of Empowerment, member of Migizii Agamik and the University of Manitoba Aboriginal Students' Association, she is a strong Metis leader, engendering change through passion, positive attitude and service.
Monica juggles a busy family, studies, Food Matters programming, Frontier College nutrition literacy and U of M Indigenous content tutoring.
With many publications and awards, Monica is an amazing woman who gives back these teachings through her volunteer and work activities, and is someone who will continue to be a positive force in Winnipeg and beyond.
Jade Harper
Faculty of Arts
Age: 32
Category: Community, Social Activism and Volunteerism
Jade Harper is the founder and owner of SpiritFusion, a mobile yoga and wellness studio that integrates Indigenous teachings and Eastern practices encouraging holistic wellness.
At 29, Jade was voted onto Ma Mawi Wi Chi Itata Centre's board of directors by her peers and, just one year later, appointed as the chairperson, a position Jade continues to hold.
In addition to the above, she previously sat on Beyond Borders board of directors for six years, is active in suicide prevention in northern Manitoba, is a co-founder of The Village Walk and is a curator of "Half-breeds in their Natural Environment: Taking back the Carte de Visit."
She studies at the University of Manitoba, pursuing a native studies major and minor in nutrition. She is a Winnipeg Police Service Indigenous Advisory Council member and she works with children and youth who have been sexually exploited. As well, she is a strong philanthropist throughout Manitoba.
Lisa Liang
Faculty of Health Sciences, College of Medicine
Age: 28
Category: Science and Technology
Lisa Liang is a PhD student at the University of Manitoba, where she is conducting research to identify the driving force in an aggressive childhood brain tumour, medulloblastoma.
As current treatments are very harmful on the developing brain, it is important to find more effective and safe therapies. Lisa's work, which was recently published in a high-impact journal, has led to the discovery of a cellular fingerprint that identifies the stem cells contributing to medulloblastoma progression.
Her current efforts in the lab involve testing a drug that can target these cancer stem cells, which she hopes will lessen the toxic effects of current treatments and provide a better quality of life for children with brain tumours.
Lisa has received a Research Manitoba studentship and has presented her work at local and national conferences.
She has also shared her research with the public through platforms such as Café Scientifique and the 3MT competition, where she was one of the finalists.
Jared Star
Faculty of Social Work
Age: 29
Category: Community, Social Activism and Volunteerism
Jared Star, 29, grew up in Manitoba and, like some LGBT2SQ* youth, faced challenges with being bullied, dealing with homelessness, addiction and the criminal justice system.
With proper supports, he worked through his recovery to make a difference in the lives of others through volunteering, getting his high school diploma and later enrolling in the University of Manitoba's Faculty of Social Work.
He currently works at the Rainbow Resource Centre and helps make Manitoba a safer place for LGBT2SQ* youth.
He has been the recipient of several awards, such as the GLBTT Chamber of Commerce student of the year, the Cheryl Cruikshank Memorial Award and the Snowy Owl Monarchist Society Community Development Scholarship for his ongoing commitment to LGBT2SQ* community.
Photos and biographies of each finalist were sourced from the CBC Top 40 Under 40.