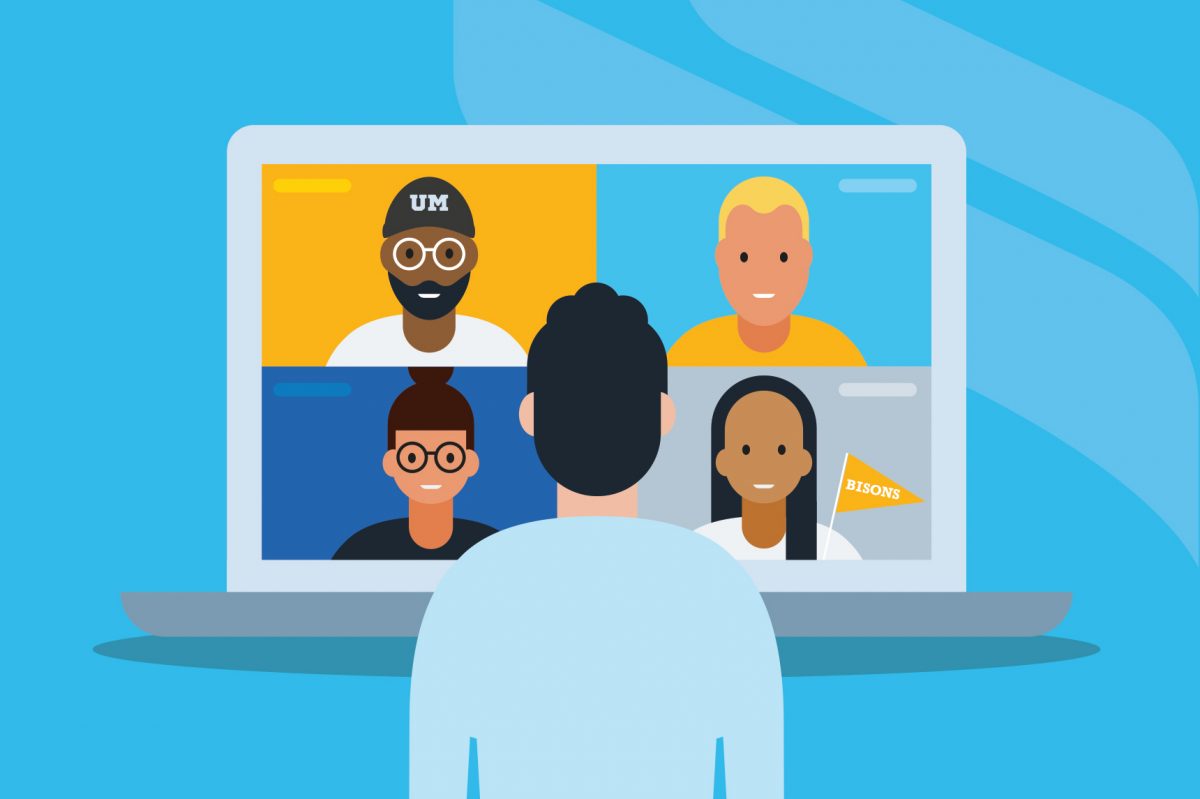 In-person and virtual events supported new UM students as they kicked off the Fall Term
It's not too late to engage with valuable First Year Experience programming
September 14, 2021 —
Over the last month, Student Engagement and Success has presented a suite of virtual and in-person programming designed to ensure that UM's newest students have the tools and resources they need to thrive during their time in university. First Year Experience activities included UM Essentials, Prep Week, and Welcome Day. Students who came to campus from September 8-10 were also welcomed in-person at UM Commons Live.
"UM Commons Live provided students with an opportunity to meet new people and along with other on-campus initiatives, brought a fresh energy back to the Fort Garry campus," Brandy Usick, executive director, Student Engagement and Success says. "Over the next few months, we'll be looking for ways to reconnect with students as we ease back into more on-campus activity."
Under tents in the Quad, students were able to find information on campus sustainability, get career advice and have tours of campus. Staff were excited to hand out information and interact with students in-person for the first time in months. Billy the Bison visited every day, bringing high fives and good cheer. There was a drum circle lead by spiritual care coordinator Edgar French and student support case worker Jesse Singer, and student services navigators from the Virtual Advising Help Centre were on hand to support students with general questions and referral to services.
Through UM Essentials, an eight-module online course, students learned about the university's expectations for their academic and personal behaviour as well as how to navigate coursework through UM Learn. UM Essentials is available to students throughout the next year, so if you have not yet completed these modules, you can log on and complete them now.
Prep Week featured a full schedule of online workshops, lectures and social gatherings, with some sessions seeing upwards of 700 students in attendance. The most popular were skill-based workshops, including those on time management, group work strategies and academic writing. Recordings of the Prep Week sessions are available in the UM Learn course. If you are not able to access the course, email umessentials [at] umanitoba [dot] ca and ask to be added.
Nearly 3000 students registered for Welcome Day, logging in for the virtual kick-off of the new academic year with messages from university administration, alumni and upper-level students wishing them well on their UM journey. Students spent the day in sessions familiarizing themselves with all aspects of university life. View the welcome ceremony and the sessions offered on September 7.
If you missed UM Commons Live and have not yet received your Welcome Package, you can pick one up at the First Year Centre (205 Tier Building) or at UMSU in University Centre, while supplies last.
STAY IN TOUCH
For everything you need to know as a first year student, visit UM Commons, an online hub where you can get connected to your classmates, find a mentor and more. Plus, don't forget to follow us on Instagram @umfirstyearcentre and @umstudent.