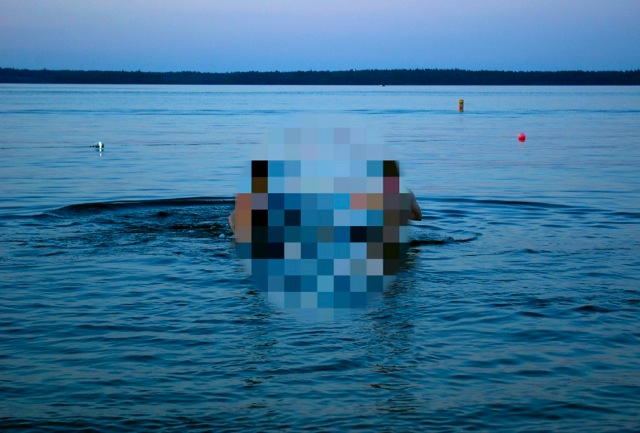 Education student's 'ARTography'-based thesis pays off
Allison Moore won 2015 Arts Masters Graduate Award from the Arts Researchers and Teachers Society
August 14, 2015 —
Allison Moore is an artist and a teacher, but has struggled somewhat to reconcile the two—somewhat different–occupations.
So, for her Master of Education degree, she decided to explore what that meant to her. The result was an "ARTography" thesis, similar to autoethnography, or using oneself and one's personal experiences and self-reflection on those experiences to explore a topic.
"The process of making my art became the idea for this project," says Moore. The seven years total it took her to achieve her Master's degree paid off—as this year she was awarded the 2015 Arts Masters Graduate Award from the Arts Researchers and Teachers Society, a special interest group (SIG) within the Canadian Association for Curriculum Studies.
Her thesis used various media, including photography, video and images printed on fabric, to explore some of the conflict that arose in her in being both teacher and artist, along with being a mother.
"I'd always been an artist and hung out with artists. Art was my life and then I had my child and it's this huge change, you know, your life shifts. And I never thought I would want to be a teacher so there is sort of that conflict that arose in me…that is what I wanted to investigate. How I could practice both those things."
Moore's first degree was in theatre design from Concordia University in Montreal, but after working as a scenic artist in Toronto for a number of years, she became interested in arts-based research and decided to return home to Manitoba, where she applied to the Faculty of Education.
After receiving her B.Ed. in 2006 from U of M and working as an artist in schools for a number of years, in February of this year Moore received her Masters of Education.
She said the thesis, which was conducted in two parts—an art show in October 2013 and then the writing of a paper in 2014 based on that show—was very personal.
"I was investigating the bigger patterns in my life. What it means to be an artist and be myself, but also having my daughter in my life."
Rather than investigate one particular question, she said the thesis involved a lot of serendipity and old memories and "how I organized things."
"Then I played around with them."
For example, she used photos from cameras her father had bought her at important moments in her life—when she turned 13, when she graduated with her first degree and then her second.
"They came at these transitional moments in my life and I have photographs from all these different cameras."
Moore said she also discovered in the process of doing her thesis that mothering and teaching are very similar. "They both have aspects of caring and compassion."
She says she was pleased to receive the Arts Masters Graduate Award and is happy to have some recognition for her years of hard work.
"Having other people I didn't know look over my thesis was kind of exciting."
Moore's thesis advisor was Joanna Black, an associate professor of art education in the Faculty of Education. Committee members for her thesis included Francine Morin, professor of arts education in the Faculty of Education and Sharon Alward, a leading new media artist and a professor at of the U of M's School of Art.
Moore has also worked at the Winnipeg Art Gallery on weekends for many years doing Saturday morning programming with children, and after she graduated with her M.Ed. this past spring, she was hired on full-time in the art education department.
Moore loves the work. "It's fantastic."
She says it's exactly the career path she imagined when she went back to school.
"My first thoughts of going into Education were, 'It would be so nice to work in an art gallery. So I'm feeling quite lucky to be here.'"