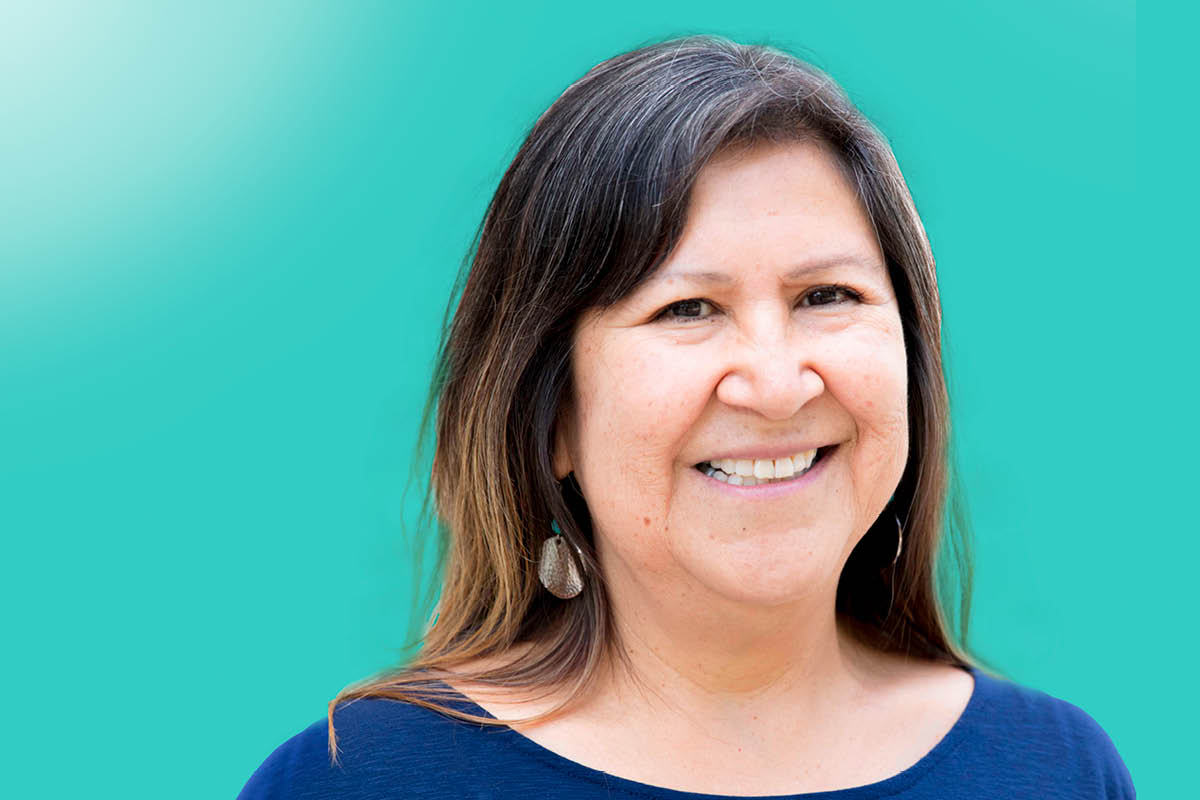 Childhood passion becomes Indigenous scholar's life-long research focus
October 20, 2020 —
Dr. Myrle Ballard's land-based learning began at an early age in her home community of Lake St. Martin First Nation. Alongside her classroom learning, she spent her evenings and weekends helping her mother, aunts and uncles tend to the land and water systems. "I remember helping my mom around the yard, doing whatever was asked of me," Dr. Ballard said. "Everything from feeding the cows, making hay, gathering berries and preparing the nets for the fishing season."
Growing up speaking her traditional language, Anishinaabemowin, Dr. Ballard furthered her connection and curiosity with the environment around her. Language translation continues to influence her work today. "The management systems of how my people have traditionally taken care of the land are found right there within the language which is embedded in science, a knowledge systems within it," she said.
For example, the Anishinaabemowin word for 'west' is Niinga-bii-wanongk. "When you start breaking down the translation, 'Niinga' means 'something that dissolves or melts,' 'ningabii' is a point of dissolving '; and 'ongk' is in reference to distance / measurement"; she explained. Through this translation, one can track everything from seasons, to the path of the sun, to the weather systems.
Flood devastation and healing
Throughout her upbringing, Dr. Ballard started noticing changes in the natural land and water systems around her. She began to see the repercussions of flooding and poor water management. "Almost every family around us had cattle at one point, so the livestock became affected to the flooding," she said. "Families started selling off the cattle."
In an attempt to regulate the water levels of Lake Winnipeg, the provincial government began construction on the Fairford River Water Control Structure (informally referred to as the Fairford Dam) in 1959. Located on the Fairford River between Lake Manitoba and Lake St. Martins, the dam began operations by 1961.
Dr. Ballard's community was forced to adjust to the constant deconstruction and changes to the landscape, and in turn, lost some of their independence. "That's what happens when the government makes these decisions unilaterally without consulting those who know the land and know the water," she said.
Located in central Manitoba, Dr. Ballard recalls drastic changes to Lake St. Martins beginning shortly after the dam became operational. By spring 2011, the man-made flooding reached irreparable measures, forcing members of Pinaymootang First Nation, Little Saskatchewan First Nation, Lake. St. Martin First Nation and Dauphin River to relocate indefinitely. The record-breaking water levels have been noted as the "largest spring runoff in the province's history.
Dr. Ballard's observation in her youth initiated her interest in water control, water systems and water management. "From my mother's house where we grew up, we used to be able to see the lake from a distance. Throughout the years, what was once a hay field became a swamp because of the constant flooding of the land."
This led Dr. Ballard to leave her home community and pursue post-secondary education in Winnipeg. She struggled with her first undergraduate degree, and noted, "I didn't have mentors because I was the one of the first from my community to attend university."
Her second undergraduate degree and her master's degree were a breeze, she said. "You start to gain a routine and a better sense of what is needed to continue." Due to a brief relocation to Ottawa, Dr. Ballard's PhD took longer than she had hoped, but eventually, she completed it in natural resources and environmental management from UM in 2012.
In 2015, Dr. Ballard developed a project called Minoayawin: Manitoba Flood Healing Voices. The project's intentions were to consult with impacted First Nations community members, with a focus on Elders, to "discuss, determine and share strategies for First Nations People to heal from the human-made flood in 2011." With more than 200 participants, Dr. Ballard gave voice to Elders who were in the midst of processing the loss of their traditional homelands. The testimonies are publicly available, and the project cites the power of voice recordings as a necessary tool in sharing oral histories.
Centering community during the pandemic
Dr. Ballard's experience working with Indigenous communities and emergency responses led her to a current project called kitatipithitamak mithwayawin (a Cree phase that translates to "sovereignty over health and well-being") where she is co-lead. The project centres "Indigenous-led Countermeasures to Coronavirus (COVID-19) and other Pandemics, Then, Now, and into the Future."
The project team consists of academic researchers, language speakers, Knowledge Keepers, a nurse and community members. The project offers digital updates, step-by-step guides for communities and resources, and also houses community stories. It was recently awarded $500,000 from the COVID-19 Rapid Response Program Funding from the Canadian Institutes of Health Research to continue the research.
Of course, like many community-led initiatives, the pandemic has made for an interesting challenge for Dr. Ballard and the rest of the team.
"COVID-19 has made it hard because you can't really work in-person with people," she said. "And as First Nations people, we are very social." As Manitoba approaches the predicted second wave of the pandemic, working with communities has become more challenging. And while Dr. Ballard supports Indigenous Nations practicing their own sovereignty by returning to lock-down measures, she noted that it has become a further challenge of advancing her research.
Dr. Ballard recently received a CIHR grant to continue her work in her home community of Lake St. Martin. Her project is called Ki thagi daba wanawug unji udu kiwangk: Considering health and trauma after the flood and permanent displacement of Lake St. Martin First Nation community, which translates to 'they were flooded out of their land,' and will build off of the work she's done previously with the Minoayawin: Manitoba Flood Healing Voices. She is also developing her research on using Anishinaabemowin for resource management which will identify how the original naming of lands and waters describe their natural form.
Advice for students
Time management is necessary in Dr. Ballard's busy schedule, and for many students new to university, that can be a real challenge.
"If you are stuck, get help right away," she said. "Ask someone who has been through the university system." She suggested approaching fellow students with more experience or Indigenous faculty, and even offered her own expertise to students who may be searching for mentors.
Further, Dr. Ballard recommends keeping an eye out for the upcoming Wawatay Project at UM, which will recruit Indigenous students into science with mentorship and supportive programs available.