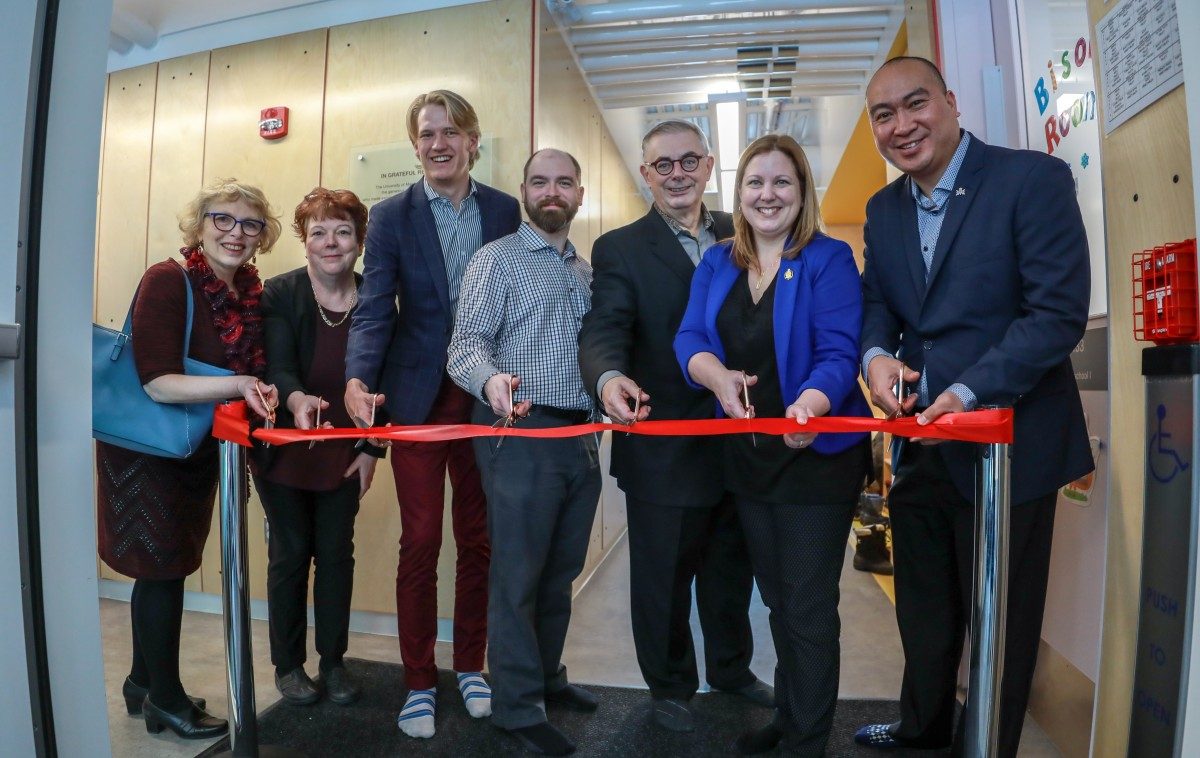 Campus Children's Centre grand opening
January 10, 2019 —
The University of Manitoba officially opened the Campus Children's Centre at a ceremony Tuesday, Jan. 8. The honourable Sarah Guillemard, MLA Fort Richmond, and the honourable Jon Reyes, MLA St. Norbert were in attendance, as well as Susan Gottheil, Vice-Provost (Students), Jakob Sanderson, UMSU president and Carl Neumann, UMGSA president, and U of M President and Vice-Chancellor David Barnard.
The U of M has identified childcare as an important component in supporting its institutional priorities of offering an exceptional student experience, promoting Indigenous achievement, and creating an outstanding workplace.
"How can students focus on their studies, be present in class, and explore new paths when they must also worry about finding safe, affordable, and reliable care for their children?" said Barnard. "For many student parents, having access to childcare can mean achieving academic success. That's why I'm so pleased that today we are able to officially open this new expansion of the Campus Day Care Centre and offer affordable childcare to more students here on campus."
The newly expanded daycare centre offers 54 new spaces for children, all of which have been filled primarily with the children of students. The project's funders include the Government of Manitoba, which provided capital funding of $600,000, and through the Front and Centre campaign, the University of Manitoba Graduate Students' Association provided $300,000, and the University of Manitoba Student Union gave $2.4 million to this initiative.
The funding will also support Campus Children's Centre in its efforts to weave traditional teachings into the day care's curriculum, preparing the next generation to continue the process of reconciliation, which is a core value of the University of Manitoba.
Dawn Montebruno, executive director of the Campus Children's Centre, said at the event, "A great big thank you to President Barnard, Sarah Guillemard, UMSU and GSA for supporting Campus Children's Centre, and recognizing the importance of quality childcare on campus."
Attendees at the event were offered a brief tour of the facility, including a look at the indoor gym, kitchen facilities and the baby room.
Parents are always welcome at the facility, to nurse, or to read or make presentations to the children.
"Campus Children's Centre provides culturally-diverse families of the University of Manitoba with child-inspired learning opportunities in a safe, inclusive and nurturing environment, so parents can better balance work, education and family life, and children can develop to their fullest potential," said Montebruno.