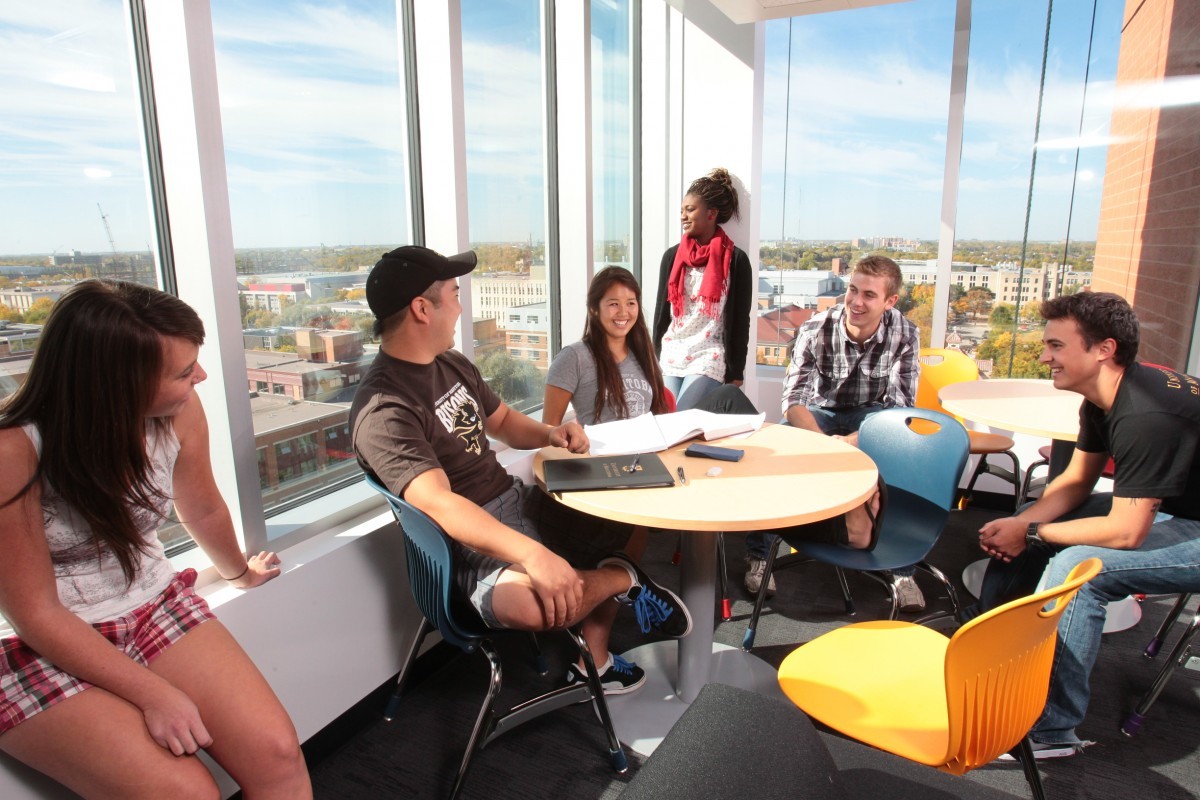 Building a foundation for students
Pilot program for new engineering student residence floor in the works
February 11, 2016 —
Imagine travelling away from home to attend university for the first time as a young adult. As a first year student in a new environment, the entire experience – ranging from living on your own to making new friends to conquering academic demands – can be both exciting and overwhelming.
A new University of Manitoba program, being piloted by Student Residences aims to minimize some of the challenges.
Starting in the fall of 2016 the top floor of the U of M's newest residence, Pembina Hall, will be exclusively for engineering students and called the Engineering Living Learning Community.
A Living Learning Community (LLC) is a specific area, such as a floor of a residence building that is made up entirely of students that have the same interests or academic focus.
"The program is going to provide students with academic and social support specifically geared toward the first year engineering student experience," says director of Student Residences, Barry Stone.
This is not the first Living Learning Community (LLC) at the U of M, however this is the first academic-based LLC. Currently, the sixth floor of Pembina Hall is dedicated to the Healthy Active Living Learning Community.
This pilot program will provide up to 35 new engineering students with the opportunity to explore common interests outside of the classroom. It will also bring together their academic and co-curricular experiences all into one place.
These types of arrangements have been successful in universities across North America. Stone says their research shows students living in LLCs tend to feel more engaged, have an easier time transitioning from high school to post secondary, are less likely to drop out, and have slightly higher overall GPAs, when compared to residence students who do not live in an LLC.
"Providing a program like this helps address one of the problems we have seen for some time now on this campus, which is making a formal connection between academics, faculty members, academic strategic priorities and residences," says Stone. "I want our university community to see Student Residences as more than just a convenient place where students live, and see that the residence experience can play a really positive and active role in academic success."
Future students will be introduced to the program through U of M student recruitment efforts, particularly at recruitment events for rural Manitoba students interested in pursing engineering.
An upper-year engineering student will serve as the floor's resident advisor, who will also be able to provide leadership, mentorship and guidance to his or her younger peers.
For the Engineering LLC, Student Residences plans to work closely with the Faculty of Engineering and the University of Manitoba Engineering Society (UMES). This will allow for the integration and promotion of events and programs within the larger engineering community, as well as provide students with some leadership and philanthropic opportunities.
"The other unique offering is that we will bring academics into residence by providing dedicated classroom space where students can take part in supplemental instruction classes. These would be for some of the more traditionally difficult courses engineering students are required to take in that first year " says Stone.
This LLC is not just for direct entry engineering students coming right out of high school either. The pilot program will also be open to any student that is interested in pursing an engineering degree or is already enrolled in some of the preliminary engineering courses.
For more information, visit: http://umanitoba.ca/campus/housing/living/communities.html