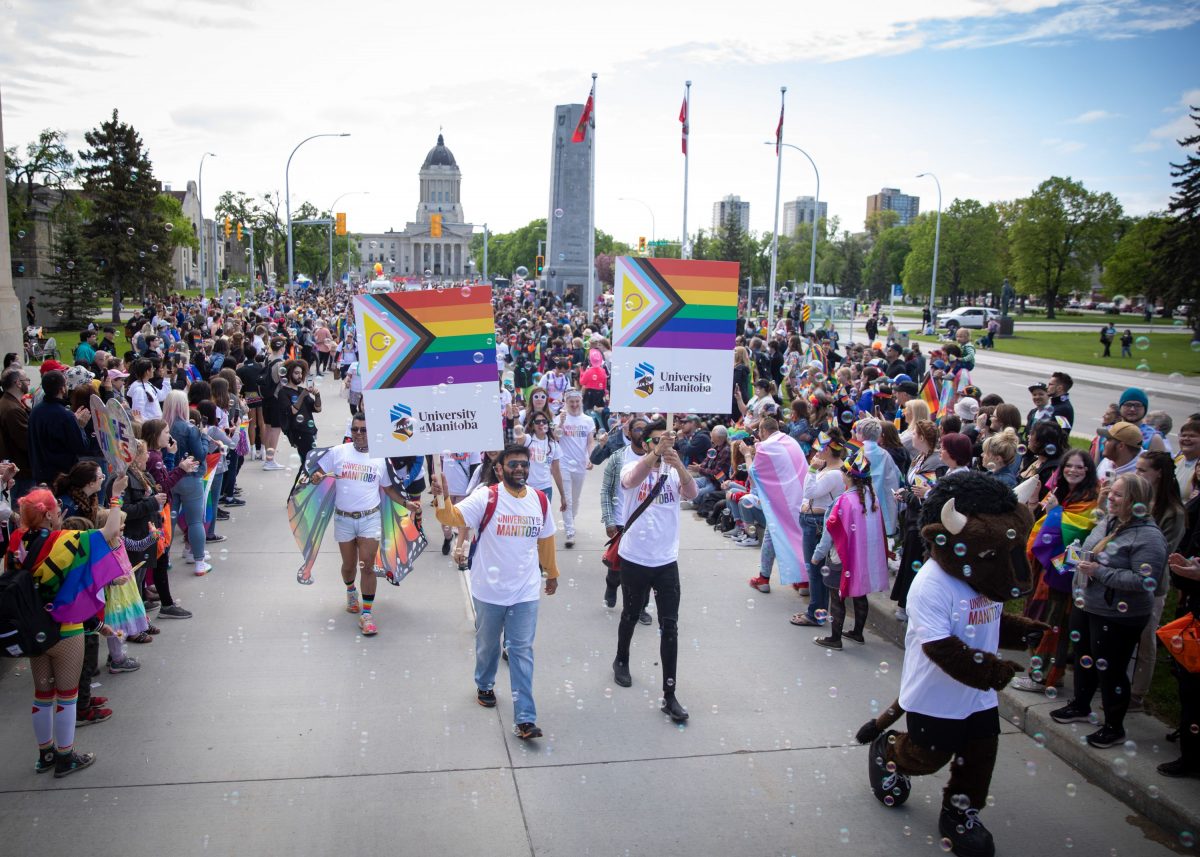 Be community, be an ally, be together for Pride 2023
Join UM celebrations throughout Pride week leading up to the marquee Pride Winnipeg Parade on June 4.
May 30, 2023 —
The University of Manitoba is committed to providing a safe and inclusive learning and working environment for all students, faculty and staff.
Last year, we raised the Progress Pride flag to fly permanently in the heart of our Fort Garry campus, demonstrating the extension of that commitment to all who visit and engage with UM.
UM's 2023 Pride celebrations are an exciting reflection of UM's continued allyship, enthusiasm and support for the 2SLGBTQ+ community. The upcoming events are an opportunity for the UM community to gather and celebrate our pride with UM's diverse communities.
University of Manitoba Pride events
All events are free and everyone is welcome!
Friday, May 26
Campus Pride Week Kick-off
Where: Atrium – Price Faculty of Engineering
Time: 10:30 a.m.
Details: Join us as we kick-off UM Campus Pride 2023. Following remarks from special guest speakers, all are invited to a reception with tea, coffee, snacks and other light refreshments.
Monday, May 29
Kids afternoon in the park
Family Resources – Office of the Vice-Provost (Academic Affairs) kid-friendly event
Where: Vimy Ridge Memorial Park
Time: 3:30 to 6:30 p.m.
What: Come out with the children in your life for activities such as rainbow beading and handprints, explore the lending library and enjoy snacks and light refreshments.
Registration is preferred. Please RSVP to Francene Perehinec Francene [dot] Perehinec [at] umanitoba [dot] ca.
Monday, May 29
U of Them Climbing Club
Where: Bouldering Room, Frank Kennedy Centre
Time: 6 to 10 p.m.
What: UM Recreation Services continues to create welcoming and safe spaces for the 2SLGBTQ+ community. Come out and try your hand every Monday with the U of Them climbing group and the new Kilter Board, an adjustable 12-foot bouldering wall with light-up climbing holds and thousands of different routes available.
Tuesday, May 30
Pride: From Protest, to March, to Parade, to…Celebration?
Where: virtual event, Zoom link
Time: 10:30 to 11:30 a.m.
From Protest to March to Parade to… Celebration?" chronicling the history of Pride beginning with Marsha P. Johnson and the Paper Bag Pride Marches in Winnipeg compared to contemporary Pride Parades. But now what?… Celebration?
Join Ellie Caslake in looking at the years of Pride with stories from the first days of the Stonewall Riots, the first Pride Marches in Winnipeg with participants wearing paper bags over their heads to hide their identities, and the parades down Portage Avenue in Winnipeg. However, Queer activists across Canada are asking, "Where have all the flowers gone?" Is the lack of excitement around these events due to apathy, or are we in a utopia? Continue reading event details…
Wednesday, May 31
Pride button making
Where: First floor MPR, UMSU University Centre
Time: 10 a.m. to 3 p.m.
UMSU with the Rainbow Pride Centre (RPC) will host a button making day so you can sport you own unique buttons at Pride. Drop by any time between 10-3 and enjoy Pride themes snacks and drinks.
Friday, June 2
UM Pride Ballroom Dance Party
Where: Ted Motyka Dance Studio, 460 Main Street – use back entrance off of the parking lot, magenta door
Time: 6:30 to 7:30 p.m.
What: Join this ballroom dance class, taught by UM's very own Horace Luong. Solo or with a partner this will be a great opportunity to meet members of the 2SLGBTQ+ community and allies with UM and connect ahead of the Pride Parade on Sunday, June 4.
Sunday, June 4
Pride Winnipeg Parade: You belong here
Meet time: 10:30 a.m.
Meeting location: Memorial Boulevard
Parade: 11 a.m. to 12:30 p.m.
Parade route: North on Memorial Boulevard, East down Portage Avenue to the Forks
Following the parade, all are free to enjoy the onsite entertainment, vendors and festival events.
What: Register to participate with UM's Pride entry float and help us uphold our 2022 Parade Entry title for "Best Turnout"! By registering to walk or roll in the parade with UM, you'll receive a signature UM t-shirt , mini UM Pride flags and UM Pride buttons. Come out with your friends, family (children and pets included) and join with faculty, staff, students and allies as we dance to DJ tunes, celebrate amongst the bubbles and enjoy the largest crowd in the parade.
Register to participate today!
Note: T-shirts will be provided on a first-come, first-served basis until supplies last. We encourage you to wear one if you have one from last year.
Thursday, June 29
Drag Queen Bingo
Time: 6 to 9 p.m.
Where: VW's – UMSU University Centre
Hosted by: Lady Muse and Elsa MarquesaContact: vpsl [at] umsu [dot] ca
Event details coming soon!