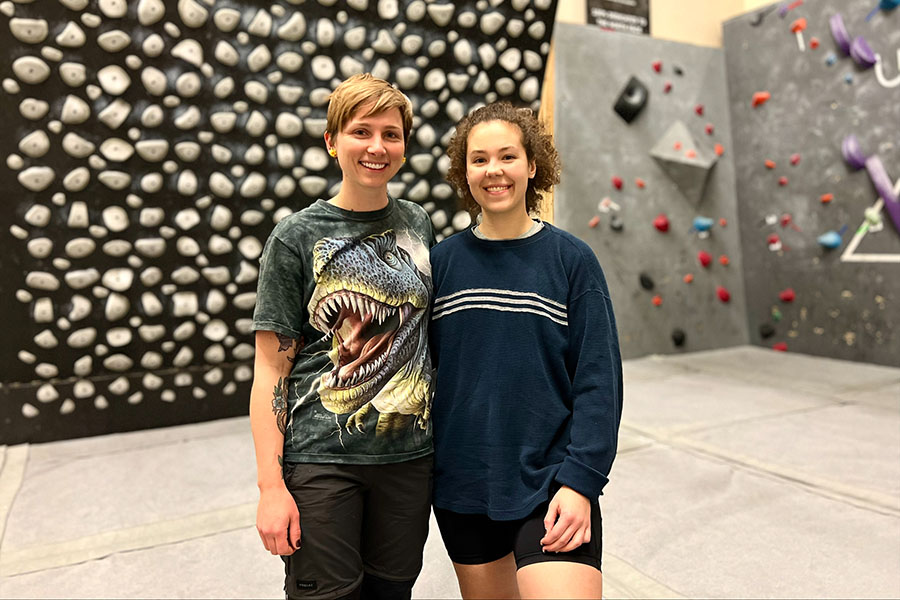 U of Them Mondays at the bouldering wall
UM Climbers create exclusive space for women and non-binary on new Kilter Board
May 4, 2023 —
As Pride Week kicks off at the end of this month, the Faculty of Kinesiology and Recreation Management, specifically Recreation Services, continues to create a welcoming space for the 2SLGBTQ+ community.
Earlier this year, a group of climbing wall users within Recreation Services kicked off a new initiative that supports and encourages women, non-binary, and trans climbers to come out and try the new Kilter board. The Kilter Board is an adjustable 12-foot bouldering wall with light-up climbing holds and thousands of different routes through an app.
As fun as this board is for everyone to climb, the UM Climbing club, specifically Jocelyn Plouffe, Noelle Wood, and Katrina Wilcox of the U of Them climbing group, saw a disproportionate number of cisgender men using the board compared to other genders and knew something had to change.
"The climbing community is incredibly inclusive, more so than any other group I've been a part of; however, the nature of the Kilter board in the bouldering room makes it feel a bit less accessible than other climbing areas. Only one person can be on the wall at a time. The angle can be set as low as 70°, which is very intimidating," says Jocelyn Plouffe.
"It started with inviting a group of friends out for weekly sessions; then, with approval from our Climbing Coordinator Mario Ferreira, we made it an official exclusive space for all folks of marginalized genders to enjoy climbing."
Once approved, a team came together to start U of Them and officially launched in April with great success so far. Whether it be increasing participation in the Kilter Board or bringing the queer community together, Noelle Wood explains that their goal is to create an inviting space for women and non-binary people to try out bouldering.
U of Them is every Monday in the bouldering room between 6:00 pm and 10:00 pm. To learn more information or to get involved, contact Mario Ferreira today for more details!