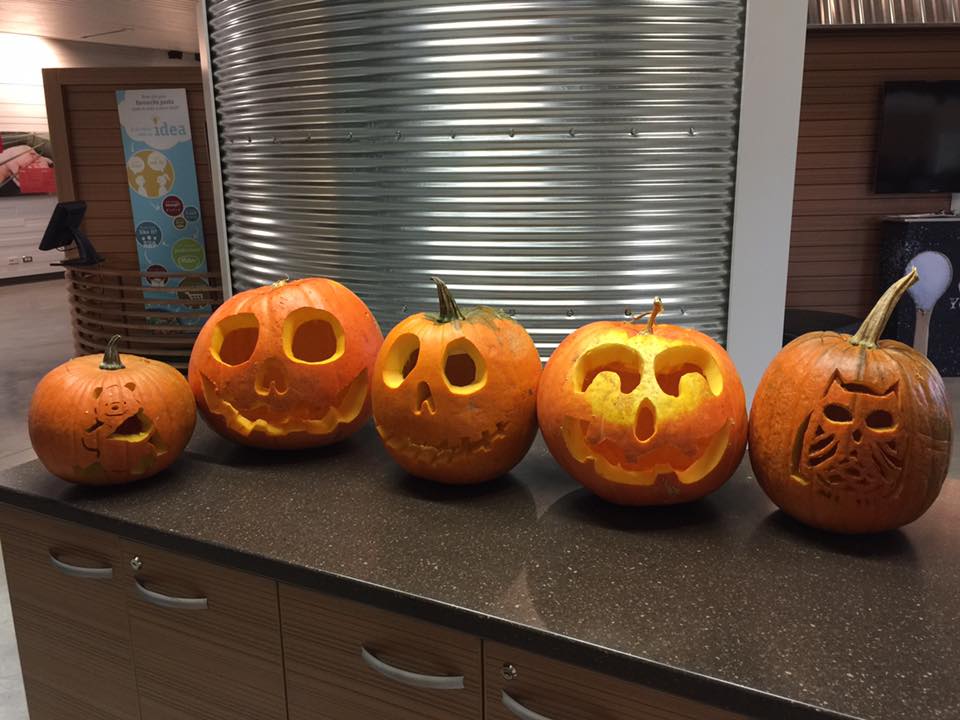 All in the name of Halloween
Students give back by participating in some spooky events
October 25, 2017 —
At the U of M, Halloween has become more than a tradition of frightening antics and costume parties. While costumes and fun still play a role, sharing knowledge with children and giving back to the community have become part of university festivities, all in the name of Halloween.
We asked a few students involved in Halloween-focused events and programs to share some of the fun things they're up to this year.

Pumpkin Party
"What is Halloween without the pumpkin carving? Each year at the Bruce D. Campbell Farm and Food Discovery Centre, we host an annual Pumpkin Party. Bring your family and friends this Saturday and we'll help you make some spooky jack o'lanterns. We'll even clean up the mess!"
Jenna Bruneau, 2nd year Faculty of Agricultural and Food Sciences (Agri-business) and part-time employee at the Bruce D. Campbell Farm and Food Discovery Centre.
The Pumpkin Party will be held on Saturday, October 28 from 10:00 am to 2:00pm (drop-in). The Centre is located 15 minutes south of Winnipeg at the University of Manitoba, Glenlea Research Station. Complimentary carving stencils and snacks are provided and kids (and the young-at-heart) are encouraged to wear their Halloween costumes. Admission is $5 for those age 5 and older. For directions, visit: www.ffdc.ca.
—
Trick or Eat program
"Trick or Eat is an opportunity for students to contribute to the local community, enrich their awareness about food security in Winnipeg, wear a costume and Trick or Treat as an adult! The event is an annual nation-wide campaign organized by various communities in Canada. On Halloween night, more than 6000 students nation-wide go door-to-door to collect non-perishable food items for local food banks. It's simply a great way to enjoy Halloween in a circle of new and old friends. Everyone is welcome!"
Mercy Oluwafemi, 5th year Faculty of Science (Psychology) student and Community Service-Learning Student Coordinator
At the University of Manitoba, Trick or Eat is organized by Community Service-Learning in support of Winnipeg Harvest. For more information on this program, email praxis [at] umanitoba [dot] ca or simply join the group at the Pembina Hall Student Lounge on Fort Garry Campus on Tuesday, October 31, 2017 at 5:30pm
—
Let's Talk Science, Spooky Science program
"Spooky Science has been one of my favourite events during the year. Children come dressed up and ready to learn some science! This past weekend, we were able to reach out to over 350 people.
I hosted the magic show and the best part was seeing the excitement among everyone who was watching. At the end of the day, all of the volunteers said how awesome it was to see the light-bulb moments in the children's faces after learning a cool science concept or while doing a spooky experiment."
Kristine Macalinao, 3rd year Faculty of Science (Genetics) and assistant coordinator, Let's Talk Science
The Spooky Science program happened this year on Saturday, October 21. For more information about participating in the Let's Talk Science program, visit: http://outreach.letstalkscience.ca/umanitoba.