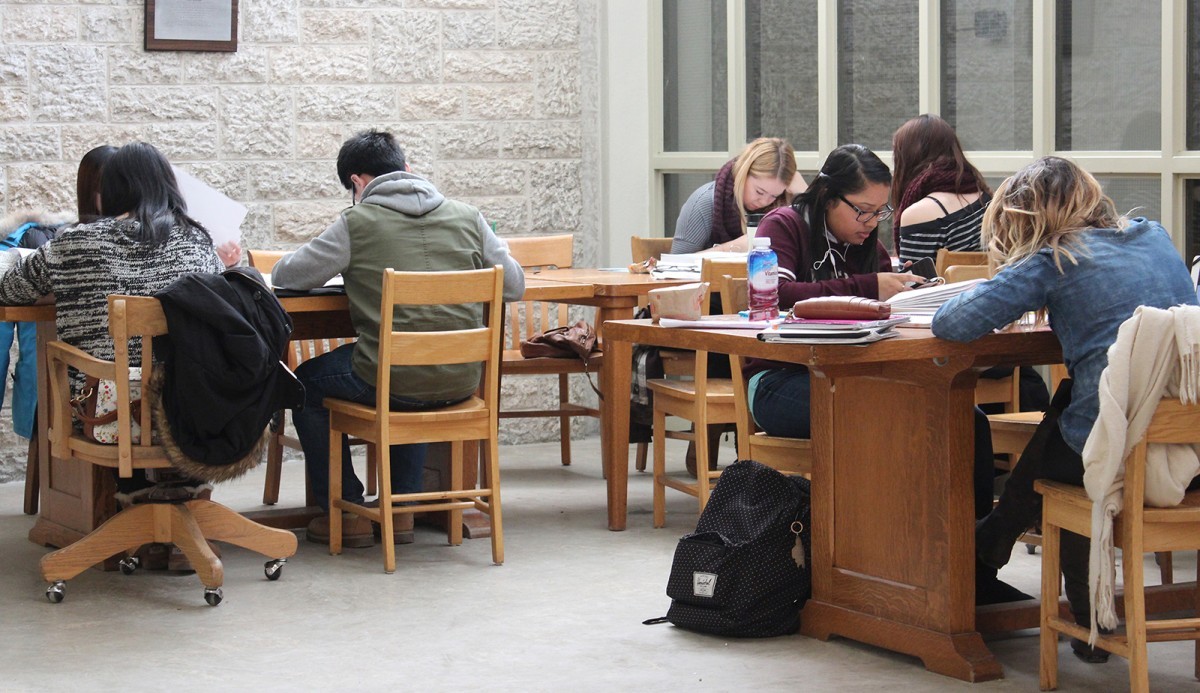 9 ways to fail your exams
December 5, 2014 —
It's exam time, so get ready — or don't. By following this simple, nine-step strategy, you can start your enda semesta fiesta early. Of course, it may also delay your time to graduation.
In case it's not clear, we don't actually recommend this plan. For study tips that will work, we suggest taking a look at the many resources provided by the Academic Learning Centre.
Keep yourself distracted
If you choose to study, try doing it with as much going on around you as possible. At home? Turn on your TV and marathon Netflix. If you're studying on campus, don't forget to regularly log into Twitter and Facebook, scroll through your Instagram feed and, of course, YouTube as many funny cat videos as possible (have you seen the piano one? Hilarious!). Keeping yourself distracted will disrupt retention of information, making your study time far less efficient.
Study everything at once
Gather your textbooks and read one paragraph from one of them, then immediately move on to the next. Repeat this until you're so confused that you think the square root of the War of 1812 is the Canadian Red Ensign. This is opposed to creating a study plan to review material by subjects and courses — maybe even incorporating your exam schedule — which will help develop certain study tactics relevant to each subject and exam.
Study passively
Sometimes professors and instructors are kind enough to provide example exam questions or a study list. These are extremely helpful for students looking to do well on exams because, chances are, at some point in the semester this material was taught in class. When you find the answers in your notes, lecture material, textbooks, etc, reread them a couple times. Don't bother explaining the material out loud, teaching a study partner or friend, making personalized notes about the content, or quizing yourself.
Slug it out on your own
If you have issues learning some of the course material, don't ask for help from classmates or your professors. Their valuable input might clear up whatever it is you're having problems with and help you do well on the exam. It's important to note that this strategy works year-round. Whatever you do, don't get into the habit of asking questions, going to see the professor or TA, or seeking assistance from friends early in the semester. Having things explained a few different ways by a few different people might help you grasp something that isn't making sense, which of course is not the way to go.
Deprive yourself of sleep
Sleep experts say we need a minimum of seven hours of solid shuteye for your brain and body to rest. Sleeping the recommended amount of time increases reflex time and your ability to focus — which is exactly what you don't want if you're looking to repeat your classes. Try staying awake one, two, even three days in a row to keep those cogs moving r-e-a-l s-l-o-w.
Study by osmosis
After you've worn yourself out using the study tip mentioned above, fall asleep on your notes and textbooks. The material within them will not absorb into your skull and subsequently filter into your brain. Even if you weren't able to stay awake for the recommended amount of time and you genuinely have the energy to study, you'll find that lying on your books and notes is much better for learning nothing than opening them, reading their content and summarizing the important elements in the subject matter.
Dehydrate yourself
The night before and the morning of your exam, don't bother drinking water. While you're at it, don't bother eating much, either. This will make you thirsty and hungry come exam time and instead of recalling Pythagoras Theorem or how long Sir Charles Tupper served as prime minister, all you'll think of is how awesome it would be to have a cold glass of water and a stacked sandwich with all your favourite fixings. Not only that, the deficit of water and those essential vitamins, nutrients and minerals will also inhibit your brain's maximum functioning power.
Cram, cram, cram
Cramming the night before an exam isn't as effective as reviewing material over a long period of time, say, throughout the term. If you try to bombard your cerebral cortex with an entire semester's worth of material the night before your exam, you won't memorize it all and likely won't retain much. Perfect!
Show up to the exam late
Getting to your exam location early can help you relax a little and increase your ability to function — so don't do this. It's better if you rush into the exam room a bit tardy to maximize your sense of panic, which will keep you unfocused for at least a few minutes after you sit down. If you're really going for a colossal failure, simply don't show up. Very effective.
If your aim is to do as well as possible, now or next semester, you might want to check out the Academic Learning Centre. They have many resources and services for all U of M students, including personalized mentorship, workshops and tutor programs. Good night and good luck.