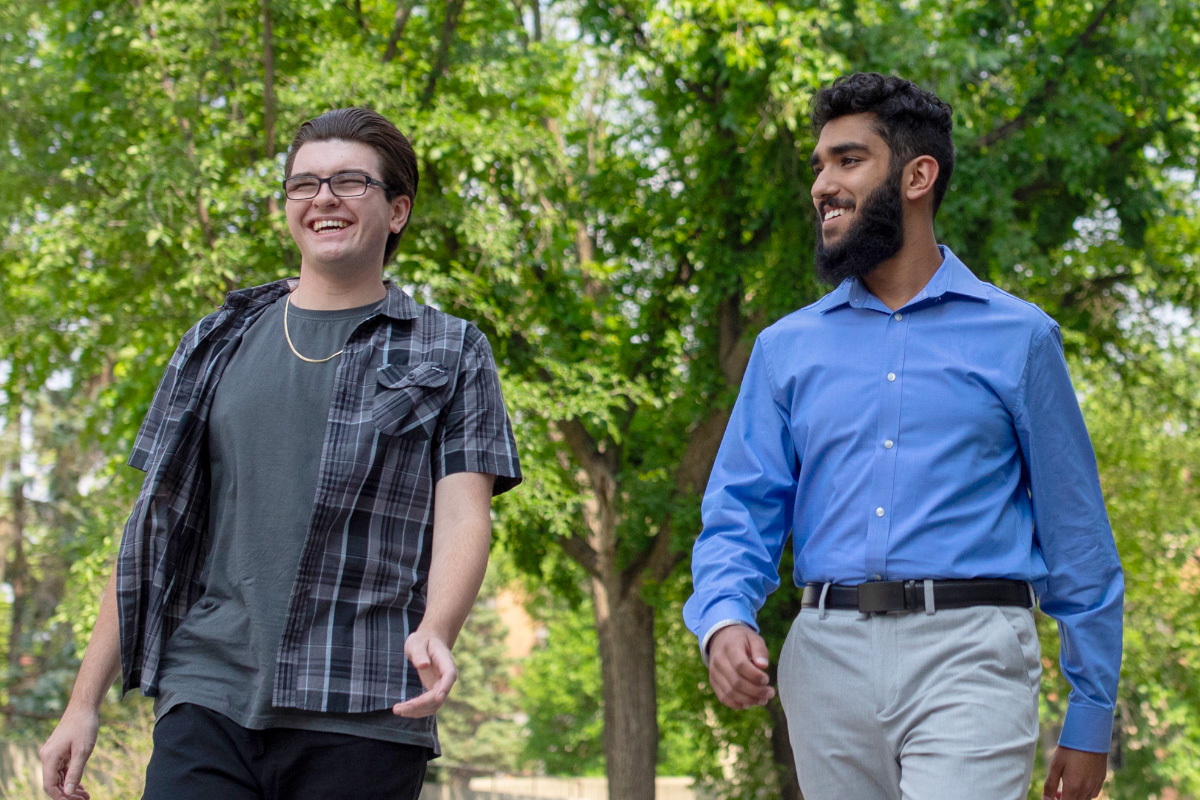 Impressive resumes and bright futures: meet the 2023 Schulich Leaders
Simar Ubhi (Engineering) and Cody McDonald (Science) start their studies at UM this fall
September 8, 2023 —
Two outstanding incoming UM students have once again been awarded Schulich Leader Scholarships. Simar Ubhi, from Kildonan-East Collegiate, and Cody McDonald, from Murdoch Mackay Collegiate, are this year's Schulich Leaders. They start their studies at UM this fall with resumes that are already impressive and bright futures ahead.
Since 2012, UM has awarded Schulich Leader Scholarships to high school graduates beginning their post-secondary studies in Science, Technology, Engineering or Math (STEM). The Schulich Leader Scholarship selects students across Canada annually for awards valued at $100,000 for science, technology or math and $120,000 for engineering.
Schulich Leaders are some of this generation's best entrepreneurial-minded students aspiring towards a career in STEM, and were carefully selected for their exceptional leadership qualities. With support from the Schulich Foundation, both recipients are delighted to dedicate themselves to their future goals and make an impact as students, scholars, leaders and community members.
SIMAR UBHI
Price Faculty of Engineering
As a high school student, Simar Ubhi's hard work and persistence led him to different types of success in programming. In 2023, his next step is to pursue an education in computer engineering.
"It was only in grade 9 or 10 that I got really into computers and programming. Now, it's just a natural extension of what I still do," says Ubhi. He found that his interests and past projects have all revolved around programming, and he couldn't be in a better position to continue in this direction.
After learning to code from YouTube videos within a 10-month period during the pandemic, he didn't hesitate to use his skills to help the community. He volunteered as a website developer for non-profit organizations, which provided opportunities to improve on his website development skills and fostered a greater appreciation for the non-profit sector.
Ubhi then founded his own non-profit organization, Developers of Change, last year with the purpose of supporting two critical sides of the software development industry—the organizations that require quality website development services, and the developers and designers in the early stages of their careers who lack practical experience in the industry. Developers of Change provides website building services for certain organizations with the help of volunteers looking to expand their skillsets.
Within the walls of Kildonan-East Collegiate, Ubhi also founded the Hack Club where student members are able to delve into the intricacies of technology, learn from workshops facilitated by Ubhi himself and gain inspiration for future self-directed projects.
Innovation is the foundation of progress in any industry, and Ubhi is exactly in the middle of it. He competed at the Skills Canada National Competition for Web Technologies in 2023 and will be part of Team Canada at WorldSkills in France in 2024 where he will be amongst the best of the best in vocational skills.
Ubhi also holds the position of Squadron Deputy Commander in the Royal Canadian Air Cadets. The program has been instrumental in the development of his leadership skills, which he now humbly reflects on as he leads over 100 cadets.
With all of his success, Ubhi thanks his parents and close friends for their endless support through the scholarship selection process and through every step that brought him to this position. He's also thrilled to represent his high school and the teachers that have helped him through the years. "I feel like my school isn't often recognized for academic achievements, so that was a big moment for me," says Ubhi.
He looks forward to connecting with other students and joining the network of scholars with similar interests, who will not only contribute to his success but also move the industry forward. "The Schulich Leader network will aid my mission, a mission not focused on becoming a software engineer employee but on becoming an innovator in STEM fields and beyond," Ubhi wrote in his application to the scholarship. Most of all, Ubhi is excited to take part in student clubs and design teams at UM, and finding all possible ways to gain specialized experience in the industry.
CODY MCDONALD
Faculty of Science
In 2020, Cody McDonald was learning to code and build websites when he suddenly had the perfect idea: to start his own project with the goal of preserving Canada's many Indigenous languages. Mishkum Clothing and Designs was then launched as one of the only online brands that exclusively feature Indigenous languages and syllabics.
"Out of the 70 Indigenous languages in Canada, only three of them are considered to have a sustainable level of speakers," says McDonald. With several languages having fewer and fewer speakers or knowledge-keepers with every generation, he is ready to shape his personal goals and career around preserving Indigenous languages and cultures.
This e-commerce project allowed McDonald to design several products highlighting the Indigenous languages Michif, Cree and Inuktitut, but it also provided opportunities for him to delve into other practical skills including basic coding, taxation processes, navigating the international supply chain and other entrepreneurial skills.
McDonald is now beginning his studies to earn a bachelor of science with a focus on actuarial mathematics, then his work will focus on the preservation of Indigenous languages by creating and distributing products that feature them.
"There aren't very many resources on Indigenous languages right now," says McDonald. "I always try to find a bookstore or something online when trying to learn more about some of these languages and that's one way I like to connect with my own heritage in my everyday life."
As a Michif person, he is excited to take the Michif class offered at UM, and to connect with people who are just as passionate about the language as he is. A unique experience such as learning the language with other Indigenous students and doing so directly from an elder will undoubtedly make an impact on McDonald's connection to his heritage.
While this business idea stems from McDonald's own personal interests, it is clear that many individuals around the world will benefit from his work. Perhaps, he may even inspire the future students to see the value in living histories and take action in protecting them for the younger generations. Additionally, McDonald was named one of this year's Indigenous Leaders of Tomorrow, truly speaking to his vast potential as a leader, community member and beyond.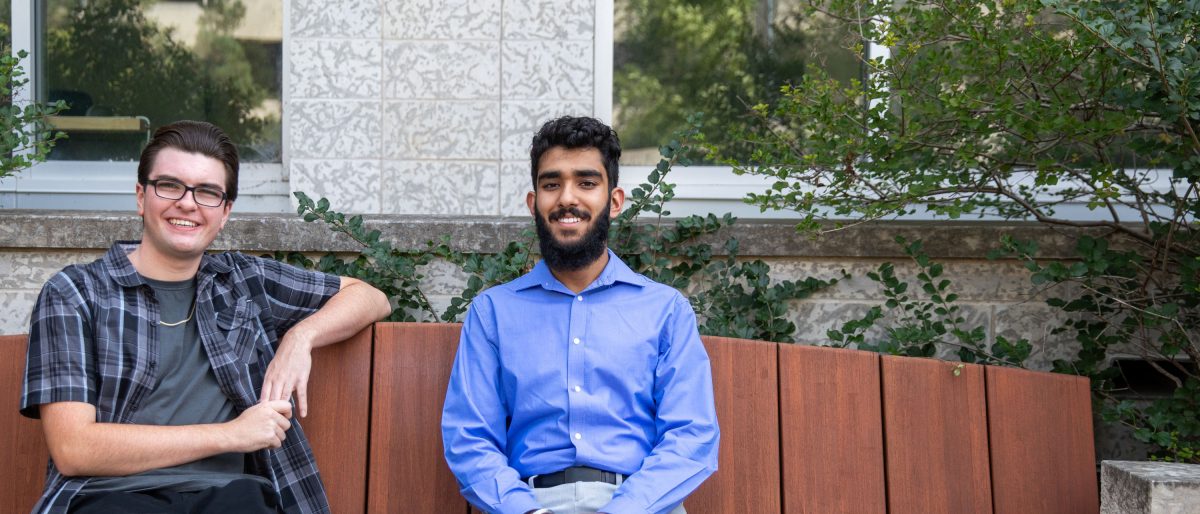 The Schulich Leader Scholarship is awarded every year to students enrolling in STEM programs at Canadian universities. Ubhi and McDonald were selected for the award based on their academic achievements, leadership and community service.