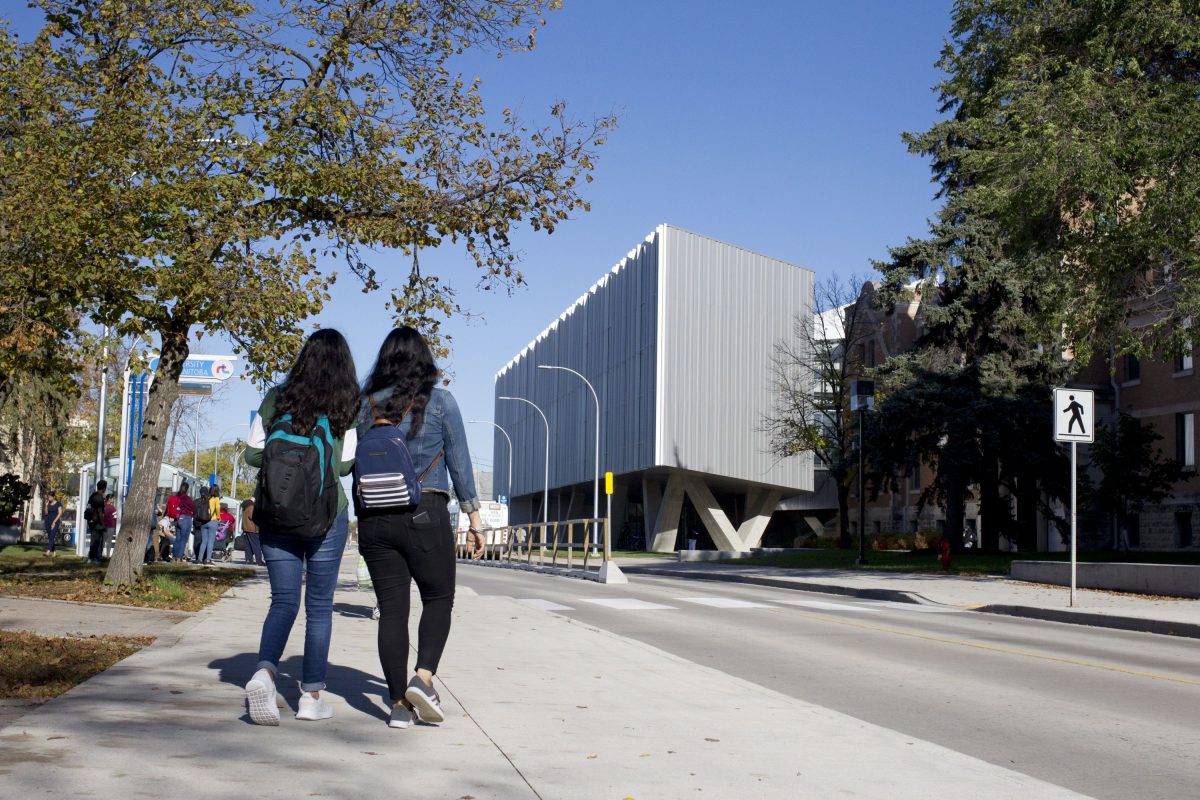 2023 Leaders of Tomorrow and Indigenous Leaders of Tomorrow ready to shape our world's future
Meet five young scholars joining UM this fall
June 9, 2023 —
Nine high school students seeking admission to UM have been awarded BMO Financial Group Leader of Tomorrow and BMO Financial Group Indigenous Leader of Tomorrow scholarships. These recipients were carefully selected based on community involvement, high academic standing (minimum 90 per cent average in specific grade 11 courses), and leadership potential. Each scholarship is valued at $16,000 over four years of study.
"Each and every student interviewed is worthy of recognition," says Jane Lastra, associate registrar and director, Financial Aid & Awards. "Amidst all the challenges brought on by the pandemic during their high school years, they showed resilience and drive. There is no doubt that these scholars will continue to thrive and achieve all their academic hopes and dreams."
John MacAulay, Regional President, Prairies Central Region at BMO says, "I commend all the recipients for their vision and commitment to transform their communities through excellence in academics. We are proud to support these future leaders in shaping a more inclusive and sustainable future through our long-standing partnership with University of Manitoba."
Meet five individuals in the next generation of scholars to lead the charge, fight for change and shape our world's future.
2023 BMO FINANCIAL GROUP INDIGENOUS LEADER OF TOMORROW SCHOLARSHIP RECIPIENTS
Aliyhia Bushie (Garden City Collegiate), Cody McDonald (Murdoch MacKay Collegiate), and Elle Marie Wood (St. Mary's Academy).
Cody McDonald is the first male member of his family to attend university. In 2023, he graduates from Murdoch MacKay Collegiate as an Indigenous Leader of Tomorrow, taking the first step towards his career goal of becoming a fully-designated actuary.
After completing a bachelor of science focusing on actuarial mathematics, he hopes to one day combine his education and Indigenous knowledge to start a company while staying true to his heritage. His work will focus on preserving and creating products highlighting Indigenous languages.
"In Canada, there are over 70 Indigenous languages. However, only 3 of them are considered to have a sustainable level of speakers according to UNESCO," says McDonald. "The rest of them are in danger of becoming extinct within this century. I believe that language is a window into the world-view and rich history of a nation."
McDonald is humbled to have received such a prestigious scholarship and make his loved ones proud. He looks to his inspiration Norman Fleury, a Métis Elder, who is one of the leaders in preserving Métis culture and the Michif language, which has under 2,000 speakers today. He is also excited to represent the hard work of his teachers, family members, and the community around him. "One day, I hope to be able to give back to places and people that have been instrumental to getting me where I am today," says McDonald.
For Aliyhia Bushie, choosing a path to study dentistry after graduating from Garden City Collegiate was a natural choice. She is happy to have gravitated towards a profession that not only uses scientific knowledge, but also draws from artistic and creative skills. Yet she also knows that her future work in the health-care system will be bigger than herself.
Already working within Indigenous communities, Bushie dedicates herself to learning about the injustices that continue to disadvantage Indigenous peoples today. The lack of access to dental care and oral health education in northern Indigenous communities strongly resonates with her and is the greatest reason why Bushie is striving to reach her goal of becoming a dentist for Indigenous communities.
"As a Black and Indigenous person, I recognize the need for diversity in this profession. I want to contribute to the reasons why all people feel welcomed and valued in these spaces," says Bushie. "Being a recipient of this award makes me feel that the work I have been doing in my community matters and doesn't go without being recognized and appreciated."
2023 BMO FINANCIAL GROUP LEADER OF TOMORROW SCHOLARSHIP RECIPIENTS
Adrienne Gill (Vincent Massey Collegiate), Heart Martin Delos Santos (Daniel McIntyre Collegiate), Jessica Walker (Shaftesbury High School), Justine Ramos (Maples Met School), Maksym Kisil (Sisler High School), and Nathaniel Casiano (Fort Richmond Collegiate).
Graduating from Vincent Massey Collegiate, Adrienne Gill is pursuing a bachelor's degree in environmental design. It will be her first step towards a career in environmental design and architecture with an emphasis on sustainable and accessible architecture.
"I intend to combine my values of social justice and climate action into creating spaces that reflect the needs of my community and create a positive impact in the lives of others through the spaces they occupy," says Gill. Being named a Leader of Tomorrow will provide her with the support and confidence to not only reach her academic goals, but her personal ones as well.
She looks forward to the opportunities that would allow her to develop her leadership potential. "I'm inspired to seek leadership roles within the university, become involved in student organizations and contribute positively to the university community," Gill adds.
The Faculty of Science will be lucky to have Fort Richmond Collegiate graduate Nathaniel Casiano, who is working towards a career where he can explore the intersection of disease and the environment through discoveries in biotechnology. Having spent last summer working with virologist Dr. Peter Pelka on COVID-19 vaccine development, Casiano is excited to begin his academic research journey.
"I'm interested in helping to develop sustainable environmental technologies that can help fight climate change and keep people healthy," says Casiano. "I'd really like to help develop solutions that have a real impact on the problems we face today."
Casiano is grateful for his grandfather for leading by example, teaching him to approach life with a smile and a happy attitude. He works to approach every day with a positive attitude and help others, just as his grandfather does.
Justine Ramos, graduating from Maples Met School, is certain that her career lies in addressing social justice issues. She is excited to earn her degree in psychology through the Faculty of Arts, which she hopes to direct towards community-focused action.
She's especially thrilled to see how being named a Leader of Tomorrow is helping BIPOC communities. Ramos is grateful for the financial support that the scholarship will provide for her while allowing her the freedom to focus her energy on her academic interests. Above all, she is "excited to build connections with previous and fellow winners, and to become part of a like-minded, ambitious and passionate community."
Become a BMO Financial Group Leader of Tomorrow
Visit Financial Aid and Awards for more information on the BMO Financial Group Leader of Tomorrow scholarships and the BMO Financial Group Indigenous Leader of Tomorrow scholarships.