2023 Emerging Leaders Award Winner Highlight – Part 3
Leading with Humility
July 13, 2023 —
The University of Manitoba is pleased to continue our focus on student leaders with as we announce the 2023 recipients of the Emerging Leader Awards. The Emerging Leader Award is a way for the University of Manitoba to recognize the outstanding contributions that students make to the enhancement of the institution and our community. Introduced in 2006, this award has recognized students who have made significant contributions to the University of Manitoba and the greater community. In 2023, the 88 students receiving Emerging Leader Awards have proven they are inspired by these values through their continued work in their respective communities.
Here are some of the recipients of the 2023 Emerging Leader Award. Check back tomorrow to see more the complete list of Emerging Leader Award Winners. If you missed yesterday's story you can find it here.
Mikayla Hunter (She/They)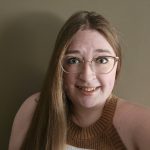 Mikayla advocates for several causes, such as founding the Queer & Trans Health Sciences Graduate Student Group and acting as a research assistant for Measuring Equity and Generating Action in Cancer. She emphasizes how leading with humility has expanded their advocacy.
"While I think that we are all more likely to get involved with advocacy that touches our own hearts in some way, leading with humility means that what you advocate for doesn't always necessarily have to impact you or your own desires. What is important to the people I lead is therefore important to me, even if I have nothing to gain."
Mikayla's view on leadership is to always uplift the people she leads. Change takes many hands, and the leader may be the one to bring all the pieces together, none of it would be possible without the other people who contribute.
Tréchelle Bunn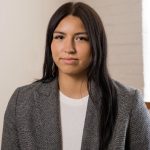 For Tréchelle Bunn, leading with humility allows everyone to feel safe, heard, seen and valued. She has been an active leader and advocate for causes she is passionate about, founding the Reconciliation Run Half-Marathon, being a mentor in the Neechiwaken Indigenous Peer Mentor Program, acting as a delegate for the Native Women's Association of Canada – Generation for Equality and being Youth Chief of the Southern Chiefs' Organization. In her election speech she said:
"I want to lead alongside my fellow youth and community members in partnership as a collective. Leading with humility is sharing the leadership role and encouraging others to get involved and utilize their voice for positive change."
Tréchelle shared that her value for leading with humility was instilled in her by her parents. She credits her them for teaching her that great leaders empower those around them and great leaders are selfless, humble and balanced.