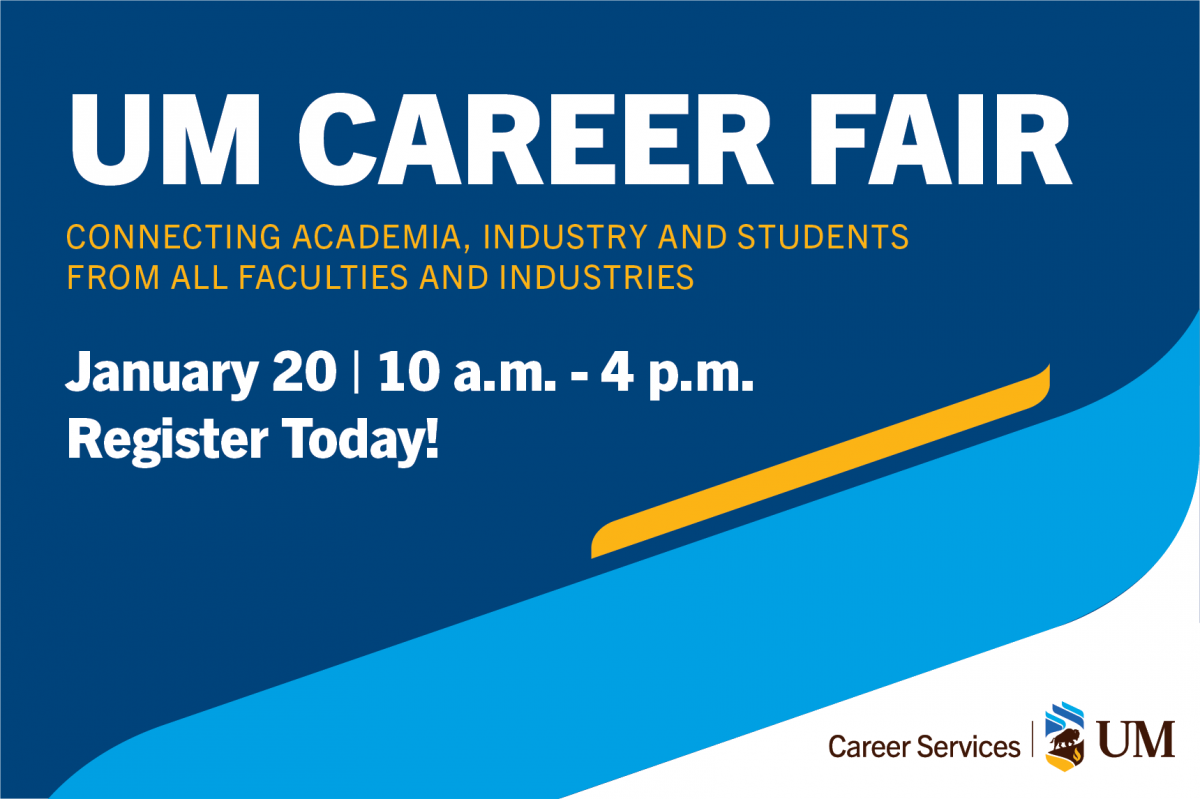 Attend the 2022 UM Career Fair – January 20
Win $1000 toward your tuition from BMO - Register early and attend the Fair to be entered into the draw
January 10, 2022 —
The world of work is not organized by degree and the Career Fair is an excellent opportunity to learn how the knowledge, skills and attributes you are developing in your classwork can link to the labour market. Whether you are looking for work right now, want to explore industries to gain knowledge or would like the opportunity to see what is out there for the future, this event is for you.
Over 65 employers want to meet with students to share summer, part-time and permanent full-time employment opportunities and discuss what they look for in potential employees. This is a chance to better understand the labour market and start to make important connections. Employers attending are from for-profit, government and non-profit organizations.
2022 UM Career Fair
When: January 20th 10:00 a.m. – 4:00 p.m.
Where: Careers4Canada powered by CareerEco Virtual Fair Platform
Who: Open to all UM students and Alumni
To maximize your Career Fair experience, you can prepare by accessing the list of employers attending on the Career Services website. Look at a new industry you haven't considered before to see all the opportunities in front of you. You might just happen upon something that could take you in an exciting new direction. Be sure to research the organizations and career opportunities thoroughly so you can have focused conversations about your areas of interest. Beyond allowing you to make informed decisions about how you want to build your career, being knowledgeable about an organization is the key to making your resumé stand out in a pile of qualified applicants. Get a feel for what the employer is seeking by talking to them at the Career Fair. Ask about the top skills or experiences they are seeking in new hires.
Prior to the Career Fair, join a Career Fair Preparation workshop (January 13 at 1:00 p.m., January 17 at 2:30 p.m. or January 19 at 10:00 a.m.) to learn how to navigate the fair and set up your profile on the Careers4Canada platform. You can also attend the Careers4Canada platform training for students (January 12 at 12:00 p.m.) for a platform walkthrough from our partners at Carees4Canada. Ask questions and learn tips and tricks to get the most out of the virtual fair. Need help with your resumé? Attend a Virtual UM Career Fair Resumé Blitz (January 17 at 12:30 p.m. or January 19 at 1:30 p.m.) or attend a Resumé and Cover Letter workshop (January 17 at 1:00 p.m.) for tips on how to format your resumé and cover letter and what should and should not be included.
Setting up your profile and attaching your resumé well before the fair will provide employers an opportunity to get to know you in advance. Employers may also go in and invite you to their booth. The sooner you're set up, the more exposure you will have with employers attending the fair. If you make a good impression, attending the fair might lead to some exciting opportunities in your future. The better prepared you are in advance of the Career Fair, the more successful you will be.
Attending a Career Fair can boost your career prospects, give you more career information, and help you to develop skills and connections that will benefit your future significantly.
We can't wait to see you there.