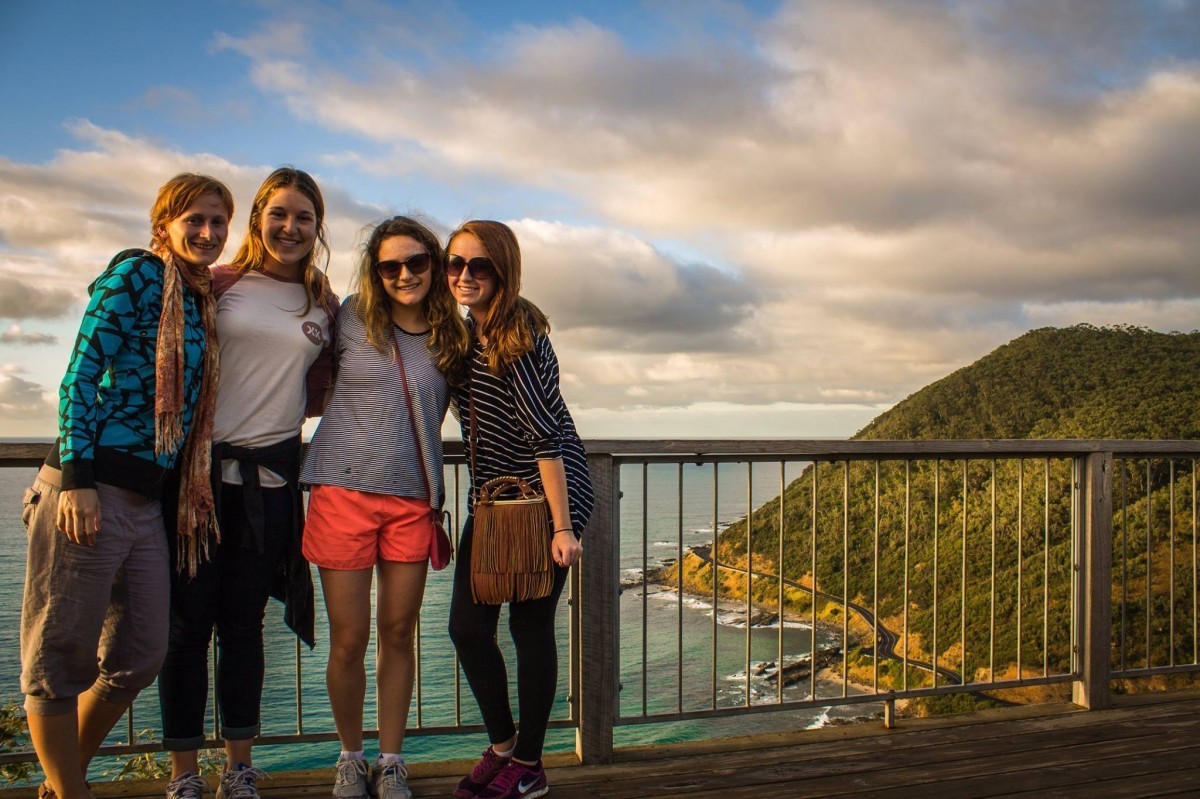 WOW! World Opportunities Week inspires students
October 31, 2014 —
One of the most exciting things about the exceptional student experience at the U of M is the international opportunities offered for interested students. Each year the World Work Internship Study & Exchange (W.I.S.E.) Resource Centre hosts World Opportunities Week to inform students about opportunities around the world. Director of the International Centre for Students (ICS), Tony Rogge, provides a brief overview of the week, which takes place this year from November 4 to 7.
Each November, the International Centre for Students and the World W.I.S.E. Ambassadors host World Opportunities Week, a series of events that we affectionately call W.O.W.
W.O.W. is all about opportunity. Not just the opportunity to travel (though that is always nice), but also about opportunities to grow, learn and develop new skills that will help you engage effectively with a rapidly shrinking and constantly changing world. Sometimes it is about seeking your first international opportunity (maybe a short volunteer placement, or a paid international internship, or a term abroad on academic exchange?), but more often it is about seeking out the kind of opportunities that will affect personal or community-based change right here on our campus, in our communities or around the province. As a student at the UM these opportunities are well within reach. They come in all shapes-and-sizes and can meet a broad range of interests, time-frames and price-points. If you are currently sitting on the fence and have been wondering what is out there and why you should care, we hope that W.O.W. will inspire you to take a closer look and take the next step. I like to say that sometimes it is just a matter of getting the first pickle out of the jar. Once you get things started, the good stuff comes more easily, and before you know it the best and most transformational opportunities cease to become 'once in a lifetime experiences' and start to feel more normal, like a good habit.
If you have already enjoyed the benefits of working, living, studying or volunteering abroad, maybe you are looking for a different kind of experience? Maybe you'd like to apply your skills right here at home and participate in some of the amazing opportunities that are available locally, either on campus or around the corner? W.O.W. is also designed with these experiences in mind and helps you make connections between disciplines and interests, between people and organizations, and to discover opportunities to get involved, develop networks and build the intercultural skills that will last a lifetime. Remember, the whole point is not to think of these kind of things as one-offs, or as either-or-propositions, but to recognize that the skill sets you develop, the lessons you learn, the attitudes you cultivate, and the opportunities you grasp to share your insights, experiences, and talents, will not be limited by your current program, or where you are in life at this moment, but will continue indefinitely; they are resources to draw upon and they represent an ethic of lifelong learning and good citizenship.
This year ICS and World W.I.S.E. are proud to work with its partners in Student Affairs to bring you a great program that kicks-off with a special workshop on Building Your Intercultural Effectiveness by internationally respected author and intercultural consultant, Dr. Lionel Laroche. The event will take place on November 4th in Senate Chambers at 11 a.m. Space will be limited and an RSVP on Community Link is appreciated.
Following Lionel Laroche, a panel of experts will convene in the Graduate Students Lounge, on the second floor of University Centre to reveal some of their secrets to finding international work experience. "Get Me Out of Here: How to Find Tour First International Work Experience" will include students and faculty with great ideas and direct experience in the international job market and academic fields. Everyone will walk away with a free subscription to the My World Abroad website, a powerful tool and resource to help focus you and guide you in your effort to find and secure international experiences.
On Wednesday, November 5th., the UM welcomes Japhet Emmanuel from Farm Radio International's Tanzania Country Program. Farm Radio uses radio broadcasts to educate and empower millions of small-scale farmers by relaying important and innovative agricultural and health information to them. Japhet will deliver a talk on how radio is transforming lives in rural Tanzania. Later in the afternoon, Japhet will host a more personal workshop that drills down into the unique challenges and successes associated with community development in Tanzania. These workshops are free and open to all.
Later in the week, join our World W.I.S.E. Ambassadors and former student exchange participants at the HUB for our 2nd Annual Pecha Kucha Night. Pecha Kucha means "chatter" or "chit chat" in Japanese, and is a dynamic visually focused way of storytelling. Come hear about the incredible adventures that UM students have had on their exchanges. See the world through their eyes as they share their favourite photos and speak about the cultures they encountered. Cultural performances, good food, and entertaining stories will make this a lively evening for all. Join us at the HUB on Thursday, November 6th., starting at 6:30 pm.
At 1 p.m. on Friday, November 7th., Professor Niigaanwewidam James Sinclair, a nationally recognized advocate, writer and commentator on issues pertaining to Canada's First Nations, will speak at the GSA lounge on the second floor of University Centre (room 217). His talk, "Indigenous Peoples From Here to You"will highlight a wide range of topics that are affecting emerging and shifting relationships and the future of our communities.
Other events are planned throughout the week, or drop by our information booth throughout the week on the main floor of University Centre. You can take a peek at the calendar of events at: http://umanitoba.ca/student/wow. To learn more about all of the UM's great opportunities to explore to world, either at home or abroad be sure to read the new on-line edition of the (be) World W.I.S.E. magazine at: http://umanitoba.ca/student/wowª
Tony Rogge
Featured Speakers
Lionel Laroche
Building Your Intercultural Effectiveness (Presentation)
Tuesday, November 4th – E3 – 262 Engineering Building (Senate Chambers)
11:00 am – 12:30 pm
Lionel Laroche is an internationally renowned author and expert on intercultural effectiveness. With many years of experience working internationally and researching the dimensions of culture, Lionel understands the challenges and opportunities that rest in cultural differences. Join us for this informative and practical skill-building session on working effectively in intercultural environments.
Seating is limited.  Register through UMCommunityLINK:  communitylink.umanitoba.ca
Japhet Emmanuel
Tuning In to the Needs of Small-Scale Farmers in Tanzania (Presentation)
Wednesday, November 5th – 224 Education Building
1:00 pm – 2:15 pm
Learn how radio broadcasters are used to meet the needs of local small-scale farmers and their families in developing countries. Farm Radio International works with more than 540 radio partners across 38 African countries to fight food insecurity and poverty. Growing up in rural Tanzania, Japhet Emmanuel has firsthand experience of the developmental challenges facing farmers in Sub Saharan Africa. Japhet has been behind the design, implementation, monitoring, and evaluation of community development projects that work to address these challenges and strengthen rural communities.
Tuning In to the Needs of Small-Scale Farmers in Tanzania (Workshop)
Wednesday, November 5th – 108 St. John's College
3:30 – 4:30 pm
Join us for an interactive and thought-provoking workshop on some of the critical issues facing small-scale farmers in Sub-Saharan African. Take this opportunity to meet Japhet Emmanuel and engage in conversation about the needs of rural communities.
Niigaanwewidam James Sinclair
Indigenous Peoples from Here to You (Presentation)
Friday, November 7th – 217 University Centre (GSA Lounge)
1:30 pm – 2:30 pm
Niigaanwewidam James Sinclair is an internationally recognized First Nations activist, author, and professor here at the University of Manitoba. He has commented on Indigenous issues for outlets including Al Jazeera, The Guardian, and national broadcasters like CTV, CBC and the Globe and Mail. In his presentation he will speak on a number of important and relevant First Nations issues and provide students with opportunities to engage in the building of cross-cultural bridges right here in Winnipeg.
Featured Event
Pecha Kucha Night – Exchange Edition
Thursday, November 6th – The Hub (3rd floor University Centre)
6:30 – 8:30 pm
Come hear about the incredible adventures of former University of Manitoba exchange students! See the world through their eyes as they share their favourite photos and speak about the cultures they encountered while abroad. Pecha Kucha, meaning "chit chat" or "chatter" in Japanese, is a dynamic way of storytelling, where presenters show 20 images lasting 20 seconds each. Join us at the Hub for an evening of entertaining stories, free food, and amazing door prizes!
W.O.W. Events
Student Exchange Fair
Tuesday, November 4th – Campo Area (1st floor University Centre)
10:00 am – 3:00 pm
Did you know that the U of M has over 100 international exchange programs in over 30 countries?! Check out the Exchange Fair to learn about our partner universities from around the world. Incoming and returned exchange students will be available to answer your questions and speak about their experiences abroad.
Get Me Out of Here: How to Find Your First International Work Experience (Discussion Panel)
Tuesday, November 4th – P412 Duff Roblin
1:00 pm – 2:15 pm
Presented by: Office of International Relations
Interested in working internationally? Come hear U of M professors and staff with extensive international work experience talk about their overseas adventures and tips for kick-starting your international career. Presentations will be followed by a Q & A session and a list of useful links and resources will be available.

Panelists:  Dr. Judith Scanlan (Faculty of Nursing), Dr. Jerome Cranston (Faculty of Education), Dr. Shauna Labman (Faculty of Law), Ms. Amber Pohl (Asper Student Exchange Coordinator)
Info Fair: International Opportunities for Students
Wednesday, November 5th & Thursday, November 6th – Campo Area (1st floor University Centre)
10:00 am – 3:00 pm
Take this opportunity to network with internationally focused NGOs and student groups. Find out more about a variety of programs and organizations that provide internally-related opportunities in the area of study, work, travel and volunteer.
JET – Teaching English in Japan (Info Session)
Thursday, November 6th – 217 University Centre (GSA Lounge)
12:00 – 1:00 pm
For more than 25 years the Japan Exchange and Teaching (JET) Programme has invited university graduates from around the world to work in Japanese schools and cultural organizations. Participants gain valuable work and life experience while fully immersed in an intriguing and dynamic country. Come learn about this excellent opportunity and hear from a past participant.
Merit Travel – SWAP Working Holiday Talk (Info Session)
Thursday, November 6th – 112 University Centre
12:00 pm – 1:00 pm
Merit Travel is a full service travel agency located on campus. One of the unique programs they offer is a working abroad program, SWAP.  SWAP's support system at home and abroad helps you with everything from the visa application, to getting a job, and everything in between.  Merit Travel works with you to make sure your working holiday experience is the best it can be!
Become an Explorer – International Experiential Learning Opportunities (Info Session)
Thursday, November 6th – 217 University Centre (GSA Lounge)
1:30 pm – 2:30 pm
Find out about all the exciting international internships and service-learning programs available to U of M students. Opportunities are available in Malawi, Tanzania, Peru, El Salvador, Nicaragua, Bangladesh, and many more.
For more information, visit: http://umanitoba.ca/student/studentlife/experience/.
Research Experiences around the World: Historians Speak on Exciting Finds, Challenging Political Situations, and International Opportunities (Discussion Panel)
Thursday, November 6th – 217 University Centre (GSA Lounge)
3:00 pm – 4:00 pm
Presented by: Department of History
Hear three of the University of Manitoba's most esteemed historians share their unique cross-cultural experiences while doing research overseas!
Panelists: Jorge Nallim (Associate Professor; Coordinator, Interdisciplinary Research Cluster on Power and Resistance in Latin America), Ravi Vaithees (Associate Professor; Co-ordinator, Postcolonial South Asian and African Studies Group), Tina Chen (Department Head; Professor; Co-ordinator Interdisciplinary Research Circle on Globalization and Cosmopolitanism).