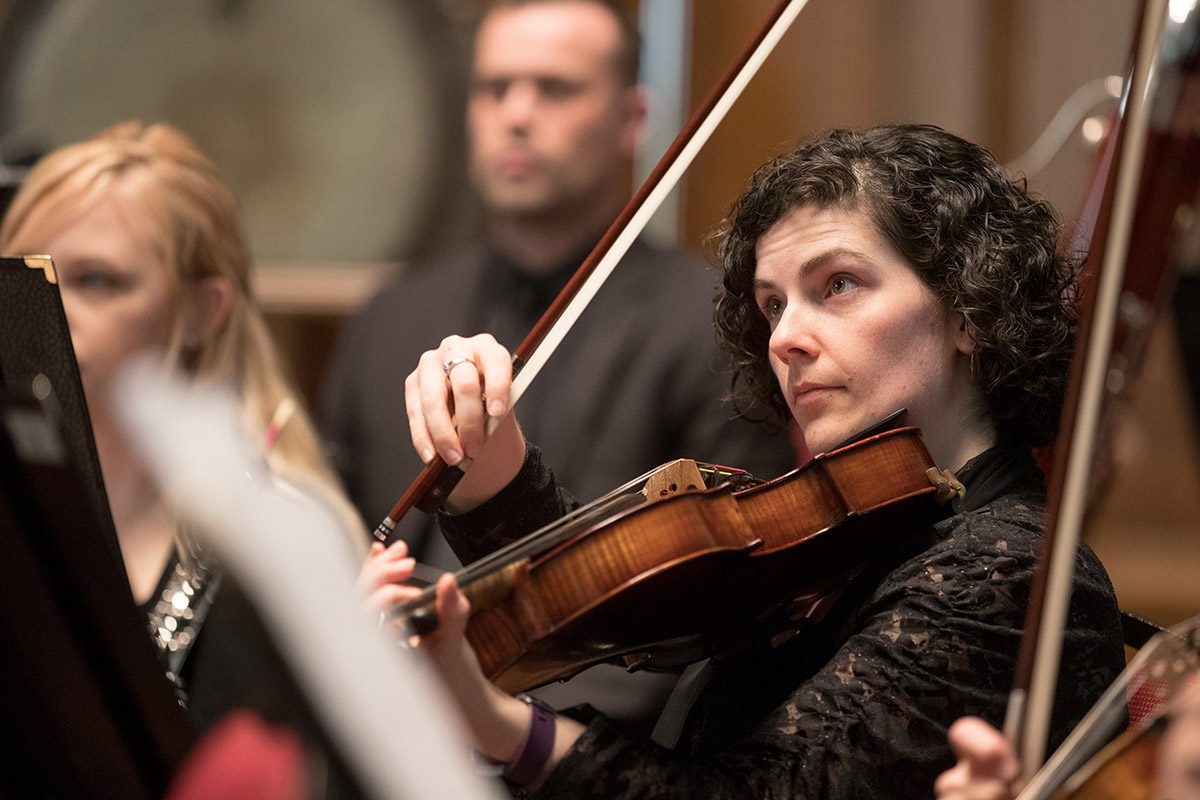 Winter Community Events
January 28, 2020 —
The University of Manitoba offers a wide range of public events taking place on campus and in the community. Explore our programming, from cultural and intellectual events, art exhibits and open houses.
UPCOMING FEATURED EVENT
UM Open House
Explore the University of Manitoba and experience a day in the life of a university student at our annual open house for high school students. Students and parents can attend our evening program to learn more about our programs and services, and connect with staff, professors and current UM students.
Feb. 20 | Free; registration encouraged
Daytime program: 9 AM-2 PM | Evening program: 6-8 PM
UMSU University Centre, 65 Chancellors Circle
---
The University of Manitoba Theatre Program presents: Macbeth by William Shakespeare
Directed by Professor Bill Kerr, this interpretation of the Scottish play will explore themes of masculinity and gang mentality.
Jan. 22 – Feb. 1, various times | Tickets: $20, $15 alumni/arts workers, $10 students
Taché Arts Complex, 162 Dafoe Rd.

Centre on Aging Speaker Series: Healthy brain aging, mild cognitive impairment, and dementia: Answers to frequently asked questions
Learn about the brain function changes that can happen as we get older at this Centre on Aging Speaker Series presentation by Dr. Colleen Millikin, a clinical health psychology assistant professor.
Jan. 31, 2:30 PM | Free
Fort Garry Library, 1360 Pembina Hwy.
Café Scientifique: Got (Breast) Milk? Breakthroughs & barriers in breastfeeding research
A panel of experts will debate the latest breakthroughs and hot topics in breastfeeding research, from marijuana to the microbiome. They will also discuss the challenges faced by women who breastfeed (and those who cannot), and the role of public policy in shaping a breastfeeding-friendly society.
Feb. 5, 7-8:30 PM | Free; registration recommended, seating is limited
McNally Robinson Booksellers, 1120 Grant Ave.
"Where We Live Now: Black Liberation Struggles and the University as White Property"
Join us for this Black History Month discussion led by Dr. Delia Douglas, anti-racism practice lead in the Rady Faculty of Health Sciences.
Feb. 5 | 9 AM-12 PM | Free; registration recommended
Marshall McLuhan Hall, UMSU University Centre, 65 Chancellors Circle
The Robert and Elizabeth Knight Distinguished Lecture with Robin DiAngelo: White Fragility
Be inspired by Dr. Robin DiAngelo, an educator, activist, and author in critical racial and social justice education, whose bestselling book has been called "a stirring call to conscience."
Feb. 6, 3-5 PM| Free; registration required. To RSVP and indicate any accessibility requirements: rsvp [at] umanitoba [dot] ca | Investors Group Athletic Centre, 75 Sydney Smith St
Live streaming locations: Frederic Gaspard Theatre, second floor of the Basic Medical Sciences Building, 727 McDermot Ave.; William Norrie Centre, 485 Selkirk Ave.; and Northern Social Work Program, Thompson, MB
Bauhaus (Canada) 101
Curated by Dr. Oliver A. I. Botar
The exhibition provides a crash course on the legendary German design school which influenced Canadian architecture, furniture design, graphic design, art, textiles and pedagogy.
Feb. 13 – Mar. 27 | Free
Opening Reception Feb. 13 | 4:30 – 7 PM
School of Art Gallery, 255 ARTlab, 180 Dafoe Rd.
Louis Riel Day Celebration and Chivaree
Join us for fiddle music, jigging, delicious Indigenous fare and more. Everyone is welcome!
Feb. 14 | 11 AM–1 PM | Free; no registration required
Migizii Agamik – Bald Eagle Lodge, 114 Sidney Smith St.
Rady Faculty of Health Sciences Graduate Studies Open House
Learn about our graduate programs and opportunities for students with diverse undergraduate backgrounds. There will be presentations on select graduate programs, Bannatyne campus tours, opportunities to network with professors and current students, and an information village. Pizza lunch!
Feb. 19 | 8 AM – 2 PM | Registration recommended
Basic Medical Sciences Building, 727 McDermot Ave.
Unsettling Ideas Book Club
Join our meeting to engage in a healthy dialogue and reflection as host, author Alicia Elliott, discusses her book "A Mind Spread Out on the Ground."
Daytime session: Feb. 27, 11:30 AM – 1 PM | Free; registration required, lunch provided.
Evening session: Feb. 27, 6:30 – 8 PM | Free; registration not required.
William Norrie Centre, 485 Selkirk Ave.
Centre on Aging Speaker Series
"Using CLSA data to help define social isolation and why this matters"
Dr. Nancy Newall, associate professor, Department of Psychology, Brandon University
Feb. 28 | 2:30 PM | Free
Fort Garry Library, 1360 Pembina Hwy.
Visionary Conversations
"How can our community come together to combat the impacts of drug addiction?"
Hosted by President and Vice-Chancellor David T. Barnard
Hear experts discuss if there is an approach that can balance treatment and enforcement, to make our communities healthy and safe.
Mar. 5 | 7 PM | Free; registration required
Brodie Centre Atrium, 727 McDermot Ave.
Register your kids for Mini U Programs today!
Kids have loved our summer programs for more than 40 years. Check out our unique programs – from architecture to robotics, business to sports. Your kids will learn leadership skills and new ways to be active with every program.
Spring registration is now open, summer registration opens Mar. 14
Evening Serenades – UM Symphony Orchestra
Take in a performance by the UM Symphony Orchestra featuring concerto competition winner and soprano Paula Berry; new student works; Samuel Barber's Knoxville: Summer of 1915, Wagner's Siegfried Idyll; and Haydn's Symphony No. 8 "Le Soir."
Feb. 5 | 7:30 PM | Admission: $15 adults/$5 students
Jubilee Place, MBCI, 173 Talbot Ave.

Opera Scenes – Desautels Chamber Opera Group
This diverse production of select opera scenes showcases the vocal talents and range of Desautels opera performers.
Feb. 12 & 14, 7:30 PM | Admission: $20 adults/$12 students
John J. Conklin Theatre in the Gail Asper Performing Arts Hall
Taché Arts Complex, 162 Dafoe Rd.
Archives Exhibit: "He was the Very Model of a Modern Research Scientist": Reginald Buller and the Founding of the University of Manitoba
This Libraries and Archives Exhibition features a recreation of Buller's lab and office, and includes many fascinating historical documents such as lantern slides, posters and wall charts, along with selected teaching and research papers.
Until Aug. 21, 2020 | M–F, 8:30 AM–4:30 PM | Free
University of Manitoba Archives & Special Collections
330 Elizabeth Dafoe Library, 25 Chancellors Circle
Don't miss out on these other University of Manitoba community events in 2020.