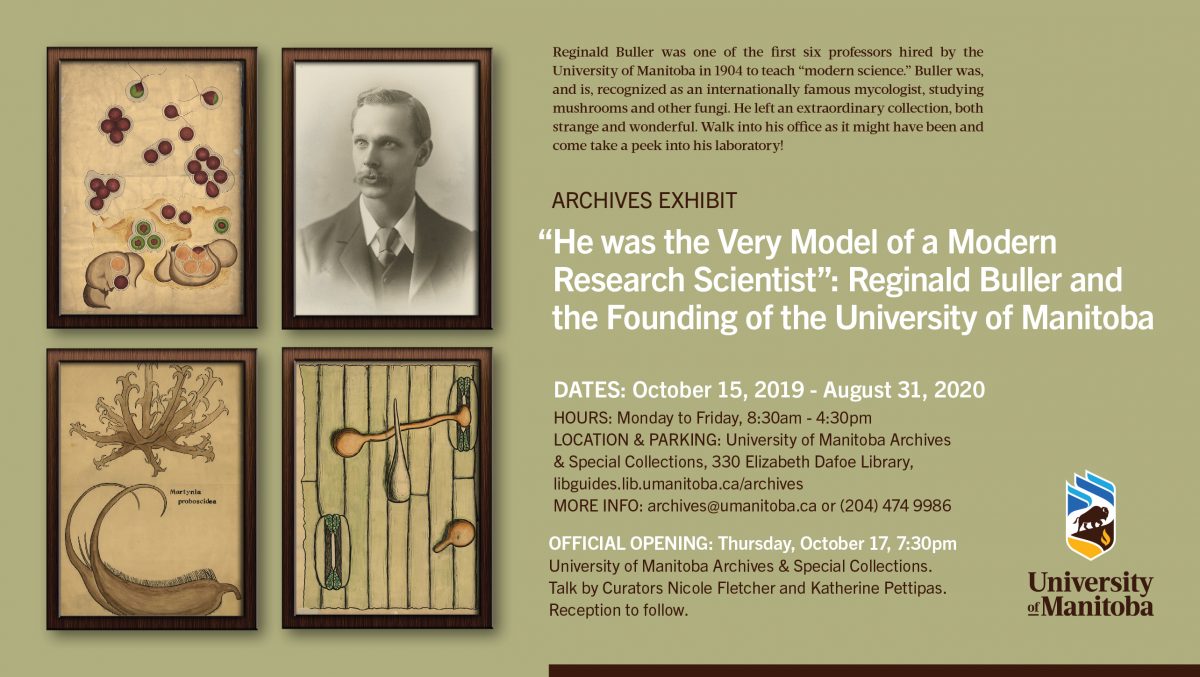 Exhibition recreates office and lab of prolific, unique founding professor
Reginald Buller, 'The Very Model of a Modern Research Scientist'
October 11, 2019 —
A new exhibition by Archives & Special Collections, UM Libraries, will honour the legacy of Arthur Henry Reginald Buller, one of the first six science professors hired by the University in 1904. He taught botany and geology, and played a major role in in bringing modern science to Manitoba.
The exhibit, "'He was the Very Model of a Modern Research Scientist:' Reginald Buller and the Founding of the University of Manitoba," features a recreation of his lab and office, and includes many fascinating historical documents such as lantern slides, posters and wall charts, along with selected teaching and research papers. According to Shelley Sweeney, Head, Archives, Buller's papers represent the most complete record of any professor that she's aware of through her 37-year career, providing lots of fodder for the exhibit.
Buller's collection includes:
his wooden herbarium and card catalogue
posters and wall charts
a bookcase and massive library
a lantern slide viewer and metres of lantern slides
an oversized wooden map cabinet and 11 maps
nearly 5 metres of textual records, including photographs and correspondence
16 scientific and photographic artifacts
and, the pièce de résistance, one box of Buller's cremated remains
A prodigious writer and researcher, a dedicated teacher and a colourful character, the mycologist (a specialist on fungi) lived most of his life in hotels, including the McLaren Hotel on Main Street from 1913 until 1941, which is why so many of his archival records were stored at the University and are now available to be exhibited.
Reginald Buller is recognized for his pioneering work and has earned a number of honours. In 2011, he was included in a series of commemorative stamps, issued by the Central African Republic, entitled "Les Mycologues" for his dedication to the study of fungi. A discovery Buller made of a significant globule that gilled mushrooms used to discharge their spores is now called "Buller's Drop."
Today, the Arthur Henry Reginald Buller Certificate of Recognition is awarded annually by the International Mycological Association to outstanding young mycologists who have distinguished themselves early in their careers.
On the University of Manitoba campus, the Buller building is named in his honor and his ashes now reside in the cairn outside the building.
According to historian and professor of biological sciences Gordon Goldsborough:
And perhaps most significant was his role in changing fundamentally his University. The University of Manitoba traces its origins to 1877 but, in truth, the institution as it exists today was founded in 1904, when several independent-minded, research-oriented professors dragged it by sheer power of will and determination away from its roots as a loose confederation of religious colleges. Buller advocated vigorously for its expansion and growth, both in infrastructure and intellectual breadth and he left it a globally respected institution, especially in his field of mycology. No one could be expected to do more. More on Buller's life and accomplishments.
In addition to the exhibition, the biological sciences department still holds specimens that Buller catalogued. The WIN Herbarium also has many of Buller's mycological and other specimens, many collected over 100 years ago.
Everyone is welcome to enter a mockup of his office or peek into his laboratory to get a sense of what it was like to enter his world.
With files from Shelley Sweeney, head, Archives & Special Collections, UM Libraries. Read Shelley Sweeney's story about how the collection came together.
Exhibition
'The Very Model of a Modern Research Scientist': Reginald Buller and the Founding of the University of Manitoba
Official opening: Thursday, October 17, 7:30 PM
Talk by curators Nicole Fletcher and Katherine Pettipas, with reception to follow.

Exhibition: October 15, 2019 – August 31, 2020, Monday to Friday, 8:30 AM – 4:30 PM
Location: University of Manitoba Archives & Special Collections, 330 Elizabeth Dafoe Library
For more information: archives [at] umanitoba [dot] ca or 204-474-9986