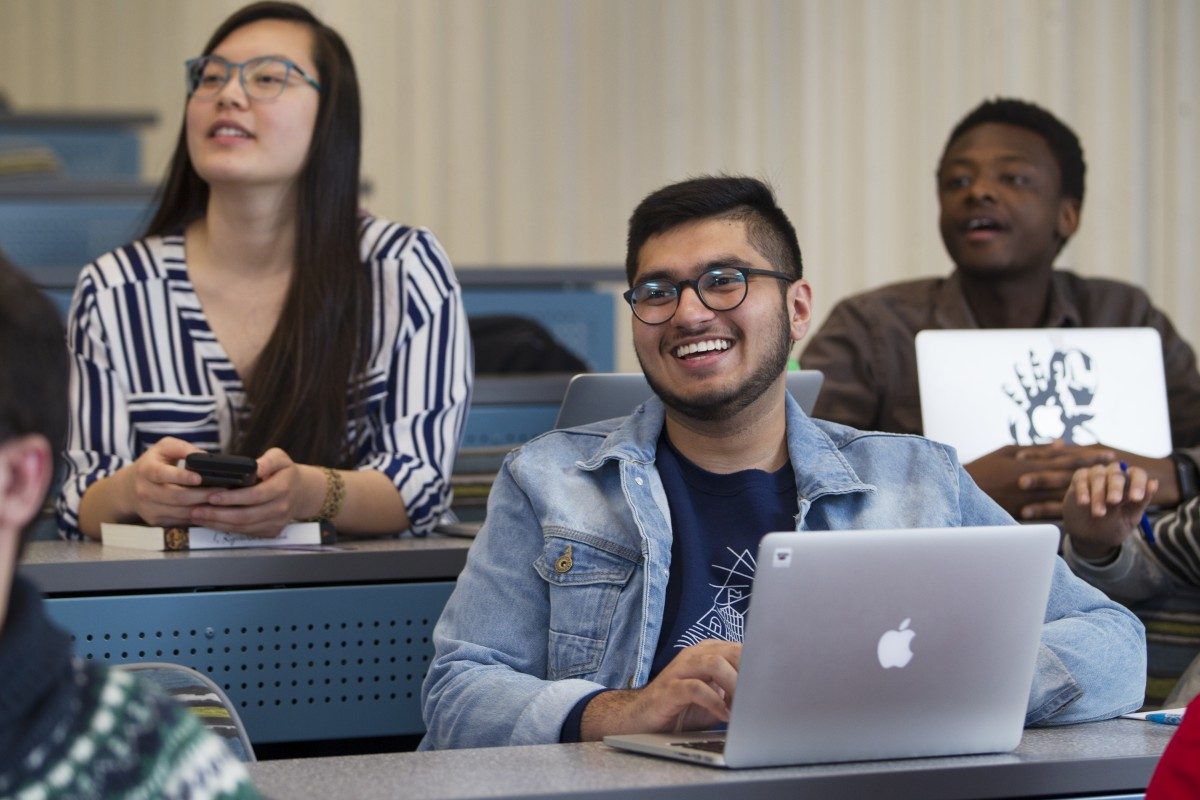 Why you should apply for an Emerging Leader Award
December 12, 2018 —
The Emerging Leader Award recognizes the outstanding contributions that students make to the enhancement of the University of Manitoba and our community. The award recognizes students who are committed to contributing to the social, cultural or economic well-being of communities on and off campus. Students who foster cross-cultural understanding, or demonstrate sustained leadership and initiative are encouraged to apply.
Students are encouraged to apply for the Emerging Leader Award and get recognized for their own outstanding contributions, while faculty and staff are also welcomed to nominate an outstanding student.
Applications for the 2019 Emerging Leader Award are now being accepted. The application deadline is January 11, 2019.
To apply, see: umanitoba.ca/student/leadership/ela.
Meet one of last year's emerging leaders
We chatted with one of last year's winners, Karan Saxena, 3rd year Faculty of Arts student.
As an Emerging Leader Award winner, what does the award mean to you?
Receiving an award from the University of Manitoba, with my displayed work, only reaffirms my desire to dedicate my time and energy even further to only expand on my current work that I'm doing, if it's campus communities or not. In the current political climate, it is more imperative than ever to advocate for marginalized people that are pushed to the sidelines. My connections and work focus more on marginalized communities, as I believe there are a multitude of disparities between these communities. Bridging these gaps through social change is becoming of utmost importance, as the implications of not educating oneself and helping others are rather drastic in current times.
What motivates you to contribute to the social, cultural or economic well-being of communities on and off campus?
To me it is something intrinsic, something I need to do. When I first applied to be a Resident Advisor (RA), which was a big role that led to my community involvement, I did so because I received so much guidance from my own RA, and the thought of helping out other students in the same way thrilled me. I grew up in a very ignorant society, one that created an unsafe atmosphere for women, queer folks, and a place where bigotry wasn't very challenged. In such an atmosphere, the people who helped me find my passion were always folks that were at some level of societal disadvantage. So many people from different marginalized communities have shaped me as an individual – to not help them fight for equality would be a great injustice on my part.
What would you say to encourage someone to submit an application for an Emerging Leader Award?
There are so many reasons one should apply for this award! One might not know what their potential is yet, and I certainly underestimated it when I applied for this award. If you are a student leader in the community, chances are you are bringing about some sort of change, and often for selfless reasons. I can't think of how many to-do lists we all go through, the amount of sticky notes, emails, messages, poster making, etc. I'd say that every student leader in some ways is an emerging leader, so why not apply for an award and give yourself a little bit of credit?
Student leaders from all areas are encouraged to apply. If you know a great student leader, please encourage them to submit their name for consideration. For more information on the Emerging Leader Award (ELA), click here.