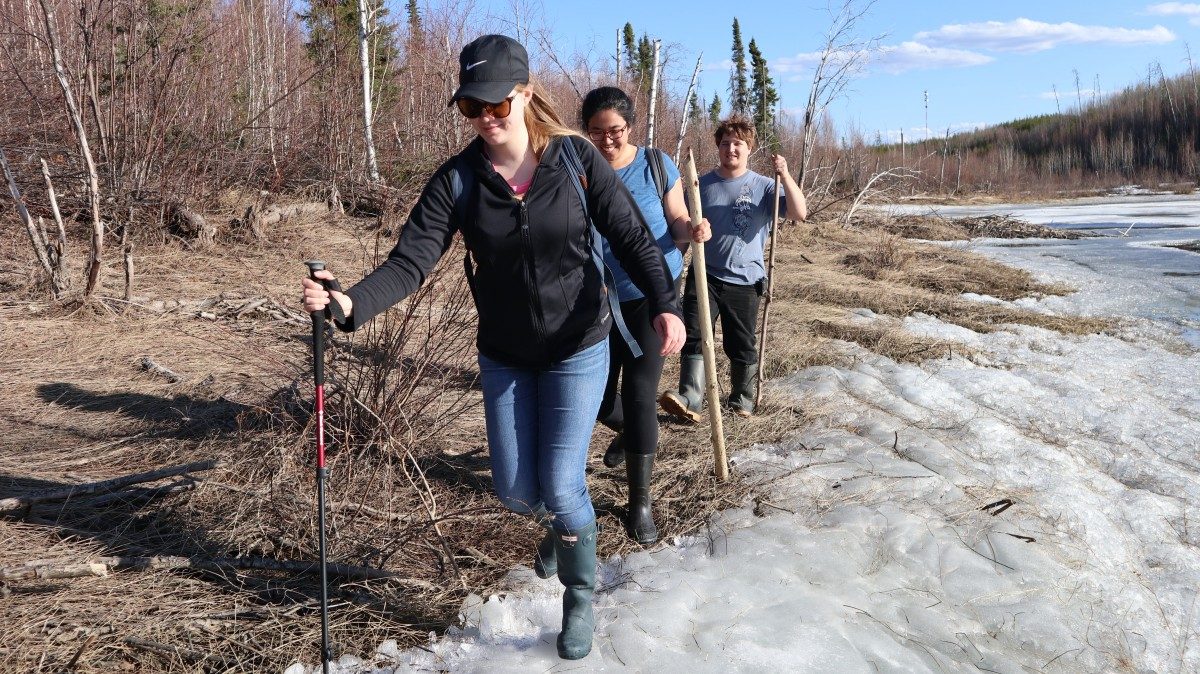 Why should you take part in Community Service-Learning?
December 15, 2018 —
This article is part of a student profile series featuring program alumni from Community Service-Learning.
Community Service-Learning offers local and international experiential programs that help students develop the knowledge, attitudes and skills needed for community engagement.
We sat down with students from diverse backgrounds to talk about what they have gained from taking part in CSL programs. Here's what Anthony De Guzman (Faculty of Engineering) and Veronica Sharkey (B.A. Honours in Sociolology, Faculty of Arts) had to share about their experience in Leaf Rapids: Northern Food Security.
CSL gives you a chance to apply your knowledge and skills.
An Engineering student upgrading his credentials after immigrating to Canada from the Philippines, Anthony De Guzman developed and implemented irrigation systems for a tunnel greenhouse and outdoor nursery as part of his volunteer work in Leaf Rapids: Northern Food Security.
"Always in class, I felt that studying these things were great, but there was really no application," Anthony remembers. "Last year, I got to do some experimentations by myself. I knew what I was doing to make things more efficient with my engineering background, and that was actually the point where I felt like I was doing something better."
CSL helps you develop a critical, community-centered lens.
By listening to the stories of community members, Anthony also made connections between displacement, poverty and his professional responsibilities as an engineer, reflecting on flooding from hydro development or the water diversion that saved Winnipeg.
"As an engineer, we have a code of ethics that says that we are responsible for the lives of the public," Anthony points out. "South Indian Lake, Leaf Rapids, Lake St. Martin, they were all devastated in some way connected to the south. People lost their homes."
CSL turns theory into practice.
Veronica Sharkey also took part in Leaf Rapids: Northern Food Security, rounding off her undergraduate thesis and university experience.
"One of the most transformative things, for me, was watching my CSL Coordinator be a listener to others," shares Veronica. "In my degree, we talk a lot about community assessment, resistance and vitality, but we don't see what it looks like on the ground. Taking part in CSL really affected how I interact with people in my community and how I have tried to do my work moving forward. We need to listen to people that we wouldn't normally listen to and then actually do what they're saying."
CSL supports career development.
Now working as a Project Leader for Katimavik, a six-month, immersive youth development program, Veronica says that her experiences with CSL were the make-or-break for getting the job.
"I bring up CSL in every job interview I've had since CSL," Veronica says, "I gained job skills that are extremely relevant to my work now, and I have the tools and understanding of what I want to look for in my career."
"If you're trying to figure out what you want to do, CSL is full of great people who will be great resources to you. I really refined my professional interests through my experiences with CSL because they explore them along with you."
LEAF RAPIDS: NORTHERN FOOD SECURITY
Leaf Rapids: Northern Food Security is a four-week program offered in May-June that helps students develop skills in project planning, facilitation and community engagement. Participants will support the work of Indigenous youth in a boreal gardening program. The $1,000 program fee includes round-trip travel by car, accommodations and food. Students with financial need can apply for a bursary of $250 as part of their application. Applications are due January 30.
For more information on CSL programs and workshops, visit the Community Service-Learning website or reach out to a CSL Coordinator at 204-474-6992 or service [dot] learning [at] umanitoba [dot] ca. All CSL programs are eligible for recognition on your Co-Curricular Record.