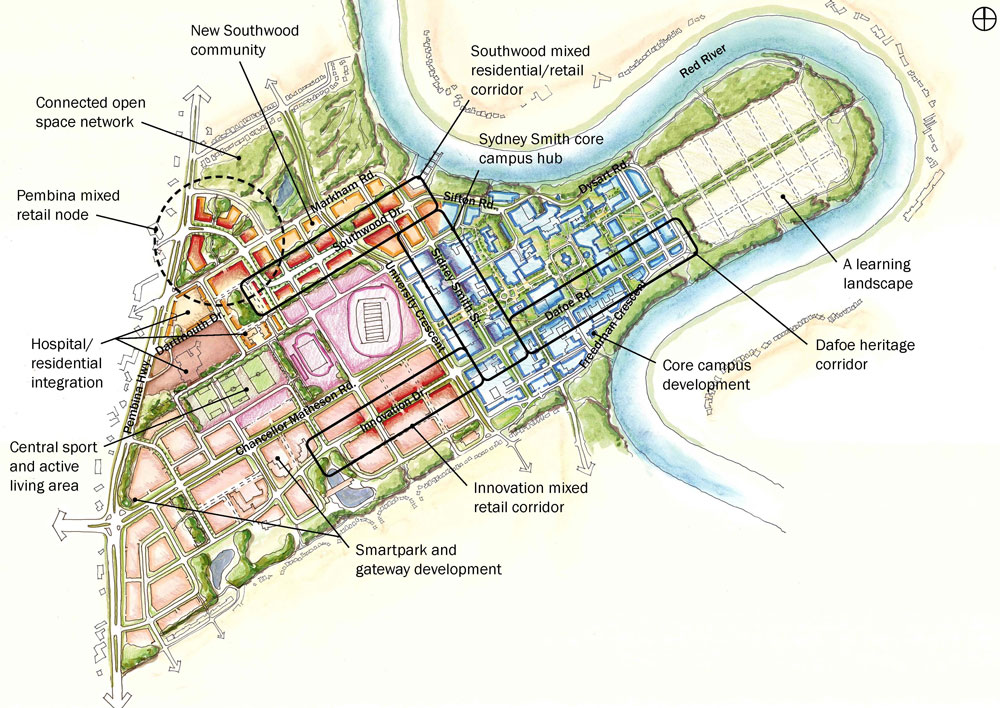 What's your vision for campus?
October 24, 2014 —
The University of Manitoba Campus Planning Office has unveiled its latest update to Visionary (re)Generation – the master plan that will guide development at the Fort Garry campus for the next 25 to 30 years.
The plan has come a long way since last year's design competition, and the office gave the university community a look at what's changed at an open house last week. Led by winning firm Janet Rosenberg & Studio, the updates reflect extensive community feedback, and have been refined to show a more detailed vision for campus.
"What we heard has reinforced the vision of Janet Rosenberg's winning scheme with its commitment to 'landscape first' and celebration of the campus's unique, ecological context adjacent to the river," said Campus Planning Office acting director Rejeanne Dupuis. "Other primary themes focused on 'people first,' walkability, and the need for a mixed-use, compact design. What has emerged is a pedestrian-focused plan that is connected with an extensive green framework and multi-modal transportation system; an inclusive community that incorporates a diverse range of housing and building types. Community consultation has reaffirmed this vision and continues to shape the plan."
Among the highlights of the current draft concepts are:
Transportation
The future bus rapid transit line to the U of M is a focal point of Visionary (re)Generation, with the plan calling for village-style residential and commercial areas to be developed along the route. The plan also proposes future bus and active transportation routes throughout campus.
Proposed rapid transit (above) and cycling (below) networks. Click to enlarge.
Green space
The plan places an emphasis on preserving and creating green space – particularly in the development of the former Southwood lands golf course. It also includes connecting some of the hidden or less-accessible green areas on campus with existing pedestrian paths.
Walkability
Cold winter days can often make a trek across campus seem much longer than it is, and the plan addresses this issue with a number of ideas for improving the walkability of campus. A proposed street grid with smaller blocks and streetscaping aim to break up longer stretches of road, while potential new meeting spaces would increase density between central campus and areas like Smartpark.
Examples of potential streetscaping along Southwood Drive, Innovation Drive, University Crescent and Chancellor Matheson Road. Click to enlarge.
The Campus Planning Office will continue to gather feedback before its next open house early next year, and hopes to have a final draft of the campus plan finished by late 2015. Visit the Visionary (re)Generation website to provide input directly or through one of several surveys that cover specific elements of the plan.
What is your vision for the future of the Fort Garry campus? Let us know in the comments.