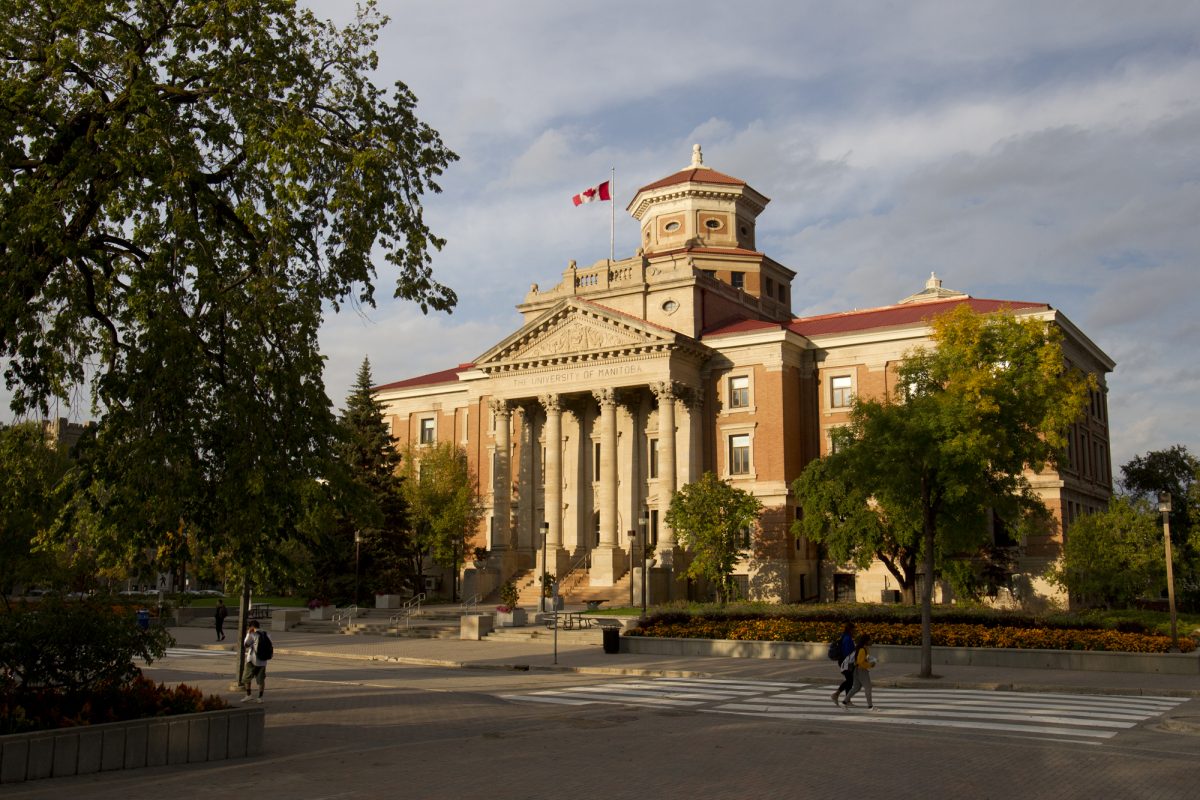 What you need to know about fall construction
September 1, 2021 —
Heading back to campus? As UM's gradual return to campus plans ramp up, the road renewal program at the Fort Garry campus continues.
Here's what you need to know this fall about construction detours and potential delays, pedestrian access and occasional bus rerouting.
Overview
Gillson Street closed with one-lane temporary access.
Parking Lot N access restricted to N Lot permit holders.
Travel affected on University Crescent from Sifton to Chancellor Matheson, including intersection.
University Crescent closed to all traffic south of Dafoe Road to King's Drive.
Emergency access and building access maintained throughout.
Detours can be expected.
Road closures will affect some parking lots and may cause turning or access restrictions on adjacent streets. All closures and interruptions will be communicated through UM Today and be listed on the UM Service Disruption Page.
Further details below.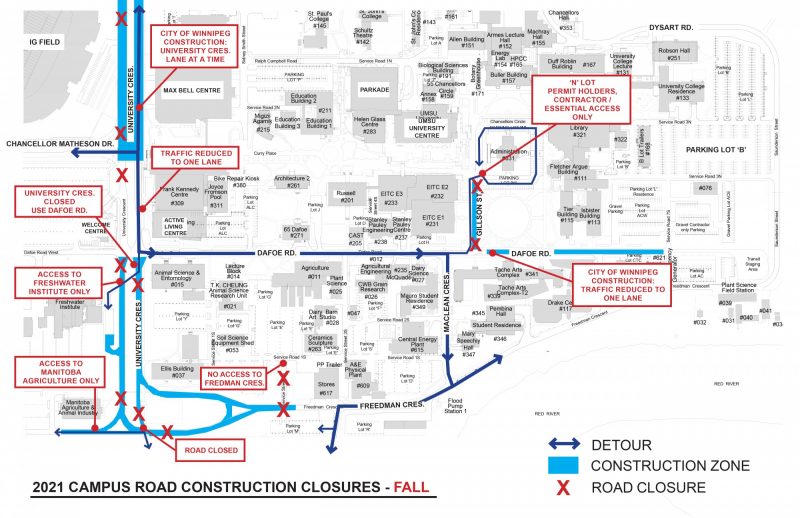 Gillson St. closed; Parking Lot 'N' access restricted
Continues to Oct. 15
Road closure at Dafoe Rd. traffic reduced to one lane.
Essential traffic and emergency access only.
Parking Lot 'N' access restricted to permit holders only.
Parts of University Crescent and Freedman Crescent closed, lane closures
Through fall.
Closed between Dafoe Road and King's Drive.

Access to Freedman Crescent via Dafoe Road and MacLean Crescent.

Intersection open (University Crescent and Dafoe Road).

At least one pedestrian path maintained throughout construction.
City of Wpg work on University Crescent (one lane)
Until mid-November.
University Crescent one lane, Sifton Road to Chancellor Matheson Road.
Detours through construction can be expected.
Dafoe Road one lane (City of Wpg); some bus rerouting
Until mid-September.
One lane access on Dafoe Road, Gillson Street to Service Street 7 with some bus rerouting.
Sidewalk reconstruction (UM) on Dafoe Road; temporary sidewalk closures.
At least one pedestrian path maintained at all times.
TIMELINES
Construction timelines are weather-dependent. Milestone dates are flexible and subject to change. For schedule updates during construction, visit the University of Manitoba's Service Disruption Page.
2021 ROAD CONSTRUCTION PROJECTS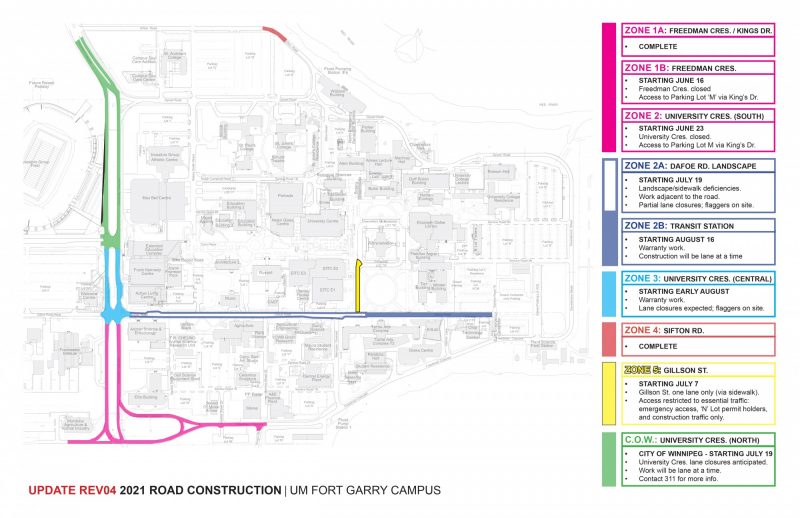 See previous construction update for more information on the Fort Garry campus road renewal program.