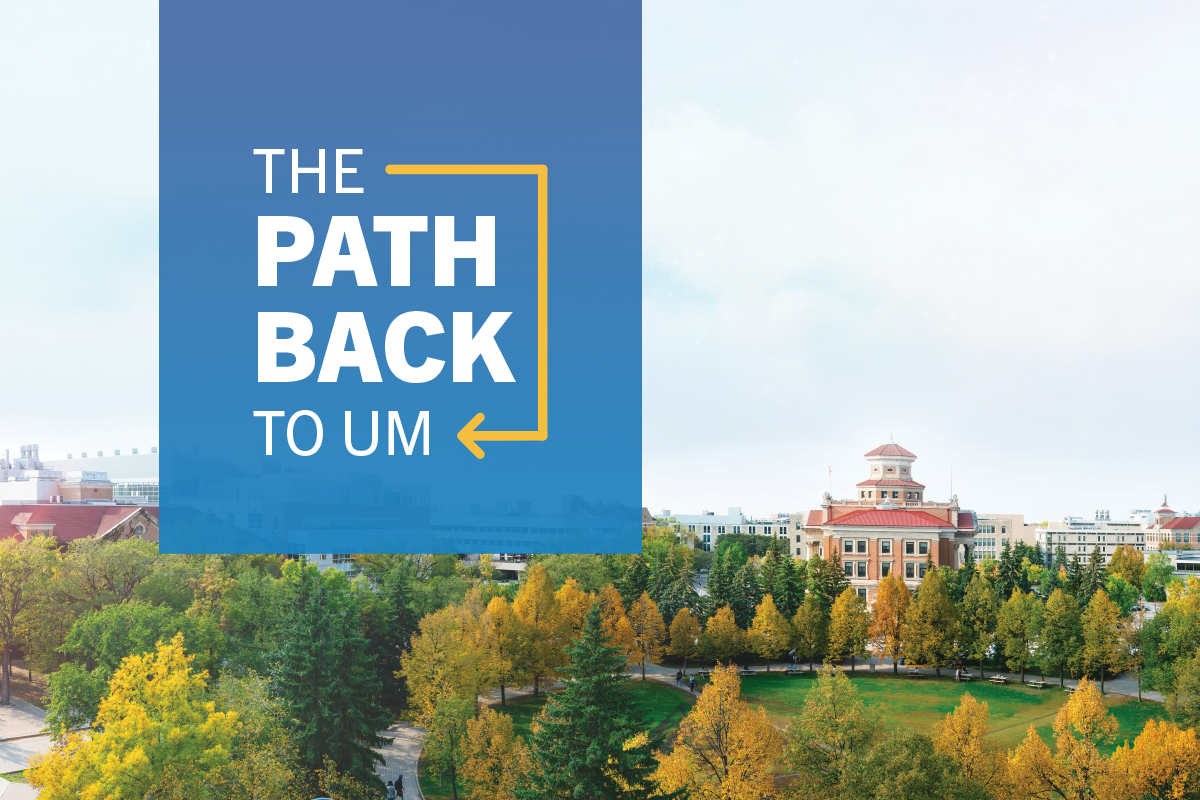 Long-awaited return to campus is on horizon
Health and safety of all UM community members is priority as we look forward to being together again
August 18, 2021 —
With steady improvement in the overall COVID-19 situation, UM is set to take a cautious approach to welcoming our community back to campus starting this September.
The path back to UM will begin with the gradual return of staff to campus between September 2021 and January 2022 in a phased plan that supports a safe and healthy return and respects the needs of our diverse community.
As communicated in a July 23 COVID update from President Benarroch, all UM senior leadership returns full-time to campus on September 1.
They will welcome additional team members over the following weeks as follows:
60 per cent back in September;
70 per cent by mid-October;
80 per cent by mid-November; and
100 per cent on campus by January 2022.
Take time to time to review the Return-to-campus FAQs, which address common questions about our return to campus.
The University of Manitoba continues to discuss its COVID-19 vaccine protocols with the goal of creating a safe campus for everyone.
Update: On Aug. 19, President Benarroch announced that vaccines will be required for everyone starting in late fall.
University Health Service has an allotment of Moderna COVID-19 doses available by appointment to the general public (first or second dose). No walk-ins, please. Call UHS at 204-474-8411 to book an appointment.
What did you miss about being on campus? So many things.
Like many of us staff and faculty, First Year Centre coordinator Ali Wood-Warren missed the liveliness of campus, which is especially present in the delicious anticipation at the start of the Fall Term. She is most excited to be able to provide a warm and friendly space on campus for students again.
She says, "I missed the energy that students bring, the chatter in the hallways, the air of anticipation as students wait to enter an exam room. I missed walking around our beautiful campus and seeing the faces of my colleagues."
"And the thing I missed most while working from home is the casual interactions with students—a reassuring smile, a wave hello, or a quick chat while passing in the hallway goes a long way to making students feel like they belong and are a part of the UM community."
"Because the university is a such a dynamic work and learning community, being able to safely ramp up in-person activity is welcome news," agrees Naomi Andrew, Vice-President (Administration). "Through the long duration of the pandemic, we've missed connecting and being together on our lively and beautiful campuses."
"I know so many of us can't wait to get back to our vibrant in-person learning and work environment at UM," says Michael Benarroch, President and Vice-Chancellor.
"As we anticipate this positive return, I'm particularly looking forward to collaborating and connecting face-to-face; those in-person relationships shape the dynamic heart of our university."
What do I need to know about the return to campus?
We are all working together make the path back a positive transition. Team leaders across the university are having conversations with their teams to help them prepare and adjust to in-person work and to ensure a safe and positive return for everyone.
Individuals are being encouraged to share their questions, concerns and ideas about returning to campus—and should also take time to review the Return-to-campus FAQs, which address common questions about our return to campus.
UM leaders are working to ensure that all health and safety protocols are followed, including seating arrangements for appropriate physical distancing and proper space cleaning. The university will also continue to take into consideration and accommodate special circumstances for individuals, including health conditions.
The UM Employee Family Assistance Program (EFAP) also offers a wide range of wellness supports for helping to navigate the transition.
Answers to common questions
For answers to many questions about returning to campus, please refer to the Return-to-campus FAQs on the UM COVID website.
You can also access the information at the Return to campus page on UM Intranet.
Up-to-date COVID resources
You will see regular COVID updates posted to UM Today, and shared through Week At A Glance.
Our COVID website is the best source for UM safety protocols and the current health and safety measures being taken on our campuses.
We'll be all together again soon
"Our community has demonstrated remarkable perseverance and adaptability over the last 18 months," says President Benarroch. "We should be proud of all the work we've done to reach this point, and I know we will continue to work together to support a safe and successful return to campus."