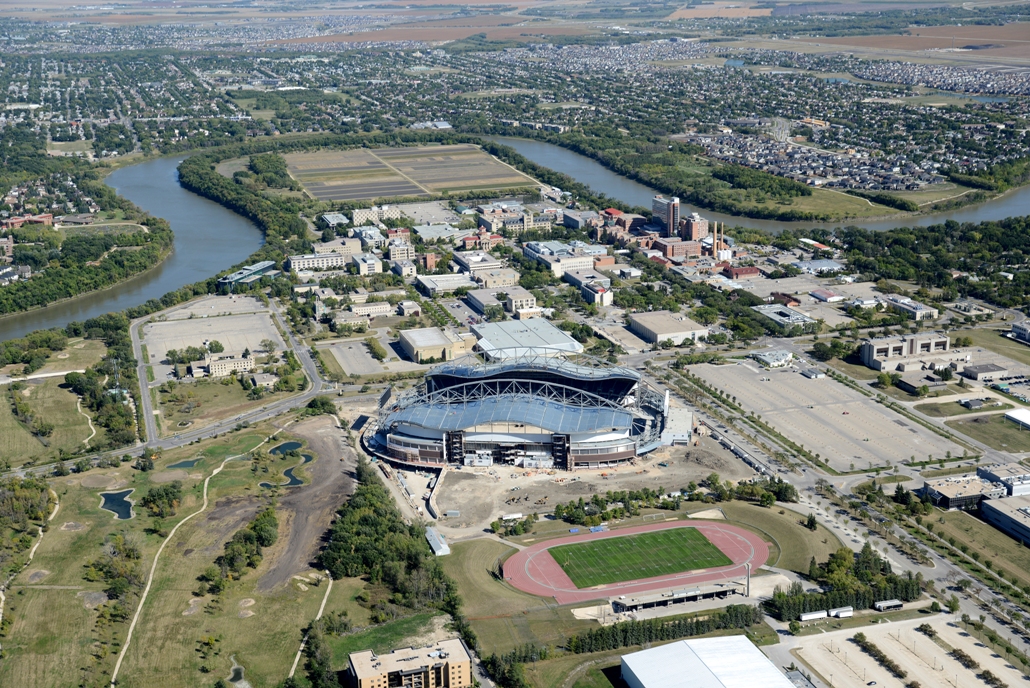 What to know about UM construction this summer
Including Transit and parking changes
June 9, 2020 —
All of the details on the continuing road renewal program at Fort Garry campus, with road construction that starts soon on Dafoe Road and Freedman Crescent, along with various upgrades to pedestrian crossings, multi-use pathways, sidewalks and landscaping.
Parking lot access
Access to Parking Lots ALC, J, and H will be closed during construction and N Lot will be fully accessible at all times, but via a detour at certain times.
Please refer to the road closure map and service disruptions page for all detour information. See also our previous story about construction.
Map below, click to enlarge.
Transit stops
Transit stops in front of the Agriculture buildings and 65 Dafoe Road (former School of Music) will be closed during construction, with temporary stops along Freedman Crescent and on Alumni Lane.
Dafoe Road and Freedman Crescent construction
Construction will include full reconstruction of Dafoe Road from University Crescent to Gillson Street.
There will also be upgrades to underground utilities, and improvements to pedestrian and cycling amenities. Sidewalk upgrades, raised crossings and enhanced tree plantings, which include structural soil cells, which improve the quality and lifespan of street trees and help to mitigate storm water runoff.
Freedman Crescent east of the Drake Centre will also be worked on during the summer. Access to the parking lots in this area will have detours during construction.
University Cres. sidewalk and median, multi-use pathway Saunderson and Dysart
Median and sidewalk work on University Crescent in front of the Active Living Centre will be completed, along with the multi-use pathway along Saunderson Street and Dysart Road.
Impacts to traffic in these areas will be minimal, with minor delays expected.
For the safety of all, please slow down and exercise caution when accessing lots and roads in construction areas. Your patience and cooperation are appreciated.
Anticipated timeline and overview
See below for the anticipated timeline and overview. Exact schedules are subject to change; construction timelines are impacted both by weather and restrictions due to COVID-19 protocols.
The Fort Garry campus road renewal program started in 2018 and will span approximately five years.
2018 work included reconstruction of Freedman Crescent beginning east of King's Drive to Saunderson Street at Dysart Road, just east of the Faculty of Law's Robson Hall.
2019 work reconstructed University Crescent from Chancellor Matheson Road to Dafoe Road.
What to know:
No access on Dafoe Road between University Crescent and MacLean Crescent.
No access to Freedman Crescent west of Alumni Lane in later construction phases.
No eastbound traffic on Dafoe Road between Gillson Street and MacLean Crescent in later construction phases.
Access to parking lots, buildings, intersections and lanes may be affected.
Emergency vehicle access will be maintained.
Pedestrian and bicycle traffic will be slightly impacted throughout construction.
Barricades and safety signage will be clearly posted to safely direct pedestrians, cyclists and vehicles as required.
Caution should be taken at all times during construction to ensure everyone's safety.
ZONE 1 : Dafoe Road
A – Dafoe Road: University Crescent to MacLean Crescent.

Beginning first week of June
Dafoe Road closed in this area (see map)
No access to parking lots ALC, J, and H; N Lot accessed via MacLean Crescent.
B – Dafoe Road: MacLean Crescent to Gillson Street.

Westbound traffic only
Access limited to deliveries, Transit, and N Lot permit holders
ZONE 2 : Freedman Crescent
Starting August 2020
No access throughout construction
Parking lots ACE, B, and L detoured down Alumni Lane – east on Dafoe Rd.
ZONE 3 : University Crescent
Chancellor Matheson Road to Dafoe Road
Starting June 2020
Minimal traffic impacts
Work next to road includes native revegetation, tree planting and sidewalk upgrades.
ZONE 4 : Bank Stabilization and Multi-Use Path
along Saunderson/Dysart Rd.
Starting June 2020
Work next to road includes grading, native revegetation, construction of multi-use path, and bank stabilization.
To stay informed about traffic impacts for vehicles, pedestrians and cyclists, visit the service disruption webpage.
For any questions, contact Vanessa Jukes, MALA, CSLA, PMP, project manager, Architectural & Engineering Services, Physical Plant, at Vanessa [dot] Jukes [at] umanitoba [dot] caTop