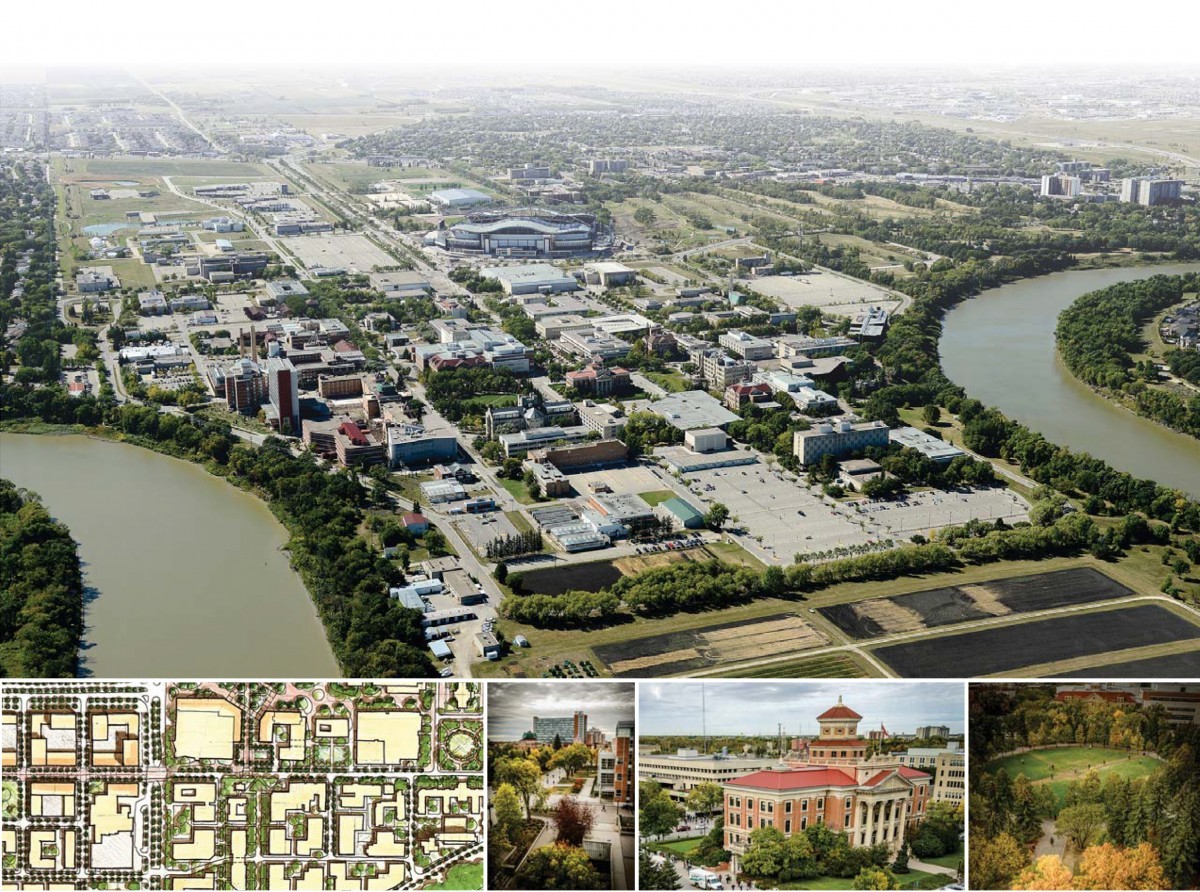 Road renewal construction on Fort Garry campus has begun
UPDATED MAY 29, 2020 (Originally published Mar. 9, 2020)
This spring after some disruption due to the Covid-19 situation, the UM's road renewal program will continue with the reconstruction of Dafoe Road. Here's what you can expect as part of the project.
Construction schedule
Dafoe Road reconstruction will be the most impactful project of the 2020 road renewal work. Construction crews have started construction work.
Travel on Dafoe Road will be affected by the construction and for most of the summer, and Dafoe Road between MacLean Crescent and University Crescent will be closed to all traffic.
Westbound traffic will be allowed between Gillson Street and MacLean Crescent for the duration of construction.
Road closures will affect some parking lots and may cause turning or access restrictions on streets adjacent to Dafoe Rd. All closures and interruptions will be communicated through UM Today and be listed on the UM Service Disruption Page.
Why is this happening?
The design of this road is informed by the Visionary (re)Generation master plan for Fort Garry campus. Within the plan, Dafoe Rd. is preserved as a heritage corridor, while serving as a key transit route and pedestrian-friendly street through the core of campus. The Pedestrian and Cycling Plan for the Fort Garry campus also recommends traffic calming to better facilitate shared use of the street between cars, cyclists and pedestrians, while prioritizing pedestrian movement and enhancing safety of the public spaces.
See more: Dafoe Road Landscape Schematis (pdf).
The redesign maintains and enhances green spaces and landscaping in front of the buildings along Dafoe Road, while enhancing the heritage character of the tree-lined promenade. Enhancements such as at-grade pedestrian crossings and expansion of pedestrian zones where possible will establish Dafoe Rd. as the main multi-use street on campus.
Five-year road renewal plan
The Dafoe Road reconstruction is the third year of a five-year road renewal plan. This plan was based on recommendations from a road condition assessment of the current Fort Garry Campus road network, approximately 22,935 linear feet of roads (excluding Smart Park). Roads, primarily asphalt-surface except for a small portion that is a mix of concrete and asphalt topping, are in various states of disrepair, and the assessment included strategic repairs and renewals.
Recommendations prioritize roads nearing severe degradation, to the point of significantly affecting commutes. Whenever possible, roadworks projects are planned to include repairs to other services as required, such as electrical, sewer, and water.
See the map below for an overview of the five year plan.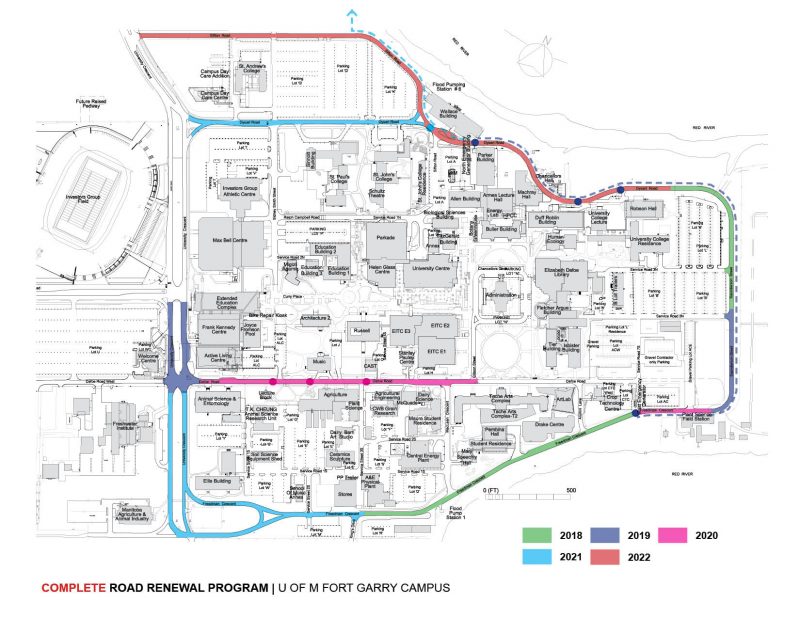 Projects in various stages for 2020 construction include:
1. Dafoe Road (University Crescent – Gillson Street)
Road closures will affect traffic, up to date information on the service disruption page
2. Saunderson Street/Dysart Road Multi-Use Pathway
Minimum Traffic Disruptions, work completed adjacent to roadway
3. Freedman Crescent (Saunderson Street – Service Street 7)
Road closures will affect traffic, up to date information on the service disruption page
4. University Crescent/Dafoe Intersection
Minimum Traffic Disruptions, work concentrated to the median
Road projects completed since 2018:
Saunderson Street
Freedman Crescent (Service Street 7 – Kings Drive)
University Crescent (Chancellor Matheson – Dafoe Road)
Additional information
Construction timelines are weather-dependent. Milestone dates are flexible and subject to change. For schedule updates during construction, visit the University of Manitoba's Service Disruption Page.
Should you have any questions, please contact Emily Sinclair, project manager, Architectural & Engineering Services, Physical Plant, at Emily [dot] Sinclair [at] umanitoba [dot] ca