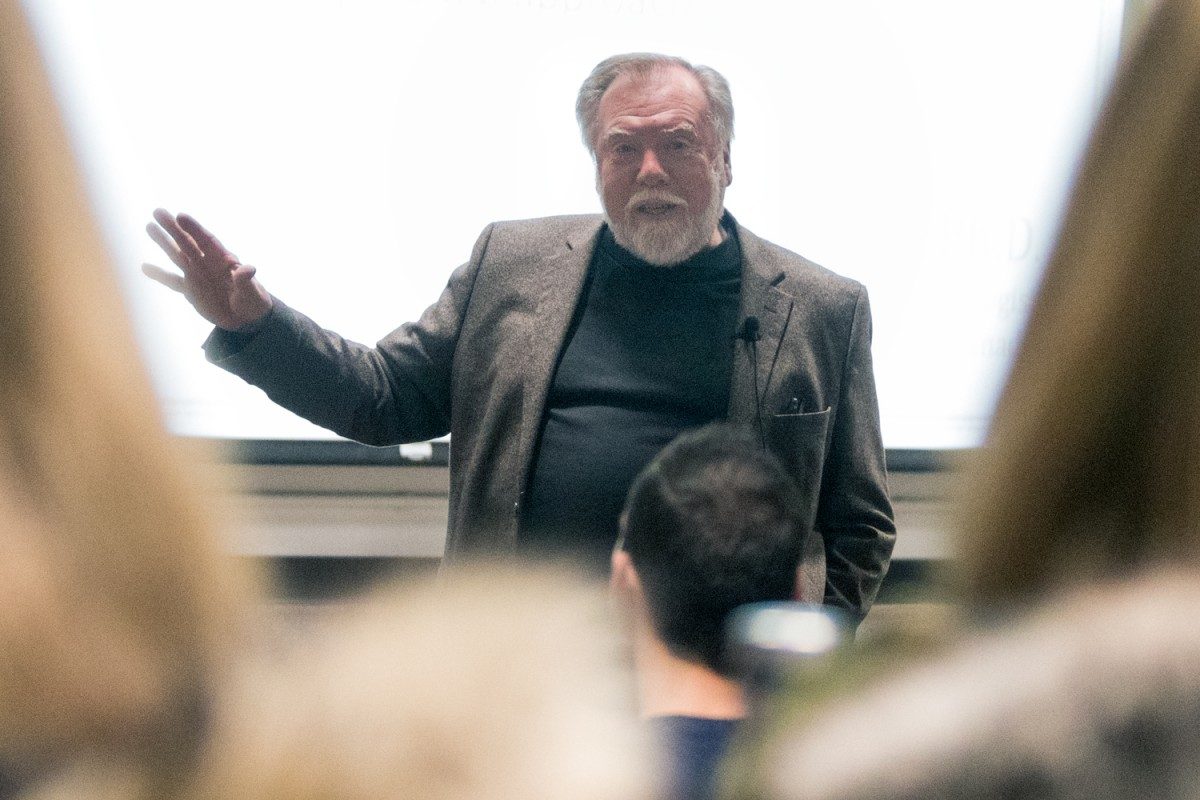 What a wonderful world it would be
Educators need to put relations over information: Neufeld
February 16, 2018 —
Don't know much about history. Don't know much biology. Don't know much about a science book. Don't know much about the French I took. But I do know that I love you. And I know that if you love me, too, what a wonderful world this would be.
— Sam Cooke, What a Wonderful World
Falling literacy rates across Western countries. An increasing number of students becoming unteachable. Focusing on top-down curriculum and pedagogical approaches, educational reforms demand evidence-based practice. To developmental psychologist and best-selling author Gordon Neufeld, all of it pointed to something dreadfully amiss in education.
Invited to address a UNESCO education reform movement, Neufeld set out to formulate a presentation articulating his vision for an attachment-based developmental approach—a vision he shared recently with a near-capacity crowd at the Faculty of Education.
First of all, it seemed to Neufeld that none of the solutions considered the students' perspective.
"What renders the student receptive to learning? And are our students changing?" Neufeld said in a pre-lecture interview. From these questions, Neufeld created his attachment-based developmental approach to making sense of students.
Forming the basis of the education model is the idea of "teachability."
"I invented the term to describe the fact that something was happening with our students becoming less and less receptive to being taught in First-World countries," Neufeld said, adding that the Austrian model of western education differs widely from the attachment- and relational-based educational models used in Third World countries.
"It's more a big-picture view of why less and less of our teaching is translating into learning," Neufeld said, adding that contrary to expectations, the Information Age has hindered more than helped students.
According to Neufeld, the brain's information-processing system discards 95 per cent of received information in favour of about five per cent that contributes to a means for survival, and relates to what he calls "attachment proximity needs."
"So, the last thing we needed was more information," Neufeld said. "The last thing we needed was an Information Age."
Faced with unprecedented information technology and access to more information than any other generation in history, Neufeld said most young people immediately reach out to peers on social media to make a digital connection.
"So, they're more interested in texting their friends than they are about doing research on a project," Neufeld said. "We did not seek more information. We are only curious about our world when our attachment needs are being fulfilled."
According to Neufeld, students become curious and schoolwork becomes meaningful only when attachment needs are being fulfilled. The disastrous consequences of not meeting those needs are currently playing out in schools worldwide.
"There are more children curious in kindergarten than there are in Grade 12," said the author of Hold on to Your Kids: Why Parents Need to Matter More Than Peers.
"We kill curiosity. We teach instruction but we kill curiosity, and so we kill the goose that lays the golden eggs," Neufeld said. "And that is what is happening all over the world: We destroy the learner as we teach the child."
At the root of the issue, is that educators must realize that humans are first and foremost creatures of attachment, he said, describing how people rush into burning buildings, risking their lives to save loved ones.
"We need to re-prioritize Maslow's Hierarchy of Needs," Neufeld says. "We care more about whether we are liked, loved and belong—whether we are the same as or the different from… All of these things are preeminent to our being.
"And only when we get that through our thick heads will education be able to actually address the fundamental issues that children care about—that they are meant to be raised in a context of connection, have all the information relating to how that works. And if we can't do that, then it's meaningless to them. It's like the old song …"
(Hums a few bars of the Sam Cooke's, What a Wonderful World.)