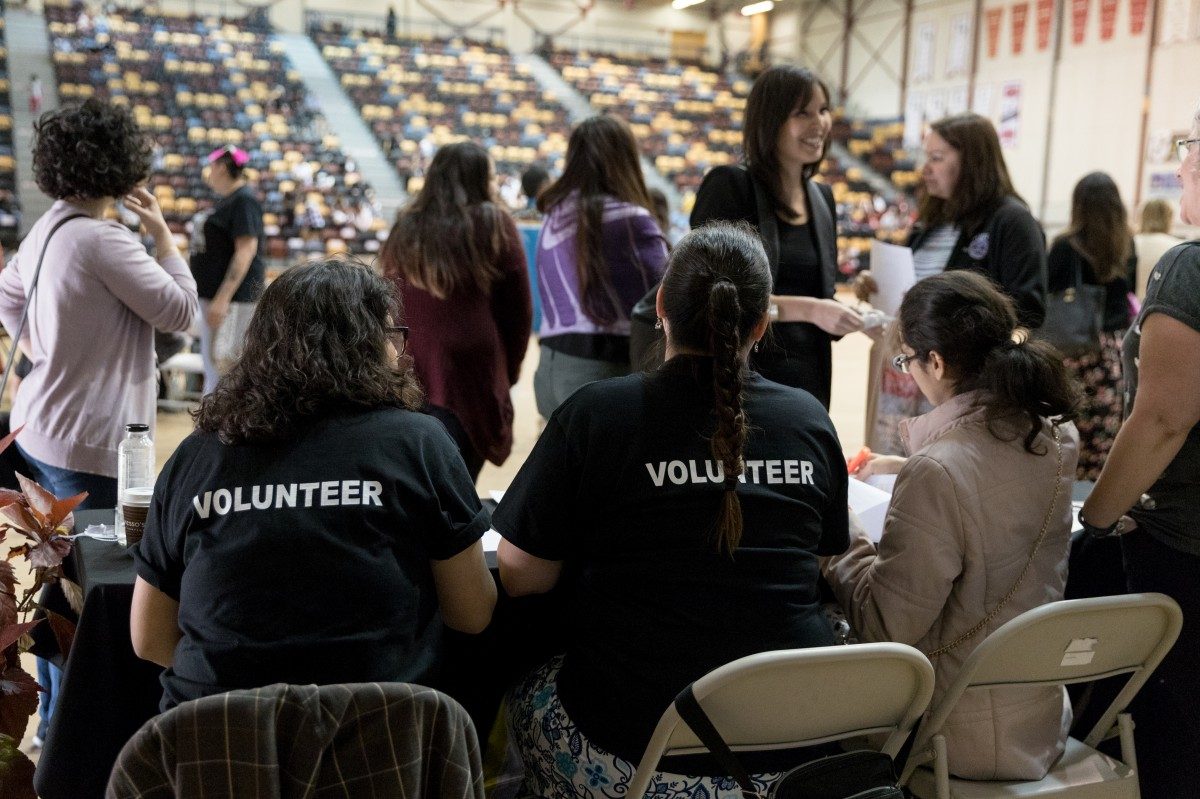 Boost your career skills while helping out on campus  
March 20, 2018 —
It's that time of year when a number of volunteer opportunities pop up across campus for students. There are many great reasons why students should get involved by volunteering on campus, including making connections with other students and giving back to the community. It's also important not to forget the practical skills you gain while volunteering.
We asked Rebecca Balakrishnan, career consultant from Career Services at the U of M to tell us more about the benefits of volunteering and how this impacts future job prospects. Here's what she said:
1. Volunteering is a great way to learn about yourself while building skills for your future.
"It can be really difficult to make career decisions without the context of professional experience," says Balakrishnan. "If you've never had the chance to be in charge, how will you know if you'd enjoy leadership positions? Volunteering can be a safe way to try things out and learn about who you are and what you're passionate about."
2. Gain experience that will reflect on your resumé.
"Volunteer positions are often complex and make a meaningful impact on the community – finding a paying job with this level of responsibility can be difficult when you're just starting out and don't have much experience," explains Balakrishnan. "By volunteering, you can take on challenging roles that can eventually lead you to work in these areas."
Balakrishnan also recommends that students be strategic in choosing volunteer opportunities. "Consider your career goals and where there is a gap in your skills or experience," she says. "Choose a volunteer position that will hone the specific skills that are currently missing from your resumé and get you closer to your goals."
3. Develop experiences that you can draw upon at your next job interview.
"While volunteering, you'll have plenty of experiences that can eventually become meaningful stories to tell in your next interview," explains Balakrishnan. "If you're involved in something you're passionate about, that will shine through when you talk about it, which is something any interviewer appreciates."
4. Take advantage of the valuable networking opportunities.
"Volunteering can be a valuable networking opportunity," says Balakrishnan. "By getting to know other people who work and volunteer in the organization, you are building connections with individuals who share the same interests as you, who you may collaborate with throughout your career."
"In a longer term volunteer position, where you get the chance to build a relationship with your supervisor, you might even snag a reference. Your volunteer supervisor can answer your potential employer's questions about all the fabulous skills you gained in your volunteer position."
—
With this advice in mind, here are some of the upcoming volunteer opportunities on campus for students:
29th Annual Traditional Graduation Pow Wow
This important celebration honours the achievements of Indigenous students at the University of Manitoba.
Dates: May 5
Application deadline: April 6

Science Rendezvous
Science Rendezvous is a festival that celebrates the mash up of art, science and engineering. This event focuses on hands-on activities that showcase areas of science, technology, engineering and math – with an artsy twist.
Dates: May 3 or 4 – school day events, May 12 event on campus
Application deadline: April 15
UMQueer is a group of faculty, staff and students working together to celebrate and advocate for LGBT2SQ+ peoples and their allies at the University of Manitoba. UMQueer is currently recruiting new committee members.
Dates: Pride Winnipeg Festival May 25 – June 3; meetings approximately once a month;
Application deadline: Ongoing
Head Start
Introduce future students and their families to campus.
Date: June 2
Application deadline: May 27
New Student Orientation
Volunteers will work with incoming students, accompanying them to orientation events and activities and introducing them to the University of Manitoba student experience.
Dates: September 4
Application deadline: May 31
To be connected with more volunteer opportunities, sign up for the University of Manitoba Volunteer Program.
For more information on connecting your academics to the world of work, visit Career Services.