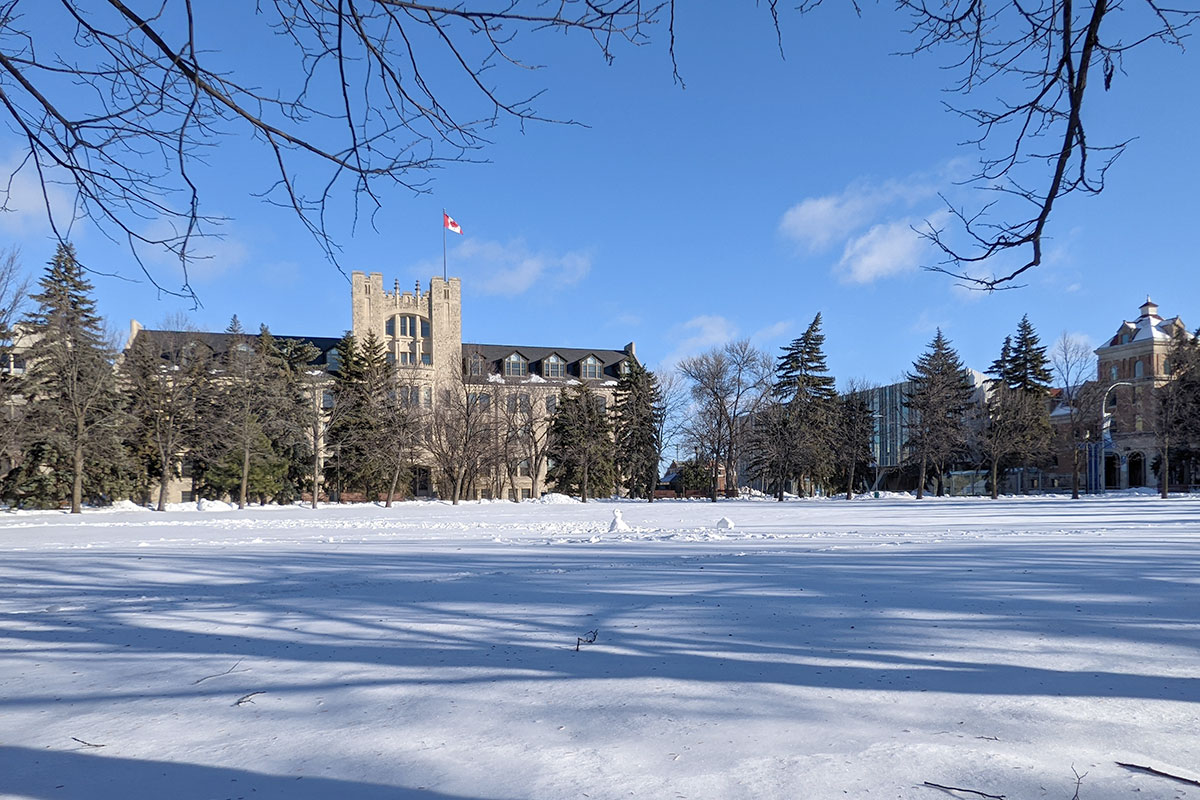 Update on the remainder of Winter Term 2022
A message to students from Laurie Schnarr, Vice-Provost (Students)
February 4, 2022 —
As you know, Drs. Benarroch and Hiebert-Murphy made an announcement on February 2nd that the University of Manitoba will undertake a partial return of priority in-person classes effective February 28th. We have heard from many of you already and know you have questions. The primary purpose of this message today is to provide you with the answers that I have now, with further updates to be communicated to you as they become available.
The University of Manitoba is a research-intensive university comprised of diverse disciplines, some of which must provide significant opportunities for hands-on learning in order to achieve core learning outcomes. Certain courses and labs in the Price Faculty of Engineering, the Rady Faculty of Health Sciences, the Desautels Faculty of Music, and the Faculty of Science, for example, must be delivered in-person to support students in developing the knowledge, skills and experience necessary to advance in their programs and, ultimately, to graduate. As always, the University's decisions are guided by public health advice that prioritizes the health and safety of faculty, students and staff while also considering academic requirements.
Deans are working with their teams to determine which courses are essential for in-person delivery. Winter Term courses currently designated in Aurora as RL will remain remote. Some courses that were originally planned to be delivered in-person may shift to remote learning (RL).
How do I know if my course will be delivered remotely or in-person after the winter break?
By February 11, we will make an announcement regarding courses that will be delivered in-person and those that will now be offered remotely. This information will also be available in Aurora to view.
As a reminder, when you registered for Winter Term courses in Aurora, the delivery method was indicated:
Courses marked RL are courses that are being delivered entirely remotely
Courses marked DE are distance education courses that are being delivered entirely online
Courses marked TBA are courses that will be delivered in-person with the physical location to be announced before February 28. Some courses originally planned to be delivered in-person may shift to remote learning (RL).
Extension of the Drop Date and Winter Tuition Fee Payment Deadline
In light of this announcement, the University has extended the drop date for Winter Term and Winter/Summer spanning courses without financial penalty to Monday, February 28th, 2022. The fee payment deadline has also been extended to Tuesday, March 8th. Visit the Registrar's website for more information about important dates and deadlines for the Winter Term. There has been no change to the "Add" date.
Voluntary Withdrawal (VW) Date
As a reminder, an announcement was made several weeks' ago that the VW date was shifted to the last day of Winter Term classes – Monday, April 25th, 2022.

UM is taking every precaution to keep you safe. Health and safety protocols are being reviewed continuously. Please check the COVID-19 health and safety protocols website for up-to-date information.
Effective this week, over 90% of registered students have uploaded proof of vaccination. Those who have not done so have been de-registered from in-person courses. A second wave of de-registrations will occur after the last day to add Winter Term courses and following the conclusion of the registration revision period.
As a reminder, everyone who comes to campus must be fully vaccinated, masks must be worn at all times, and UM has enhanced ventilation and cleaning processes to align with COVID-19 public health requirements and recommendations.
Doing your part as a member of the UM community to keep others safe
I encourage all students to get your booster shot if you haven't already done so. If you test positive for COVID-19, please follow all directives from Manitoba Public Health and do not travel to the university. Those who test positive are asked to fill out the COVID-19 Reporting Form. There is no obligation for you to report your test result. However, anyone that is symptomatic and does not report their test results must stay off-campus for at least ten days.
If you will be absent from class, contact your instructors. More details can be found in the Resources for students section of the COVID-19 student website.
What if I need to find housing?
If you are coming to Winnipeg for in-person courses and don't have accommodations, this website can help you find off-campus housing. The International Centre website has additional information for international students that is very helpful. If you would like to connect with a member of the International Centre team, email international [at] umanitoba [dot] ca with your name and student number.
Study space on campus
If your schedule is such that you will have a mix of in-person and remote classes, we are working hard to ensure there are spaces for you to go between classes, and there is availability over extended hours. The Libraries will have locations open for study space with extended hours commencing February 28th. I will provide you with more details about study spaces and the reopening timeline for library locations as soon as that information is available.
Technology Fund
In recognition of the fact that some students will be navigating between in-person and remote learning courses following the winter break, the university has re-opened the Student Technology Fund. To be eligible for this program, students must be registered full-time and taking at least one in-person course for the Winter 2022 term and lack consistent access to a laptop that meets requirements for remote studies at UM. In addition, students must declare a lack of financial resources to purchase a computer that meets the stated requirements, be in good academic standing (for undergraduate students minimum 2.0-degree GPA, for graduate students 3.0-degree GPA), and have a good financial standing with the university (no financial holds for overdue fees or fines).
There are a limited number of subsidies available. Students in need of support should apply by emailing student [dot] tech [dot] fund [at] umanitoba [dot] ca and indicate your intention to apply. You will automatically be sent an online application form and notified of results via email if successful.
These have been challenging times for all of us, but together we have weathered the many ups and downs since the pandemic began. I continue to be impressed by your resiliency, patience and ability to adapt to the ever-changing circumstances we are facing. As always, your academic and personal success are vitally important to all of us. If you need to access supports at any point, I encourage you to do so.
Leading up to February 28th, please continue to check your UM email account for messages from me, and the @umstudent Instagram account for updates, resources and supports.
Take good care and I will be in touch again soon.
All my best,
Laurie
Laurie M. Schnarr, MA (she/her)