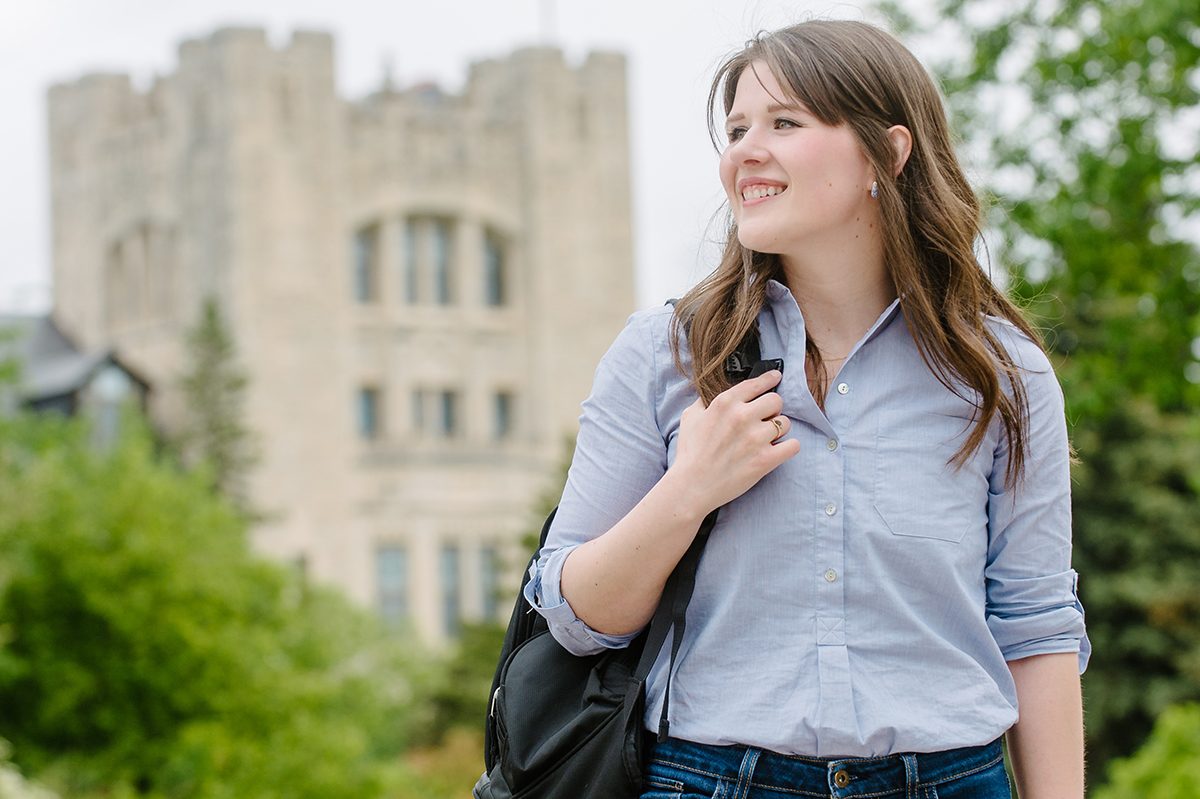 Unexpected career trajectory hits target
Benefits of scholarships for students like Mikayla Preete help with more than just finances
November 28, 2016 —
Mikayla Preete has a natural desire to help others. This desire, combined with her innate curiosity led the fourth year psychology student to explore human-computer interactions. By merging her academic pursuits in psychology with interests in technology, Preete saw a huge opportunity.
"Coming out of high school, I didn't have a clear picture of what I wanted to do," says Preete. "I liked psychology and that it applied to lots of areas—law, medicine—and I didn't know exactly what I wanted to do but I recognized my attraction to the tech field. Being in a field where I get to help in the creation of something, that's what appeals to me now."
Midway through her degree, Preete switched from clinical to cognitive psychology – the science of how the brain works. The highly creative student also learned computer programming and this is where her interest in human-computer interactions began.
"I'm hoping to work in technology, in a user experience role, helping to design technology products that are best for the user and easy to use," says Preete.
This career trajectory wasn't easy for Preete to map out. Originally from Saskatchewan, even moving to another province and coming to a new school was challenging she says.
"When I first came to the U of M, it seemed so big. Once you start putting positive energy out, the opportunities keep coming," says Preete.
"Student scholarships make even more of a difference than you think."
In this case, positive energy was defined by Preete's hard work and dedication, as well as the sense of community that surrounded her. While living in residence and in her academic pursuits, Preete used the opportunities in front of her to open doors, which in turn led to greater success. Preete has received the ongoing President's Scholarship, UMSU Scholarship and the Susan Williams Scholarship, allowing her to keep focused at what's ahead.
"Student scholarships make even more of a difference than you think. For me, it was the lessening the stress due to a financial burden. But it was also an increase in confidence," says Preete. "It makes a huge difference to students and helps them achieve their greatest potential."
With her first degree nearly under wraps, Preete already has plans for a second.
"I'd like to get another degree – in computer science – to marry my interests in psychology and technology with user experience and human interaction," she says.
Preete wants to improve user experiences and human interaction with technology, such as smartphone apps and websites admitting that working in human-computer interaction isn't traditionally seen as a helping profession but she's able to help people in a way that speaks directly to her knowledge and skill.
"I can make a difference," says Preete.
Please donate now. Your gift to the University of Manitoba helps ensure that students like Mikayla have access to the financial support she need to learn, discover and grow.