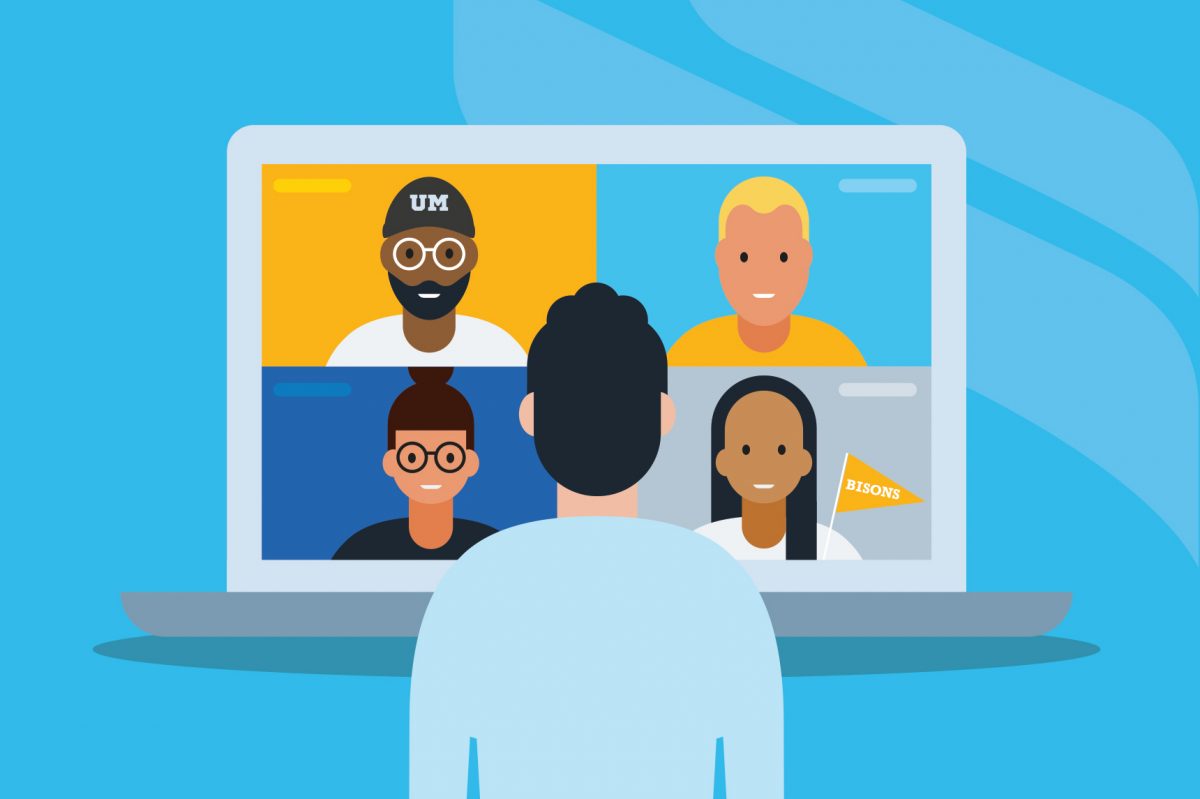 UM's First Year Experience helps new students prepare for the journey ahead
June 4, 2021 —
The University of Manitoba is excited to welcome our newest Bisons!
Last summer, UM created virtual first year programming that helped students connect with their classmates, prepare for the year ahead, and gain tips and strategies to thrive in a remote learning environment. This summer, First Year Experience is back and better than ever to help the newest members of our campus community feel connected to their university and to their peers.
Online events and programming assist in the transition from high school to life at UM, and help students feel ready for the fall, regardless of where they may be studying – here in Winnipeg, outside the perimeter, or anywhere in the world. Students will gain valuable insights and earn chances to win cash prizes that can be applied towards tuition.
Summer Programming
Here are some of the exciting programs new students can participate in:
What's Next? Saturday June 5, 10am-1 pm

What's Next? includes information about financial aid options, career development, and the differences between high school and university. It helps students understand the supports and resources available for them.

Get Ready to Register: June 10-July 8

Get Ready to Register is a three-part series designed to help new students make decisions about target programs, course selection and registration. Each session builds on the next, so students are encouraged to watch each of the three parts. After completing Get Ready to Register, they will have all the tools they need to plan and register for their first year courses.

Reading to Write: July 2-23 (Register by June 15), July 26-Aug 13 (Register by July 15)

Reading to Write is a free three-week online academic writing and reading program offered by the Academic Learning Centre (ALC). Students will practice reading academic texts and complete four basic academic writing tasks while getting feedback from an ALC tutor.

UM Essentials: July 12 – August 27

UM Essentials is an eight-module online course that helps students prepare for their studies at UM. Students will learn what it means to join the UM community including expectations about academic and personal behaviour. Strategies for effective learning will be shared and students will gain comfort in using our online learning platform, UM Learn, to help them prepare for fall course work.

Summer University Advantage: July 26-August 27

With Summer University Advantage, students who have been admitted for the Fall 2021 term have the opportunity to begin their studies in Summer Session and take the first-year seminar course ARTS 1110 – Introduction to University. The course focuses on the principles of learning and memory, critical thinking and academic writing, all of which are essential to success at university.

Math Boot Camp: August 9 – 27 (Register by August 1)

Offered by the department of mathematics, Math Boot Camp helps students strengthen their skills in preparation for university-level mathematics courses. This program strives to make math exciting and give students confidence in their math knowledge.

Prep Week: August 30-September 3

Prep Week is a dynamic, engaging week where first year students can sit in on special virtual lectures delivered exclusively for them, plus learn strategies for academic writing, taking notes, participating in groups and preparing for mid-terms and assignments. Professors, staff and upper-level students will provide key tips for success in first year and information about accessing academic supports, tutors, and student services will be shared. Students can explore the many involvement opportunities available at UM and meet up with other students who share their interests.

Welcome Day: September 7

Welcome Day is not to be missed! Our new Bisons will be officially welcomed to UM by university leaders and some of the key people who will guide them as they start their respective journeys. Welcome Day will be a virtual celebration of the work they have done so far and offer a preview of the exciting year ahead. Programming in the morning will be for all new students and faculty-specific sessions will occur in the afternoon.
Stay Connected
There are a few ways for students to stay in touch over the summer and get more information:
UM Commons

UM Commons is an online hub that connects new students to the university, their classmates, and the resources and tools they need to excel throughout their first year. From getting the latest information on what's happening and registering for events, to connecting with staff, services, or peer tutor programs, UM Commons should be every new student's first stop.

Email newsletters

Students should stay tuned to their emails over the summer for key information about their first year journey. Info will be sent to the email address they applied with, or their UM email address after they've claimed their UMnetID.

UM's student Instagram accounts

Follow @umfirstyearcentre for an account specifically designed for first year students.
Follow @umstudent for the student perspective of life on campus.