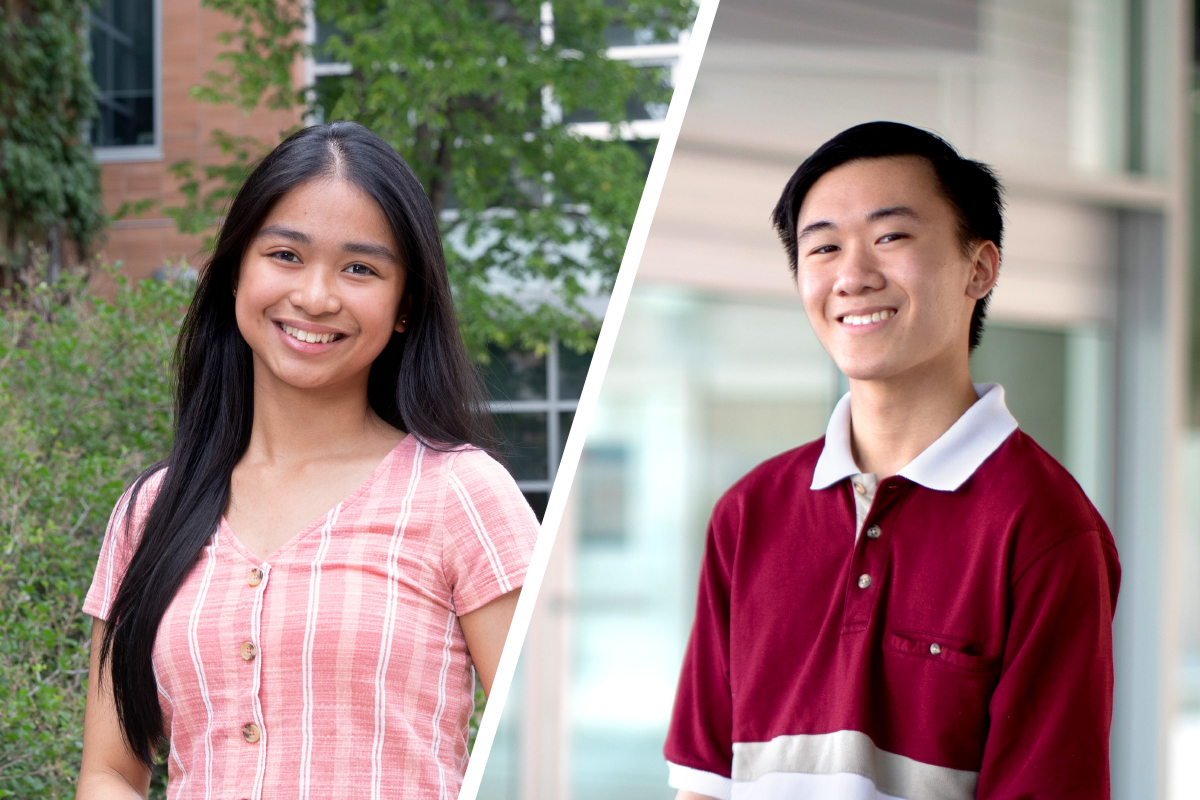 UM's 2021 Schulich Leaders eager to learn and achieve their dreams
June 28, 2021 —
The University of Manitoba has once again awarded two remarkable incoming students with Schulich Leader Scholarships. Darlene Cuevas, a student from St. John's High School, and Jordon Hong from Miles Macdonell Collegiate are the two new recipients of this prestigious scholarship.
Since 2012, the university has awarded this scholarship to high school graduates beginning their post-secondary education in the Science, Technology, Engineering or Math (STEM) areas of study. The Schulich Leader Scholarship selects students across Canada annually, with awards valued at $80,000 and $100,000.
Cuevas's efforts as a student, volunteer and community member shows her commitment to using her skills and education to help address issues faced by the world today.
While Cuevas has always tried her best in all subjects, she realized that she naturally gravitates towards science and math. She has accepted an offer of admission to the Price Faculty of Engineering and is looking forward to specializing in biosystems engineering in the future.
"It's an honour to have the opportunity to study my passions and achieve my dreams," says Cuevas. ""Especially as a woman and also a person of colour, I know not everyone has access to the same opportunities. It's even more important for me to make sure this opportunity doesn't go to waste and to contribute to the betterment of humanity wherever life places me, even through the small things I do every day."
Hong's teachers and mentors have always been impressed by his intelligence and capabilities, but even more by his eagerness to learn. Whether it is in the classroom, as part of a sports team or in any volunteer roles, he never fails to rise to the occasion.
Hong has accepted an offer of admission to the Faculty of Science with the intention to focus on computer science. "It's an incredibly versatile field with the capability of solving global problems," he says.
His interest in video games in his childhood, resulting in the unequivocal decision to pursue a meaningful career in computer science, is the perfect example of students discovering their potential to shape their future. He is excited to continue broadening his understanding of the many ways by which computer science and technology apply to real-world issues.
Aside from the honour that comes with the scholarship, Hong is "interested in seeing what other Schulich Leaders at UM are doing, the projects they're working on, and learning from them as an incoming Scholar."
About Schulich Leader Scholarships Canada
Seymour Schulich, a Canadian business leader and philanthropist, established the Schulich Leader Scholarship in 2012 to encourage the next generation of brilliant students to pursue careers in STEM. The $100+ million scholarship fund allows students to fulfill their ambitions and leave an impact on the world.
The Schulich Foundation awards these entrance scholarships to up to 100 promising high school graduates enrolling in a STEM undergraduate program. Applicants are nominated through their high schools, with every high school submitting only one Schulich Leader Nominee per academic year. Winners are selected based on the following criteria: outstanding community, business or entrepreneurial leadership and academic excellence.