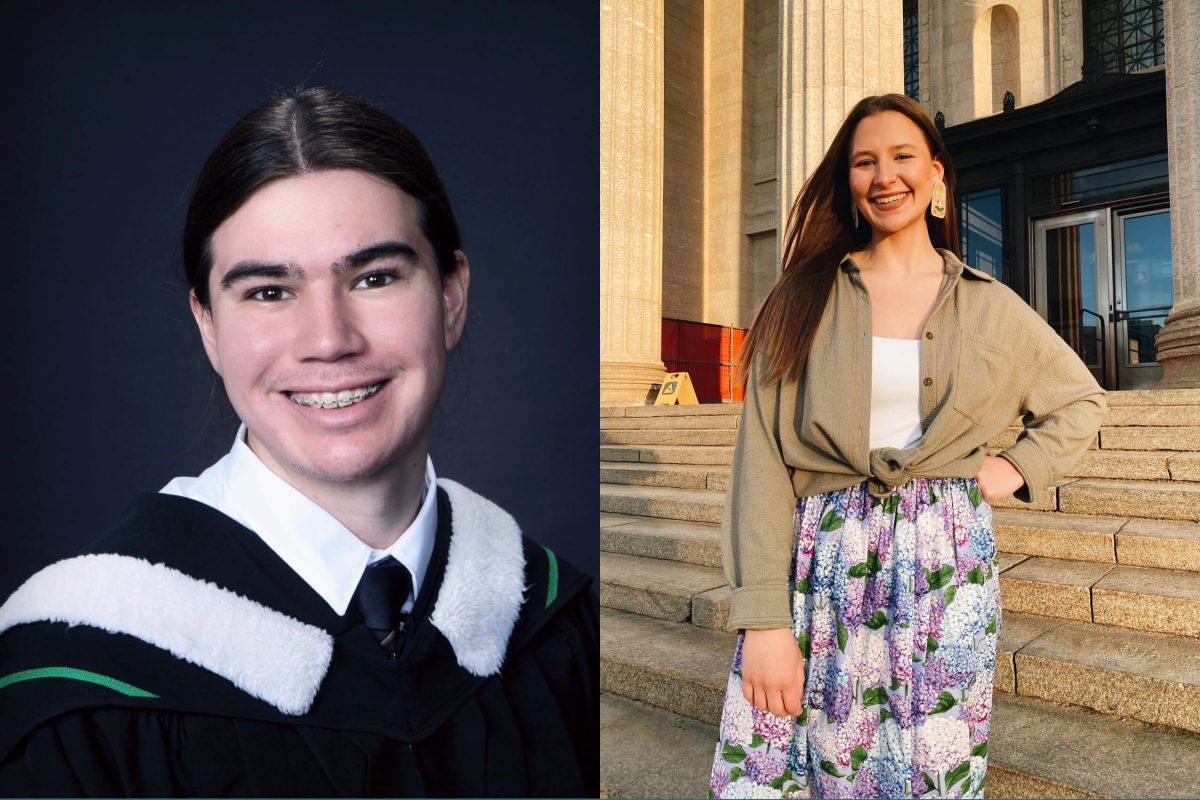 UM Today features Indigenous graduates
Learn the stories of Jesse McGregor and Taylor Tutkaluke
May 3, 2022 —
In the lead-up to the 33rd Annual Traditional Graduation Pow Wow on May 7, UM Today is profiling two Indigenous students who will be graduating. Jesse McGregor and Taylor Tutkaluke are two of 415 Indigenous students graduating this year.
Jesse McGregor is a Rady Faculty of Health Sciences student who grew up in Norway House Cree Nation with ties to Misipawistik Cree Nation (Grand Rapids).
"I come from a family of a lot of Indigenous matriarchs. My mom was a nurse, I'm also related to Dr. Marlyn Cook. That's where my initial inspiration for wanting to go into medicine and into the healthcare field came from. Throughout high school I attended a lot of enrichment programs and went on university tours."
When he was still in high school, Jesse participated in the Health Career Quest Summer Camp and the Verna J. Kirkness Science and Engineering Program and became familiar with the UM through various campus tours. This allowed Jesse to get a foot in the door and learn about the various programs and supports available to Indigenous students before attending the university.
"It was very important to me because I knew I was leaving the reserve, I graduated in Norway House and it's far away from the city. I was really afraid and worried, so I wanted to make sure I can find a support system within the school because my family was going to be back home."
Jesse joined the Access Program, which provided him the opportunity to find his support system as he transitioned to campus and academic life. It was integral in grounding him in his first year and throughout his degree.
"One of the biggest challenges of university is struggling with the academic side of it and thinking that you're in it alone. You're really hard on yourself and at times when it's really stressful, you feel like it's not cut out for you. Having those friends to lean back on, connect with and share stories was really important for dealing with that stress and making it through."
Throughout his time at UM, Jesse has been recognized for his hard work and dedication to academic excellence. In his first year, Jesse was awarded the BMO Indigenous Students Leaders of Tomorrow scholarship. In his second year, he was a recipient of the Manitoba Aboriginal Youth Achievement Award. In 2021, with the help of Dr. Emily McKinnon and Desiree Morrisseau-Keesick, Jesse received a Jordan's Principle Scholarship. His most recent outstanding achievement, after being nominated by Dr. Emily McKinnon, is winning the Indigenous Awards of Excellence, which will present Jesse with a star blanket and certificate this coming June.
"This whole academic journey has really showed me that I have a lot to be proud of in who I am and where I come from. I know a lot of youth back home who were made to feel that systems aren't designed for Indigenous peoples, but that doesn't mean that we're not capable of pursuing them and I feel that a lot of these achievements echo that."
When asked what he looks forward to most about Graduation Pow Wow, Jesse says, "I can't even express how the recognition part of the Pow Wow is one thing, but I would be lying if I didn't say that I'm more excited to just see everybody and to connect with community. To see the dancers and the people who were there to support you throughout your university career, and all the new faces that you didn't even know were graduating because you didn't get to see them because of the pandemic. It's just going to be such an amazing event and so empowering."
What does the future hold for Jesse?
Jesse's future aspirations are to go into medicine in 2023-2024. With a passion for maternal health medicine, his backup plan is to pursue a Master's in public health with a focus on the Indigenous health field and maternal health. Raised and influenced by strong matriarchs, it is no surprise that Jesse is following in their footsteps and will be someone who will continue to blaze the trail for other Indigenous students and youth.
***
Taylor Tutkaluke is Métis from Winnipeg with family roots in St. Laurent, Deerhorn and Lundar. She is a soon-to-be-graduate of the Faculty of Kinesiology and Recreation Management.
Taylor grew up playing ringette. This is where she developed her first love of sport and exercise, which inspired her to pursue her education in that field of health and fitness.
"I realized that I really like fitness and enjoyed instructing group exercise" she says. This led to her getting a job with the Sport Manitoba Fitness Centre in her first year and continued to work there throughout her degree. "I was really fortunate because it was like I was doing my fieldwork the whole time."
"Overall, I just think that my university experience was enriched so much by the student groups that I was a part of, specifically in the Indigenous community. I ended up getting an Emerging Leader Award in 2020 and various scholarships like the UMSU Award for Indigenous Community Leaders and recently the Marjorie Blankstein Indigenous Leadership Scholarship"
Taylor joined the Access Program in her second year and was involved with the Métis University Students' Association (MUSA) for the last 3 years. Along with fellow Kinesiology student, Antonina Kandiurin, Taylor contributed to the Movement Challenge – a social media campaign that emerged at the beginning of the pandemic and encouraged everyone to get out and move in any way they could. She lead free workout classes to connect with community during the pandemic, which helped others, including herself, stay active in lockdown. Through these initiatives, she met Laura Forsythe and Heather McRae, who became her mentors and had a significant impact on her development as a leader.
In her final year, she joined the ICE (Indigenous Circle of Empowerment). "ICE has been absolutely amazing. Justin Rasmussen is unbelievable. The people that we've been able to talk to has been crazy. We met Nahanni Fontaine, Kevin Chief and so many others. Every guest we had brought so many unique perspectives to the table and created such a safe space for us to be vulnerable. Even though we've only met each other once as a cohort, we created a space with a lot of trust, where we can share very personal things at times."
"It was about putting myself in other people's shoes because there was such a wide range of degree program representation throughout the group, for example: social work, medicine, health care, law, etc. I find I can get tunnel vision in my own stream sometimes, so it was great to hear other people's unique experiences in their fields. It serves as a reminder when I'm making decisions to also think of all their perspectives and what they would have said."
When asked what she looks forward to most about Graduation Pow Wow, Taylor says, "The fact that we have this type of celebration is really cool. I'm just realizing more and more lately at how special it was of an experience for me to go to school in Winnipeg as an Indigenous student and have these opportunities. It breaks my heart that there are Indigenous students attending other institutions across Canada that aren't being acknowledged in this way, so I feel very lucky to have this chance and I know it's going to be very impactful for so many other students as well, especially those who will feel more comfortable here than at the larger convocation."
What does the future hold for Taylor?
Taylor has transitioned from student to staff at UM as an Indigenous Student Recruitment Officer with the Office of the Vice-President (Indigenous).
"As far as the impact I want to have, I would like to continue to work with people and help them in whatever way I can. I see that manifesting in the field of health and fitness. I can see my role shifting to one where I can utilize my expertise. I really love working with people every day, so I'm really excited to be supporting new students in my upcoming role."
Taylor's advice to future and current Indigenous students is to "sign up for anything and everything. Don't be scared. The second you join a group, so many opportunities will come your way like: new friends, job opportunities, mentorship…you have to go for it, even if it seems scary at first. If you try something and it doesn't work out, don't feel defeated, just move onto the next thing. Also, ask as many questions as possible about other people's life and university experience, especially those in your field or the field you're wanting to get into. I am so thankful for all the mentors that helped along the way. It is important to lean on others for support and guidance. You can't do it by yourself."
***
Join us in-person at the Investors Group Athletic Centre on UM's Fort Garry campus for the annual celebration and one of the largest Pow Wows in the province to honour and celebrate the accomplishments of hundreds of Indigenous graduates including Jesse McGregor and Taylor Tutkaluke.
May 7, 2022 – Event schedule
9:30 a.m. – Pipe Ceremony
1 p.m. – Grand Entry
2:30 p.m. – Honouring the graduates
4 p.m. – Feast / cultural programming resumes
6 p.m. – Hoop dancers
7 p.m. – Closing prayer and payouts