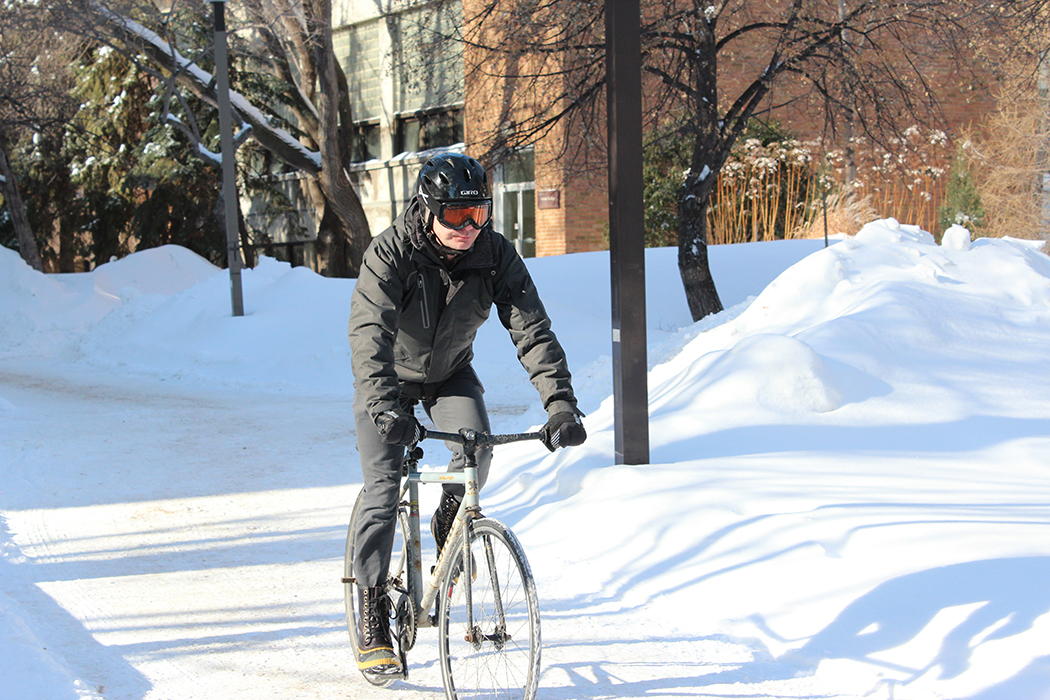 Maaschiitak (Let's Move) challenge returns by popular demand
Get moving and be entered to win weekly prizes!
March 4, 2021 —
Laura Forsythe was out for a walk at Bird's Hill Provincial Park when she realized how much physical activity and movement were crucial for her mental health during the COVID-19 pandemic.
"Knowing that promoting healthy movement could help our community, I decided to brainstorm with Antonina Kandurin and Taylor Tutkaluke, both Métis students in the Faculty of Kinesiology and Recreation Management, to help me actualize a movement initiative," says Forsythe, the Métis inclusion coordinator at the Indigenous Student Centre at the University of Manitoba.
The first campaign, called Maaschiitak – or "let's move" in Michif, launched in November and saw high participation.
"Over 130 participants sent in hundreds of posts over the course of the four-week campaign," says Forsythe. "I was truly inspired by people sharing posts of themselves walking, running, skating, riding horseback, skiing, spinning, practicing yoga and lifting weights," she says. "We were thrilled to launch the Maaschiitak (Let's Move) campaign for the second time."
Launched in late February, the campaign is supported by the Indigenous Student Centre at UM, Manitoba Metis Federation Bison Local, Métis University Students' Association (MUSA) and Physical Education Recreational Kinesiology Student Council (PERKS)..
Maaschiitak (Let's Move) is open to anyone in the community who is eager to participate until March 22. The rules are simple: capture yourself immersed in some form of movement, and tag the UM Métis community on social media (Instagram, Facebook and Twitter). Participants are entered into weekly draws for a chance to win great prizes!
Below are a few testimonials from past participants.
"The atmosphere of the movement challenge was very uplifting and positive, which is why I believe so many folks participated! I think it was also a great way to create good habits by getting up and moving every day, which I have tried to upkeep over the winter break and beyond. I'm looking forward for the second movement challenge!""
– Claire Risbey, participant, Faculty of Science
"Participating in the first Maaschiitak (Let's Move) movement challenge during the 2020 quarantine gave me the motivation to get up off the couch after a long quarantine rest. I set an ambitious goal to get active a few times a week using a jump rope and my home space. I soon realized how much I missed being physically active regularly. During the first challenge, I was taking a heavy course load and was buried in studies. The inviting and fun atmosphere created by the hosts allowed me to fit exercise into my life again. Moving my body regularly helped to create a balance between the physical and mental exercises I was immersed in."
– Jessica Lagimodiere, participant and contest winner
"Throughout the challenge, I was able to host three live workouts for challenge participants to attend. These were such a great way to connect with participants and earn our movement challenge entry together! Any fitness instructor will agree that the positive praise for our program from participants and the impact it had on their ability to keep active is better than any monetary reward we could have received for our efforts. Looking forward to the Movement Challenge 2.0!"
–Taylor Tutkaluke, executive coordinator – MUSA council and Indigenous representative – PERKS