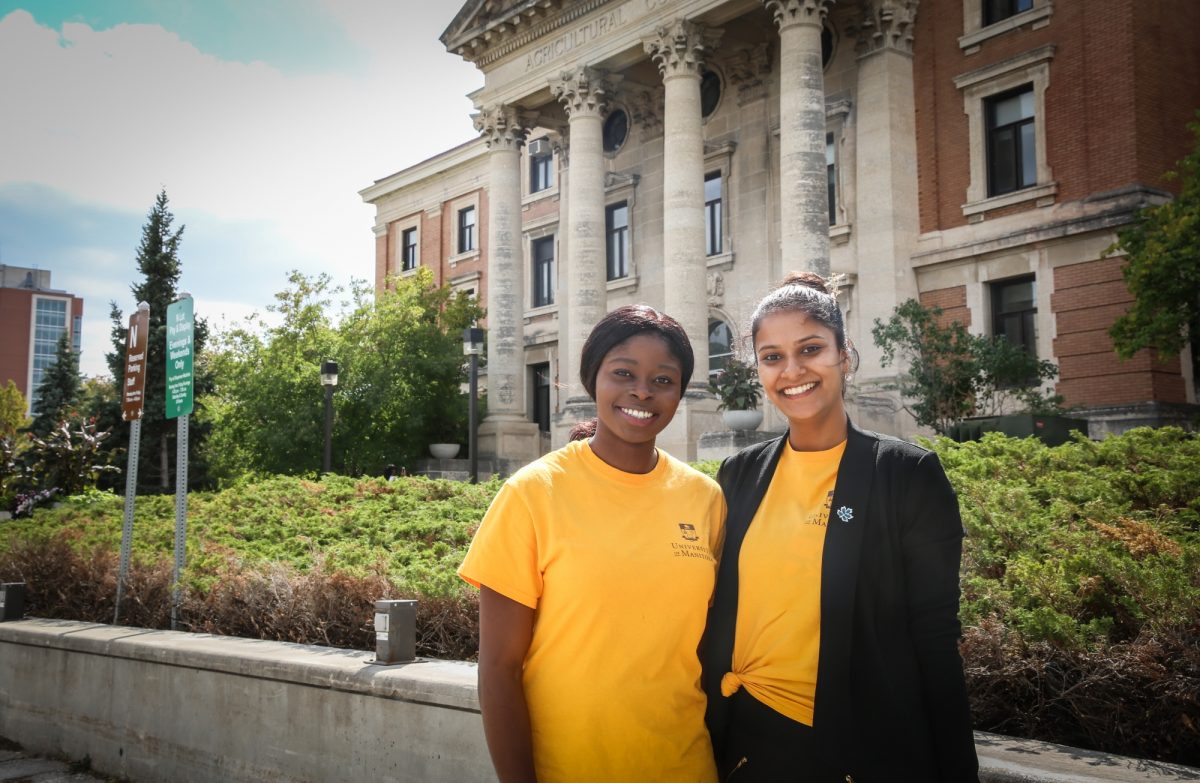 UM 'Meeters & Greeters' program is back!
July 29, 2019 —
Alumni, faculty, and staff are invited to join in at Welcome Day, Tuesday, September 3, as over 2,500 new U of M students attend Orientation events at the Fort Garry Campus.
"We're excited to see the return of the Meeters & Greeters program," Ali Wood-Warren, First Year Centre Coordinator notes. "U of M staff and faculty told us how much it meant to them to take part in Orientation and to share our organization's friendly atmosphere with first year students."
"As ambassadors to the University community, Meeters & Greeters are an essential part of the welcome and orientation process," explains Wood-Warren. "Helping students feel at ease in their new surroundings."
Along with student volunteers, the Meeters & Greeters will be stationed across the Fort Garry campus to welcome students, provide directions, and answer questions. The only prerequisites needed to volunteer are a knowledge of the campus and a willingness to help others (and to wear a brightly coloured shirt)!
UM Orientation 2019 has been restyled by the First Year Centre, with a series of events and presentations throughout the summer to prepare new U of M students with the information they need for September. Along with UM Essentials, the new orientation course offered to all first year students through UM Learn, the series is designed to offer student orientation as a process rather than a one or two day event.
One of the stages of the orientation process is Welcome Day, held the day before Fall Term classes begin. Meeters & Greeters support first year students as they take their first steps on this new path.
"The transition from high school to university can be overwhelming," says Wood-Warren. "Smiling, welcoming faces greeting students as they start this new journey can go a long way to ensuring they have an overall positive experience. Early interactions between students and U of M's faculty and staff serve to strengthen the inclusivity of our university."
Space is limited so please register early. Sign up here before the August 19th deadline.
Meeters & Greeters volunteers can select one of two shifts, the first from 7:45 – 8:45 am and the next from 8:30 – 9:30 am.
For guidelines on attending U of M sponsored events as part of a regular workday, download the Guidelines on Development and Engagement Opportunities.
If you have any questions or would like to volunteer for the Meeters & Greeters program, please contact Jennifer Cheslock at 204-474-6368 or jennifer [dot] cheslock [at] umanitoba [dot] ca