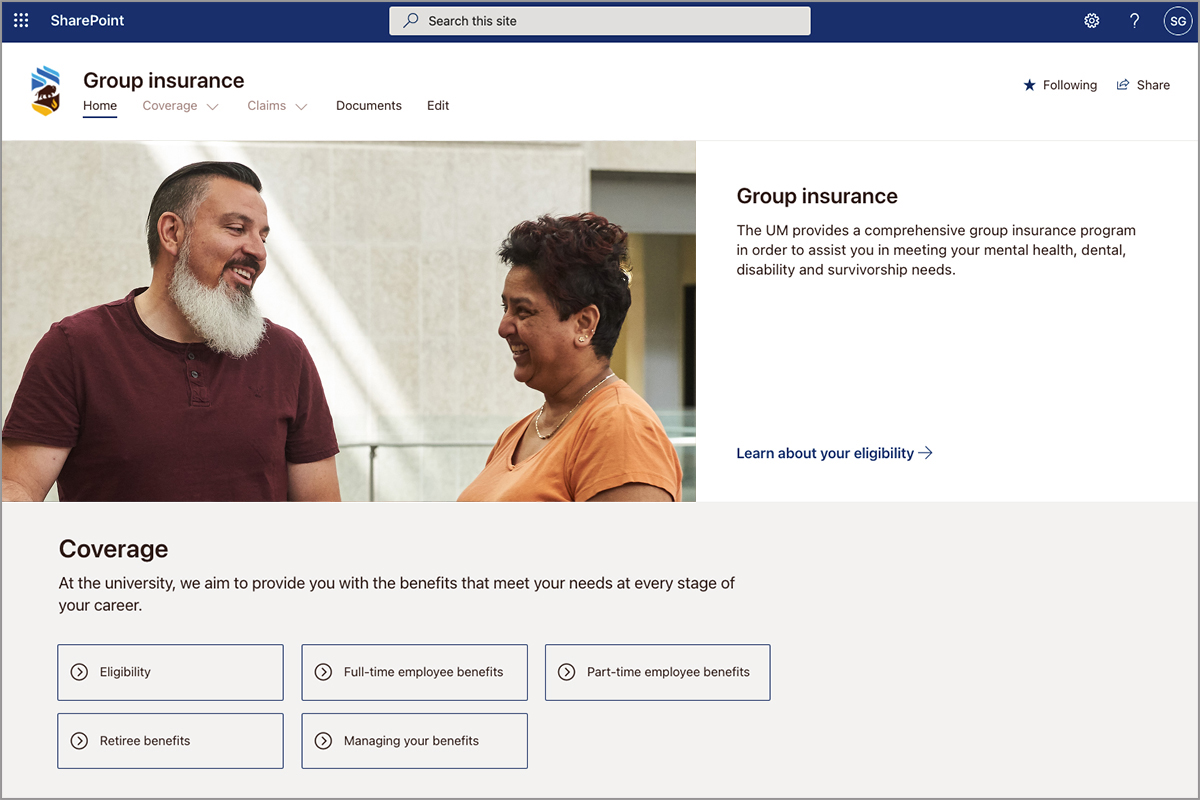 UM Intranet launches this spring
Stay connected, while you do your work better, faster, and more securely
March 3, 2021 —
COVID-19 has shifted our ways of working together as a community, and as our new UM website gains momentum thanks to the Next Generation Website Experience (NGWE), many faculty and staff have asked about plans for an institutional intranet.
Welcome to the future of work! UM Intranet will launch in spring 2021. It will be accessed by an authenticated login, and content will be accessible to all employees in the organization.
A digital platform for internal-facing content, an intranet allows employees to store and share files and data, easily communicate with each other, and collaborate in a secure way.
As a shared place for our community, UM intranet will help strengthen internal engagement and connection and build positive workplace culture.
A digital employee tool with a great user experience
To align our internal communications with the exceptional user experience we've come to expect from our new website, an intranet will host internal-facing content, including employee resources, forms, processes—many of the materials we need for our daily work.
This also aligns with other post-secondary institutions, most of which have an intranet—a private, secure network for employees.
UM Intranet will be hosted on SharePoint Online (SPO). The SharePoint Online (SPO) mobile application allows users to access documents anytime, anywhere. SPO is also integrated with other Microsoft 365 tools.
Similar to an external site, but tailored for employee needs, UM Intranet's task-based navigation features one main hub site and several communications sites.
Task-based navigation
The overall organization of information is task-based. With this intranet best-practice, you'll find:
Information is grouped according to how employees use it, rather than who creates and maintains it;
Employees don't need to understand our institutional organizational chart to find information;
Navigation better withstands organizational changes​;
Navigation facilitates user learning and discovery​;
Navigation uses topic-based labels to identify the key piece of information of the task; and
Sites are based on a single topic.
UM Intranet sites are grouped into the following:
Employee resources​: Career and life information and resources that address the specific needs of each individual employee​
Work supports​: Information that helps employees complete their work and applies to groups of employees from multiple units
Campus: Campus life information
Units​: Unit-specific information that may be shared with everyone.
Apps and sites​: Quick access to work-related web applications and sites, as well as related support information.
What else can you look forward to from UM Intranet?
User-centred, search-friendly, responsive and mobile design
Our new Intranet will feature user-centered design with improved navigation and search functionality. Information is more easily searchable via a variety of filters. Responsive design is based on user behaviour and supports traffic from a diverse operating systems or platform, screen sizes and orientations, including an increasingly mobile user base.
Better performance, improved content management, with more flexibility and options
Content management for UM Intranet allows greater flexibility in representing, sharing and administering content, and includes many different webparts and capabilities to tailor your intranet site for the needs of your users. Improved performance management includes analytics/measurement capabilities.
The new intranet features improved web capabilities and cloud-based technology through a new supported and secure CMS and web servers. The technology allows for continual improvement, with functionality to collaborate with other Microsoft 365 tools.
Consistent look and feel
UM Intranet features a branded visual design along with a framework for a common look and feel across the site. The main hub site will display information applicable to all employees.
Accessible
The new intranet is a universally accessible experience, as required by provincial legislation as per the Accessibility for Manitobans Act. Sharepoint is a Microsoft365 product and has built-in accessibility standards.
Web accessibility ensures "design for all," making the design accessible to people with a diverse range of hearing, movement, sight and cognitive ability.
Next steps
The initial launch this spring includes content from the existing intranet.umanitoba.ca site, as well as human resources and general employee information for Rady Faculty of Health Sciences. Current requirements are being gathered to determine a roadmap for future unit migrations in 2021.
Because our old platform, RedDot, is being discontinued, it will no longer be serviced by the provider. On April 5, 2021, any old UM RedDot pages will no longer be accessible for changes, though pages will still be viewable by audiences. For more information about the RedDot retirement plan, please visit the RedDot retirement support page. You will be prompted to enter your umanitoba.ca email address and password.
Watch for updates in the weeks ahead, with more information about our new UM Intranet, with further unit migrations and training support.
Update May 3: Prepare for launch! UM Intranet coming soon – Learn more about access and Intranet supports, and how to use the convenient search function to quickly find the info you need