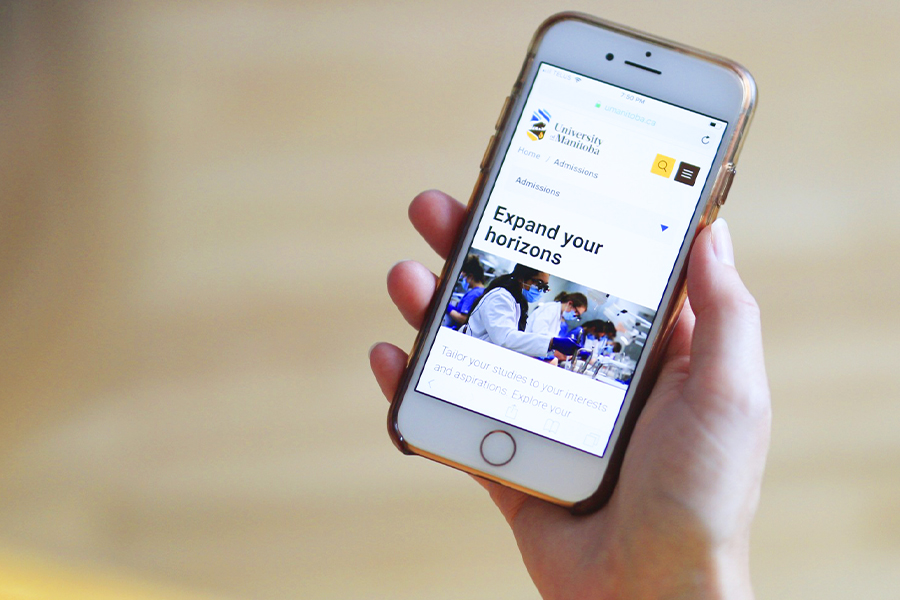 A year after launch, new UM website offers community-wide benefits, improved communications
An update on the Next Generation Website Experience (NGWE) project
October 13, 2020 —
No one could have predicted the 2020 global pandemic, but the initiation and execution of the Next Generation Website Experience (NGWE) have left the university in a better position to communicate through these uncertain times.
The outstanding user experience provided by the new website is already benefiting the university community. Pages launched to date include10 faculties and various research and administrative pages. Faculties and units now have the ability to create robust and content-optimized pages that allow them to market and communicate with students and other users more effectively. The new site also includes a digital viewbook for prospective students and UM Commons for incoming students.
"With these considerable changes, we now have a much more attractive site that is easier to navigate and has been reorganized to emphasize the pillars of our Faculty," says Michael Yellowbird, dean of the Faculty of Social Work.
"Our new site enhances our capacity to recruit new students and faculty, to showcase faculty, research and student accomplishments, and to stay connected to alumni."
Highlights: UM Commons, new digital student viewbook
The UM Commons, launched in August 2020, helps incoming students find important information they need and connects them to the resources, programs, events and communities to see them excel and thrive as a UM student.
Tino Dogo, vice-president of community engagement for UMSU, states that the new platforms have transformed the student user experience.
"With most of our lives currently operating in the digital world, it is essential to have an accessible and clear hub for information. I'm excited and thrilled by these improvements to the online user experience."
The digital viewbook for prospective students and their influencers showcases visual marketing pages that highlight the benefits of studying at the UM, and lead directly to program information. Program pages are currently being developed and will provide more in-depth details on programs offered and admissions requirements.
Published a month ago, the digital viewbook has already tracked over 40,000 hits from more than 20,000 users.
Jeff Adams, director of enrolment services, says, "This is impressive, and will be very helpful in informing the evolution of the viewbook. We couldn't get this very valuable data information from print. Another reason why the creation of the digital viewbook is a great benefit!!"
Universally accessible, responsive design
Other benefits of the new website, housed in the Drupal platform, are the responsive design and universally accessible experience.
Web accessibility ensures "design for all," making the design accessible to people with a diverse range of hearing, movement, sight and cognitive ability. Responsive Web design is design and development based on the user's behaviour and environment such as device, operating system or platform, screen size and orientation. 44 percent of UM web users are now accessing content through mobile devices compared to 35 percent at the initial launch.
Out of 100, the new site now ranks 93 on the Google Lighthouse score, a global standard that measures a website's accessibility performance against the Web Content Accessibility Guidelines (WCAG) 2.1. Previous RedDot pages scored between 45 and 55 and the new Drupal pages were 81 at launch. The current score demonstrates the efforts to improve web accessibility at UM, ensuring that users of all needs can access information.
Stay connected
As the university moves into a new school year, it is important for the community to remain connected and stay current using its current digital platforms to access up-to-date information, view content on multiple devices, showcase news, events, stories and research across our multiple units and faculties.
For more information visit the NGWE Project page for current updates on pages launched to date and the future release schedule. The NGWE site migration team is continuing to migrate pages to the new site every week and welcome feedback at ngwe [at] umanitoba [dot] ca.