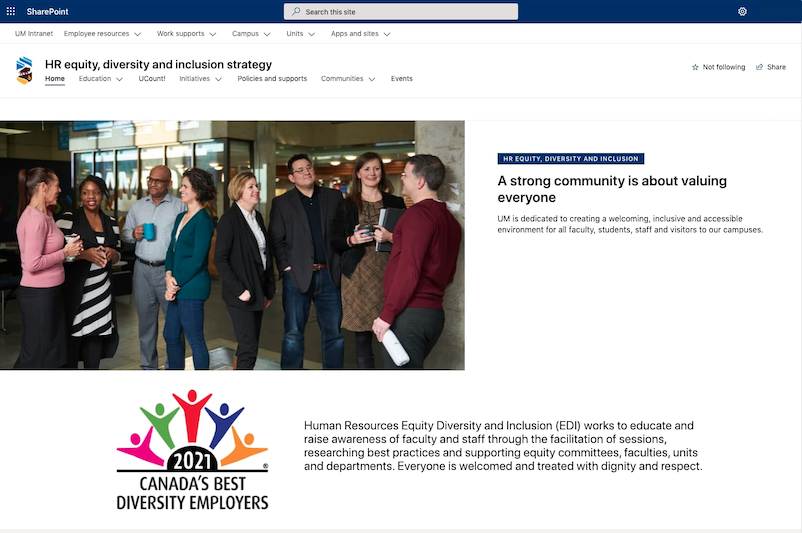 Prepare for launch! UM Intranet coming soon
Learn more about access, supports, and how to find the info you need
May 3, 2021 —
You may have heard about the soon-to-be-launched UM Intranet, an exciting new digital platform offering an exceptional user experience for our university community. It's coming soon!
To prepare, special preview and information sessions have been provided to highly impacted admin-user groups, including Human Resources staff, IST service desk, MedIT service desk, Registrar's Office, communications officers and specialists, executive and some administrative assistants across UM.
The first phase includes internal-audience content from: Human Resources; Registrar's Office; Faculty of Arts, Social Work and Health Sciences. A roadmap is being developed for future releases in phases 2 and 3.
Read on for more details about the overall project and supports for accessing and using the new platform.
Accessing UM Intranet
Starting May 6, UM Intranet can be accessed by an authenticated login, with content accessible to all employees in the organization. This includes all full-time, contract, part-time or nil appointees and affiliated partner employees.
To access UM Intranet, use your @umanitoba.ca email address; an @umanitoba.ca address is assigned to all employees. Think of it as your username and password.
Email addresses that won't work to access UM Intranet
Any email address that is not @umanitoba.ca will be denied access to UM Intranet. Users in dual-role positions such as UM instructors, student-employees and shared health practitioners need to use their @umanitoba.ca email address to access the content, and will need to claim their UMNetId.
Email addresses external to UM and student email addresses (@myumanitoba.ca) will be denied access to the intranet.
Find the info you need quickly
Much of our internal content, including employee resources, forms, processes—materials we need for our daily work—will now be found on the new UM Intranet.
Similar to an external site, but tailored for employee needs, UM Intranet's task-based navigation features one main hub site and several communications sites. Read about the task-based navigation in our previous UM Today story.
So how do I find my information after launch?
If you are a UM employee, nil appointee or affiliated partner with an active @umanitoba.ca email address, you can:
Access through Faculty and Staff webpage on umanitoba.ca. After launch, look here for the new UM intranet icon and information about the UM Intranet. The UM Intranet icon will direct you to log into M365 using your @umanitoba.ca email address and password; or you will be directed to the UM Intranet homepage if you are already signed into M365.
Access through your bookmarked content, which will redirect to a Transition Page, where you'll find login instructions, support and project information, including a list of content that's moved
Access links from intranet.umanitoba.ca or other umanitoba.ca webpages, which will redirect to the Transition Page.
Access from the SharePoint Online Dashboard if you are more familiar with the M365 SharePoint Online application.

On the day of launch, information on the UM Intranet Support site can guide you step-by-step about how to access the SharePoint online dashboard and follow your favourite sites.
You're in!
Once you are logged into M365 and are on the UM Intranet homepage, you can:
Navigate UM Intranet content using the top drop-down menus.
Search UM Intranet content with the Search function.
Try the convenient search function
Key features of UM Intranet's search function include:
Search that's either UM Intranet-wide or site-specific.

If you are on the UM Intranet Homepage, you will search across all sites associated with the UM Intranet hub.
If you are on a specific individual site within UM Intranet, you will search that site only. For example, if you are in "Compensation and job classifications," your results will show content only from that site.

Search based on your tasks. You can search for pages, files and people to find answers to complete your task. The people search uses the same people information found in Outlook.
Search is personal. The results you see are different from what other users see;. It is based on your previous activity and trending content.
The Microsoft Search box is also used in other Microsoft 365 applications. You can broaden the scope of your search and look at Teams sites you have access to by clicking on the breadcrumb navigation, "Organization > UM Intranet" found above the search results.
Post-launch support
After UM Intranet is launched, you can access the UM Intranet Support Site for information on creating pages and navigating the site.
After launch, the project team will continue to host webinars that will be recorded and posted to the UM intranet support site. These webinars are targeted to frequently-accessed specific content to help people learn to navigate the UM Intranet.
For more on the improved performance and navigation you can expect from the new platform, see the previous UM Today story:
Mar. 3: UM Intranet launches this spring – Stay connected, while you do your work better, faster, and more securely
For questions about the UM Intranet project, contact project manager Marty Lepage at Marty [dot] Lepage [at] umanitoba [dot] ca. For technical issues following your migration, please contact the service desk at 204-474-8600 or servicedesk [at] umanitoba [dot] ca
For more information about the RedDot retirement plan, please visit the RedDot retirement support page. You will be prompted to enter your umanitoba.ca email address and password.