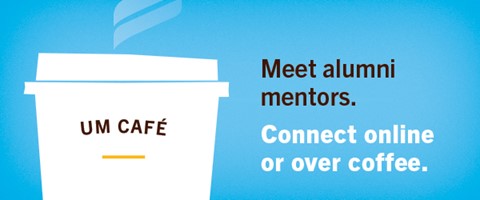 UM Café: Ten Thousand Coffees
Sign-up to connect with a mentor
February 15, 2023 —
Meeting with a UM alumni or mentor to learn about their work experiences and career path is a great way to help you with your career planning.
UM Café is an online networking and career development platform that will provide you with opportunities to connect with alumni and help build your professional network. The platform is free to use, and you may participate in person, over the phone or virtually. When you become a student member of UM Café: Ten Thousand Coffees, you will be paired with alumni who share similar interests and goals. Mentors are excited to share their experiences and provide industry information and advice to help guide you on your journey. Creating meaningful connections can be instrumental in your career success.
Why join UM Café?
Gain a better understanding of future career opportunities;
Develop confidence and communication skills with guided practice;
Connect to a supportive network of University of Manitoba alumni; and
Join small group discussions (Office Hours) with alumni, recruiters and subject matter experts to build your network and develop new skills!
Sign up now to be included in the next round of alumni/student introductions on February 27, 2023. For more information and support, contact Career Services at 204-474-9456 or visit 474 University Centre.