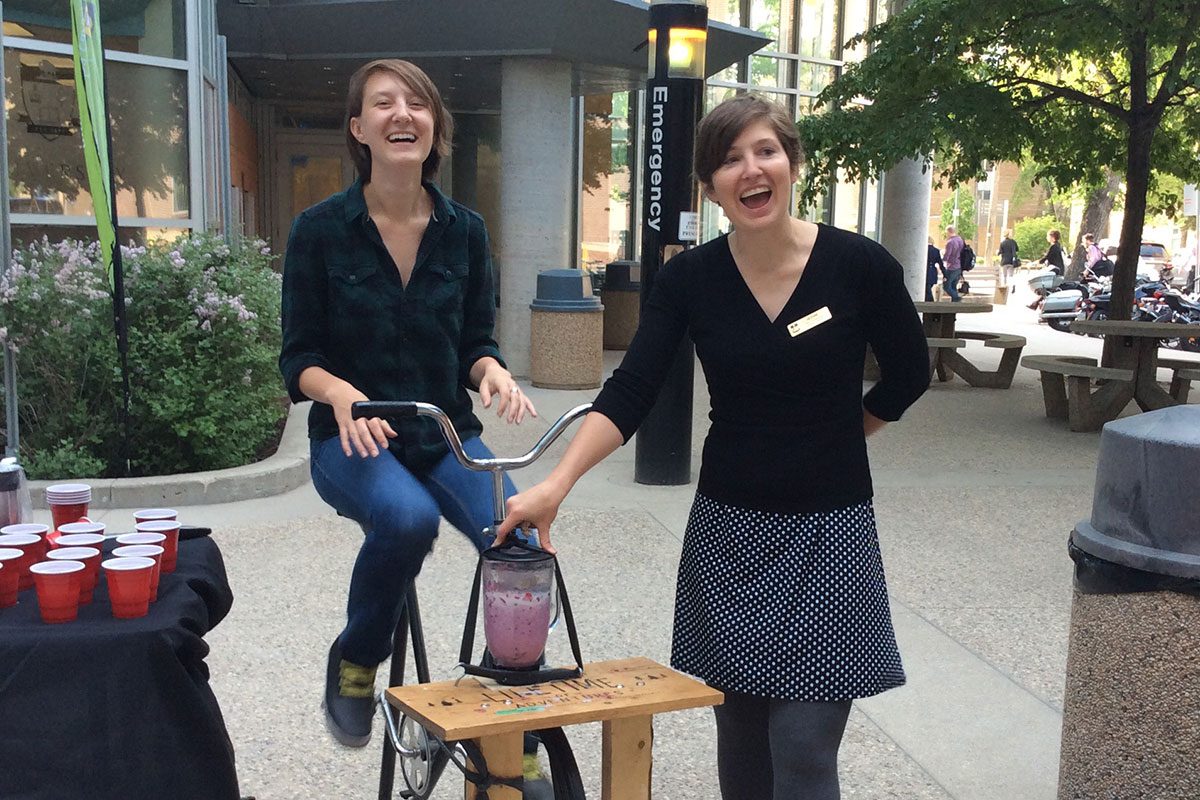 U of M doubles participation in Commuter Challenge
June 16, 2017 —
The Commuter Challenge results are in! University of Manitoba staff, faculty and students stepped up to the challenge in 2017. From June 4-10, over 650 U of M participants logged 60,000 kilometers by foot, bike, bus or carpool, and avoided over 10 tonnes of CO2 emissions in just one week.
This year, 19,000 Canadians took part in the Commuter Challenge, collectively avoiding 245 tonnes of CO2 emissions by choosing sustainable transportation options.
At U of M, Commuter Challenge events were held throughout the week. The Office of Sustainability and UMCycle successfully delivered more than 150 bike-blended smoothies to participants on Fort Garry and Bannatyne campuses.
Provincially, the Commuter Challenge is coordinated by Green Action Centre. Grand prizes for the event include a free transit pass for a year, a $500 Via Rail voucher, two weekend passes to the Winnipeg Folk Festival, and more. All prize winners will be notified after Friday, June 16.
The Office of Sustainability tabulated the results of the U of M's first friendly inter-department competition. Drum roll please…the winners are:
Ice-cream sandwiches for the office:
1st place – International Center
2nd place – Campus Planning Office
3rd place – Health Science Library
4-month memberships to Recreation Services facilities, valued at $210 each (staff/faculty only):
Tania Gottschalk – Health Science Library
Marian Siemens – Student Affairs
Bike tune-up from UMCycle, valued at $75 (staff/faculty only):
Sylvia Lapointe – Biological Services
University of Manitoba T-shirt
Janice Bailey – Active Living
Office of Sustainability travel mugs
Jim Young – Computer Science
Maria Dielmann – Career Services
Helen Liu – Agriculture
Sarah Hiebert – Student Affairs
Rita Courchaine – Education
If you are looking for another reason to dust off your bike this summer, participate in Bike to Work Day on Friday, June 23.
Ride to any of the more than 50 pit stops in Winnipeg on your way to work or school, including the University of Manitoba's Fort Garry pit stop at UMCycle, located at Curry Place and Sidney Smith Street, and the Bannatyne campus pit stop at Brodie Centre.
Arrive between 6:30 a.m. and 9:30 a.m. to enjoy music, refreshments and prizes.
Stay up to date on events, share your photos and join the conversation on Twitter and Instagram with #UMSustainability.