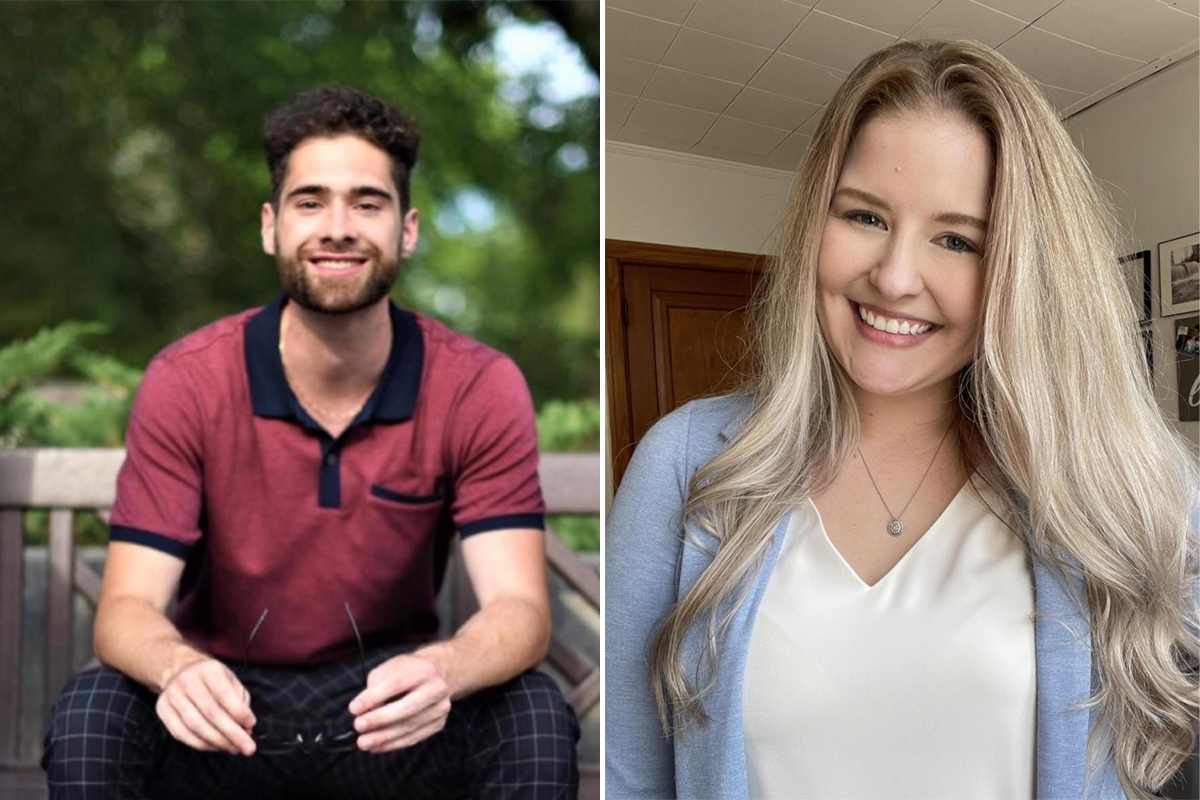 Two UM students honoured by the McCall MacBain scholarships program
Bryden Bukich a scholarship finalist; Lindsay Bain wins regional award
February 14, 2022 —
University of Manitoba student Bryden Bukich [BKin/21] is in the running for the McCall MacBain Scholarships, Canada's first comprehensive leadership-based scholarship program for master's and professional studies.
The scholarship enables students to pursue a fully funded graduate degree at McGill University while participating in an intensive leadership development program. Finalists are chosen based on their character, community engagement, leadership potential, entrepreneurial spirit, academic strength, and intellectual curiosity.
"It's an honour to be a finalist for this prestigious scholarship having read the amazing stories and work of last year's inaugural scholars," Bukich says. "I'm so thankful for my family, friends and professors for supporting me to be considered for this opportunity."
At UM, Bukich is currently pursuing a master's degree in kinesiology, specializing in Indigenous health education. He's involved in many activities both inside and outside the classroom— working part-time as a research coordinator for the First Nations Health and Social Secretariat of Manitoba, leading knowledge presentations on Indigenous health education for his faculty's curriculum, mentoring first-year students, and serving as a student senator for the kinesiology student council. As head coach of the North American Indigenous Games 14U basketball team during the pandemic, he developed an online training program and held on-court training sessions when players came to Winnipeg.
Bukich will be among 50 Canadian finalists representing 28 universities at a final round of interviews in March. He aims to study medicine at McGill, hoping to combine medical education with his current master's research in Indigenous health education in health sciences programs. "By networking with Indigenous health professionals and becoming familiar with the medicine environment, I can begin to help eliminate barriers for Indigenous peoples in the healthcare system," he says.
The McCall MacBain Scholarship covers tuition and fees for the program of study, a living stipend of $2,000 per month, plus mentorship, coaching and leadership development opportunities. Finalists are chosen based on their character, community engagement, leadership potential, entrepreneurial spirit, academic strength, and intellectual curiosity
Regional Award Recipient
This year, the McCall MacBain Scholarships program also offered 30 regional awards of $5,000 each to promising candidates who distinguished themselves at regional interviews. UM student Lindsay Bain [BA/22] earned an award, which can be used at any public university in Canada.
Lindsay is the director of logistics for her department's student association, serves on three standing committees of the Faculty of Arts student council, and has been an advocate for mental health through several initiatives. She has also mentored youth through a number of community programs and graduated as valedictorian of the President's Student Leadership Program (PSLP), through which she helped design, coordinate, and facilitate a community art project with the National Centre for Truth and Reconciliation. Lindsay has worked throughout her studies and is applying to pursue a master's degree in public policy.
The scholarships are the result of a landmark $200 million gift, which at the time was the largest single donation in Canadian history, by John and Marcy McCall MacBain. The scholarship program will expand internationally over the next decade, with nearly 300 McCall MacBain Scholars selected by 2030. Applications for the first global cohort, comprising 20 Canadians and 10 international students, will open in June 2022 for September 2023 admission.
Upcoming Information Session
Learn more about applying to join the 2023 McCall MacBain cohort at a UM information session on Thursday, March 3. This one-hour session includes time for a Q&A with current finalist Bryden Bukich. Register now.