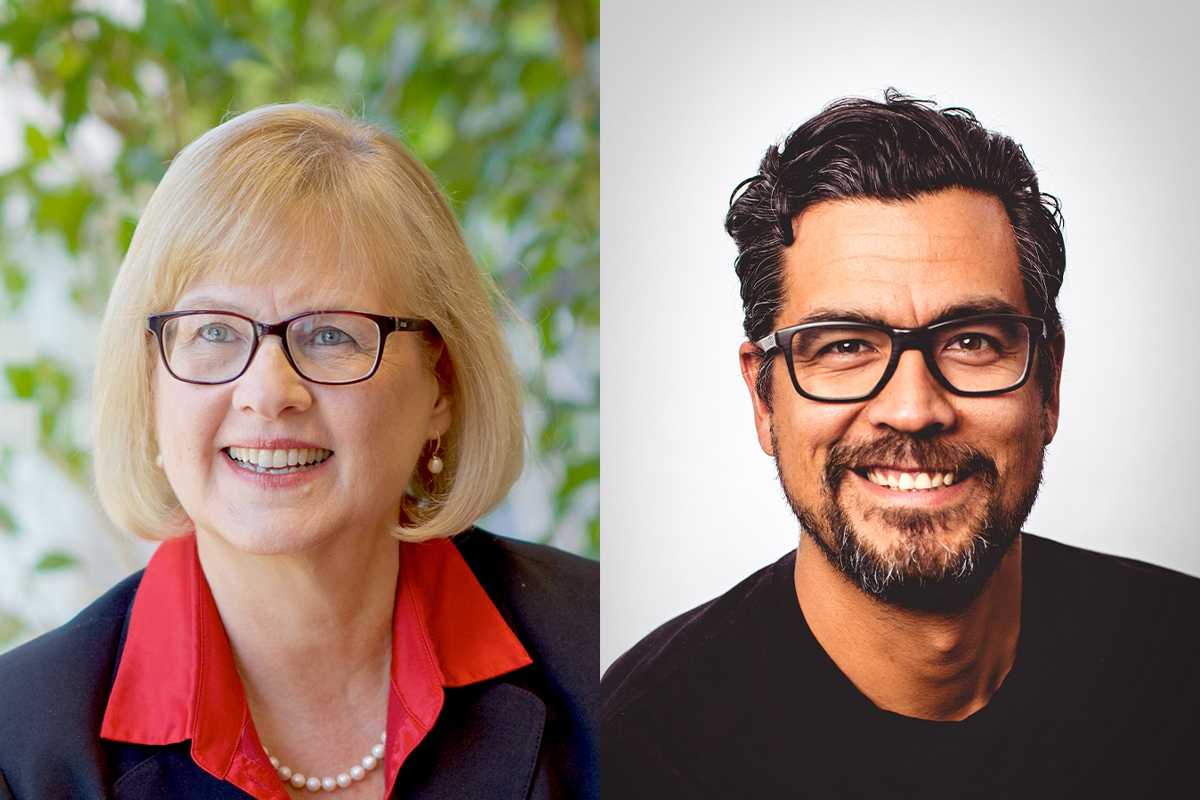 Two exceptional Manitobans awarded Honorary degrees at Fall Convocation 2023
October 13, 2023 —
Two Manitobans who have changed how we view and approach our place in the world will be awarded honorary degrees at Fall Convocation 2023.
Author David Robertson and palliative care researcher Dr. Linda J. Kristjanson will be recognized for their distinguished achievements in the arts and scholarship.
Discover their impact and watch them address the graduates at each of their ceremonies as they receive UM's highest honour, beginning on Oct. 17.
Dr. Linda J. Kristjanson
BN, MN (Manitoba), PhD (Arizona), AO
Tuesday, October 17, 2023, 3:00 p.m.
Dr. Linda Kristjanson has taught us how to have the most difficult conversations, and how to compassionately care for patients and their families facing grim certainties.
Every day, her impact is felt around the world. It began in 1991 when her dissertation exposed the challenges people face when dealing with palliative care. She uncovered the questions and concerns families had but couldn't bring themselves to ask or say. She illuminated a new field of query and went on to improve palliative care for all.
The University of Manitoba spotted the enormity of her talent early on. In 1993 it recognized her with the University of Manitoba Winnipeg Rh Institute Foundation Rh award, which is given to early-career researchers showing exceptional promise.
Today, Dr. Kristjanson is considered a pioneer in the field of palliative care, celebrated for the vast contributions she has made. In 2012, for instance, she received the Bethlehem Griffith Research Foundation Lifetime Achievement Award. She has also received the Canadian Nurses Foundation Ross Award for Nursing Leadership in Research, and was named the Royal College of Physicians and Surgeons of Canada's Balfour Mount Professorship in Palliative Medicine, as well as Fellow of the Australian Academy of Technology and Engineering, and an Officer of the Order of Australia.
Dr. Kristjanson is one of the most highly cited researchers in her field and she has procured more than 110 grants totaling more than $30 million dollars from organizations in Canada, the USA and Australia. This is an outstanding sum matched by few other nursing research scientists.
She is a gifted collaborator, having published with 150 different authors across a number of countries, including at her first alma mater where she has an ongoing relationship with UM's Manitoba Palliative Care Research Unit.
Indeed, her connection to this university has remained strong throughout her career. Before leaving Canada in 1997 to build a program in palliative care at Edith Cowan University in Australia, she served as the co-director of the Cancer Nursing Research Centre at UM.
She left her mark on generations of palliative care nurse researchers in Manitoba and across Australia where she has led and taught for many years. She has done the same on the global stage too, through her involvement with 47 boards and committees, including the International Palliative Care Society, which she founded.
The University of Manitoba is proud to award a Doctor of Science, honoris causa, to professor Linda Kristjanson for her distinguished achievement as a scholar, leader, and a humanitarian who has improved health care everywhere.
David A. Robertson
BA (Winnipeg)
Thursday, October 19, 2023, 3:00 p.m.
David Alexander Robertson is a voice for a new generation, one that smites the stigma of mental illness and unveils truths so that Reconciliation can follow.
As a Cree boy going to school in Winnipeg, Mr. Robertson felt disconnected from his heritage, partly because his school did not teach about Indigenous cultures and histories. But he also found that textbooks on these (or any) matters were uninviting and vapid, unlike comics, which captivated him. Thinking that other children may also be disconnected from their history and textbooks like he was, he began writing graphic novels that not only enthrall, but teach. He firmly believes that understanding Indigenous cultures and Indigenous peoples' place within Canadian history is imperative for all Canadians.
Today, having written more than 25 books, some of which are now widely used in classrooms across the country, he has brought Indigenous characters and voices into curriculum that for too long had excluded them. His book When We Were Alone, was recognized with many awards, including the 2017 Governor General's Literary Award, and his other works, like The Misewa Saga series, have been a hit with young readers.
Mr. Robertson's voice is an important one that is helping to spark change. His novels delve into issues of identity, family, connection, and relationships. They offer an open and frank examination of colonialism's ongoing impact as well as systemic and overt racism.
He also weaves themes of mental health into his writing and his public speaking, providing people with a foundation to understand mental health struggles and see that speaking about it is as normal as talking about having the flu.
His books are nationally known and critically acclaimed, winning numerous awards. Indeed, Mr. Robertson's memoir Black Water: Family, Legacy and Blood Memory earned the 2020 Carol Shields Winnipeg Book Award, won the Alexander Kennedy Isbister award for non-fiction, and was named Book of the Year by the Globe and Mail and Quill & Quire. He also received the 2021 Writers' Union of Canada Freedom to Read Award.
Mr. Robertson asks people of all ages to think, to understand, to imagine, and to help build a better society. The University of Manitoba shares this vision. For his outstanding contributions in the arts and distinguished achievements, the University of Manitoba is proud to award a Doctor of Letters, honoris causa, to David Alexander Robertson.