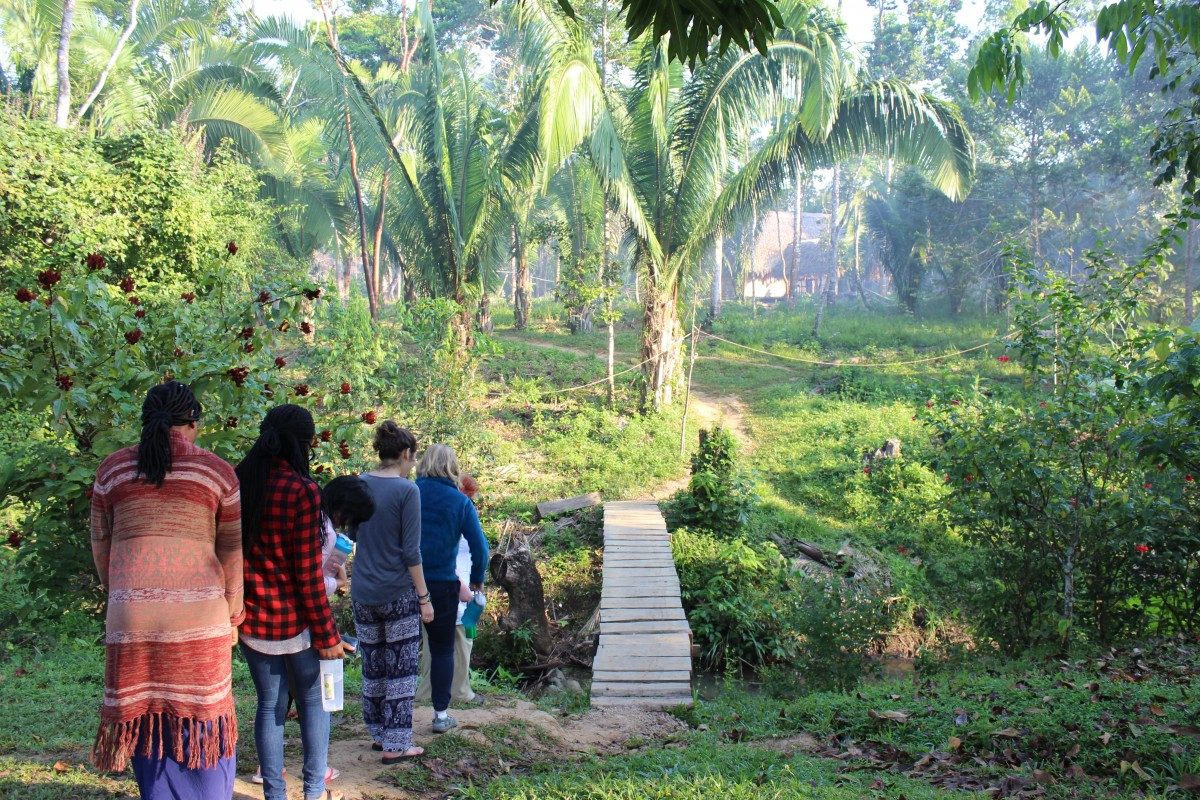 Community Service-Learning opportunities for the New Year
2018 brings more opportunities to volunteer and learn from communities in Belize, Chile and Manitoba
December 18, 2017 —
Interested in hands-on community-based learning that will teach you about social justice? Consider joining one of the opportunities offered by Community Service-Learning.
Help Q'eqchi' Maya youth explore changing Indigenous food systems in light of new economies and climate change or implement a three-day project with a nonprofit organization in Winnipeg. Foster intergenerational dialogue about the future of Indigenous Medicine in the Chilean Patagonia or support a boreal gardening project in Northern Manitoba.
With a comprehensive assortment of Community Service-Learning programs available to U of M students, choose the opportunity that's right for you.
Note: International travel bursaries of up to $1,000 are available to students who can demonstrate financial need.
Alternative Reading Week Programs
Belize: Learn about global Indigenous experiences of changing food systems with the Q'eqchi' Maya community of Laguna, Belize! Participants will facilitate a weeklong project with local youth exploring the way changing food preferences are related to increased market foods, lifestyle diseases, and climate change impacts. Students will also visit the Belize Zoo, a cacao forest farm, a Maya chocolate-maker and have a day at the beach.
Winnipeg: Develop your knowledge and skills through the Community Leadership Development Program and then carry out a Reading Week project with one of our great partner agencies: Big Brothers Big Sisters of Winnipeg, Ma Mawi Wi Chi Itata Centre, Manitoba Association of Rights and Liberties, Mount Carmel Clinic, N.E.E.D.S. Inc., Circle of Life Thunderbird House and West Broadway Youth Outreach.
Applications close Tuesday, January 9.
Winter Term Programs
Children Rising Mentorship Program: Learn about life on a First Nations reserve as part of this cultural exchange between the U of M and Skownan First Nation. As a mentor, you will introduce Skownan youth to the U of M and learn about Skownan First Nation from the youth.
North Meets South: Truth, Healing and Relations-Building: Take part in monthly campus and community visits, events and intercultural workshops to learn more about Winnipeg. A friendly staff facilitator will help you prepare, engage with others and reflect on your experiences, as you learn about Indigenous and newcomer cultures. With different opportunities each month, sign up for something that fits your interests and schedule.
Applications for Children Rising Mentorship Program close Tuesday, January 9. The North Meets South program is by drop-in. Everyone is welcome.
Spring Programs
Island of Chiloé, Chile: Assist with the promotion and coordination of workshops where Indigenous Williche youth and practitioners of Indigenous Health will gather to learn from each other, exchange perspectives and find a sustainable future for Traditional Indigenous Health in their communities. This program runs for six weeks in May and June.
Leaf Rapids, Northern Manitoba: From food security and sustainability to education, recreation and Cree culture, discover the realities of everyday life in the North while living in a community, interacting with residents and volunteering in the boreal gardening project and local school. This program runs for six weeks in May and June.
Applications close Thursday, February 1.
—
Community Service-Programs are open to all U of M students.
To register and for more information, visit Community Service-Learning's website or email anny [dot] chen [at] umanitoba [dot] ca.