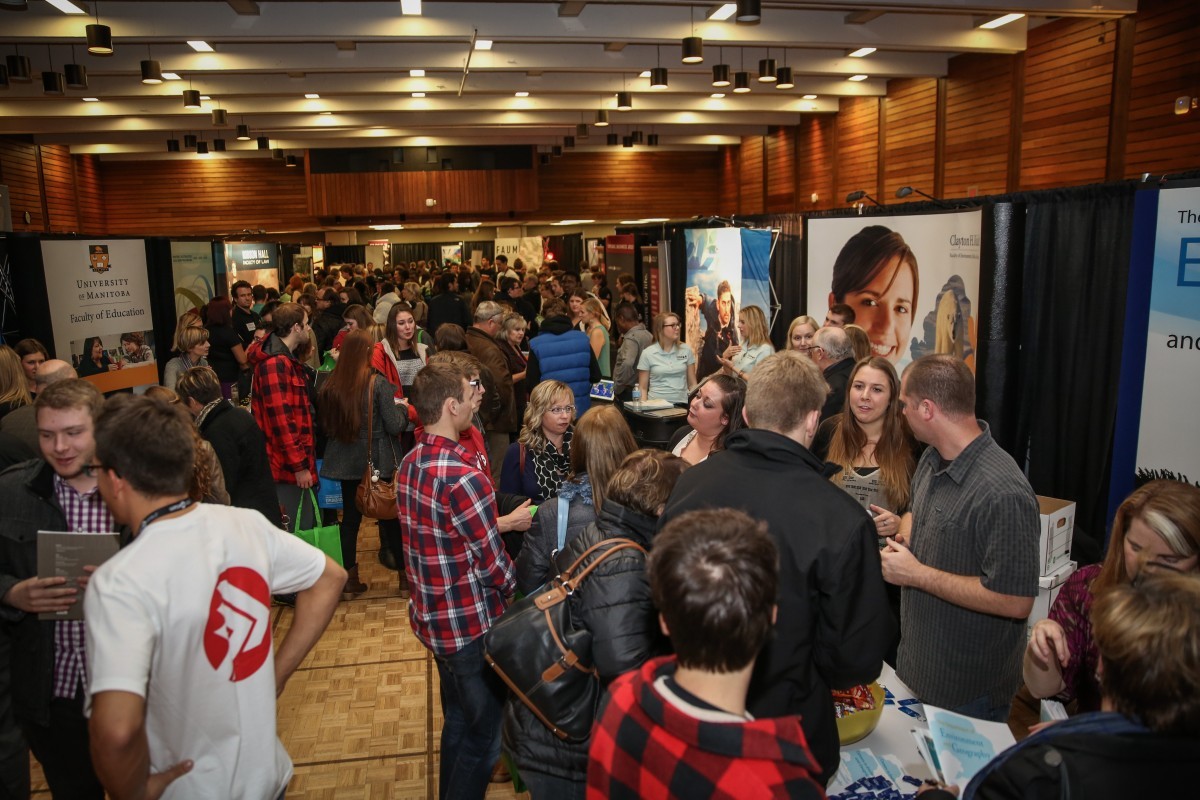 Top high school students explore the U of M
October 31, 2014 —
The University of Manitoba welcomed a record number of top high school students at this week's Evening of Excellence. The annual event gives high-achieving Grade 11 and 12 students and their families the chance to get an early look at campus, learn about different faculties, and inquire about scholarship opportunities.
What brought Murdoch MacKay Collegiate's James Watts out to the Evening of Excellence?
"To increase my knowledge, go on to a better career, increase what I like and what they don't really teach in high school," said the Grade 12 student, while an exuberant Billy the Bison cheered him on. "There's a lot more courses; there's a broader spectrum of things to learn."
Watts came to the event with a good idea of what he'd like to study at the U of M, but left with more options to consider.
"A science degree would be pretty wonderful – I like that – but I'm also interested in anything to do with English, and philosophy was interesting – that I learned just now."
Student Recruitment director Lisa Kachulak-Babey called the Evening of Excellence one of the most important recruitment events of the year.
"I had the pleasure of talking to many students and parents this week," said Kachulak-Babey. "The common theme was that they were happy to be able to get all the information they need in one place. Quite a few students stated that they felt much more secure in their decision to apply to the U of M and they are excited for both in-class and co-curricular opportunities available."
Visiting high school students also had the opportunity to meet with current U of M students, including the Asper School of Business's Deanna Mirlycourtois – a past Leader of Tomorrow scholarship recipient.
"I had the privilege of presenting to a group of students on my student experience, and was able to share the different leadership, travel, and student group opportunities that I have taken advantage of as a U of M student," said Mirlycourtois. "I remember attending the Evening of Excellence as a high school student, and I left feeling inspired and excited about the years ahead."
Interested in applying to the U of M? Create your online profile and learn more about the programs and services that interest you at umconnect.ca.